What are the most common services seniors need?
Your aging loved one is counting on you to take care of them. That's why choosing the best senior care service may be one of the most important things you do to safeguard their future health.
You may be wondering, "What services are available to me?", "Which option is best?", "Which one gives me, my loved ones, or family members access to the right level of care at a competitive price?" or "How do I know if this senior care service is a safe choice or not?".
Well, this is a great place to start. There are many senior care services, senior aides, and elderly care providers out there. The goal is to choose the right senior care service that is a perfect fit for you and your loved one.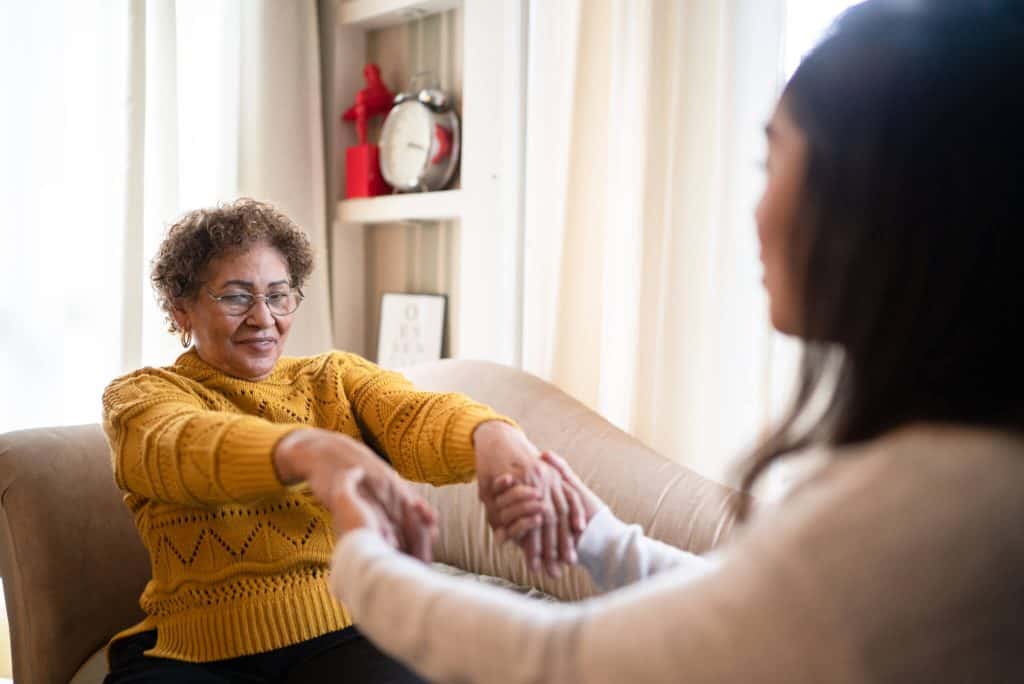 Before you choose a senior care agency, it may be helpful to understand what services are available and how they differ from one another. Seniors need varied kinds of assistance based upon their physical conditions and the medications they're taking, so it's up to you to choose the best option for your loved one.
How do you decide which senior care service is best? When you're shopping around, there are a few factors you should take into account. Begin by making a pros and cons list based on your answers to the following questions:
How will we pay for these services?
What kind of care does my aging parent need?
How severe are their medical conditions, if they have any?
Involve all stakeholders if you can. Are there other family members or friends involved?
Have you communicated the need with your loved one? It is always important to check into how they may feel about the life-altering decisions you are about to make on their behalf. Be sure to include them in the decision if possible.
What is your budget compared to the available options?
What type of senior care would your loved one require, in-home care? Or assisted living. What would best suit their needs, a retirement community, Senior apartment, nursing home, or adult daycare?
If in-home care, which would you decide, agency or private personal care?
The Differences Between Home Care Agency and Private Personal Caregivers
| Agency | Private Personal Caregivers |
| --- | --- |
| With a reputable senior care provider or agency, you can expect that they would conduct background checks on every employee. | You have to do a background check yourself which would add to your cost and may not be accurate or easy to do. |
| Verified information and references | You would have to verify information yourself |
| Easy replacement of caregivers and availability of substitute senior aides | The caregiver might have an emergency that would require you to find a replacement yourself and always be prepared to provide the care yourself. |
| Licensed and insured. | Most personal caregivers are uninsured or underinsured which makes you financially liable in any case of injury |
| A reputable agency can make recommendations on other services and provide access to other community resources | May be limited in this regard and not have access to community resources |
| The advantage of having a team work towards a common goal | No team, one-person operation. |
| Cost are higher due to administrative costs and various overhead charges | Cost is sometimes lower when hiring a personal caregiver unless they cause additional damages |
| Administrative tasks are covered by the agency, regulations are adhered to. | Families would still need to ensure taxes, Workmans comp and payrolls are accurate and paid |
Once you've answered these questions, you may start narrowing down your options as you begin to understand what services are out there in order to match them to the requirements of your loved one.
Here are the seven most common elder care services, as well as information on how to choose a provider that meets their needs and fits within your budget.
Medical Equipment And Other Devices
Keep in mind that your aging loved ones who were once youthful and vibrant as yourself, and that they too would most likely appreciate the chance to retain their dignity and independence.
Medical equipment or devices are meant to help retain that freedom and help improve the quality of life. This can be as simple as a wheelchair or cane or as complicated as oxygen systems. There are many types of equipment for different conditions that can be categorized according to their functions, listed below are a few:
Bathroom & Bathing
Bedside Commode
Grab bar toilet paper hold
Stand-alone toilet safety rails
Transfer bench
Wheelchair-safe shower stall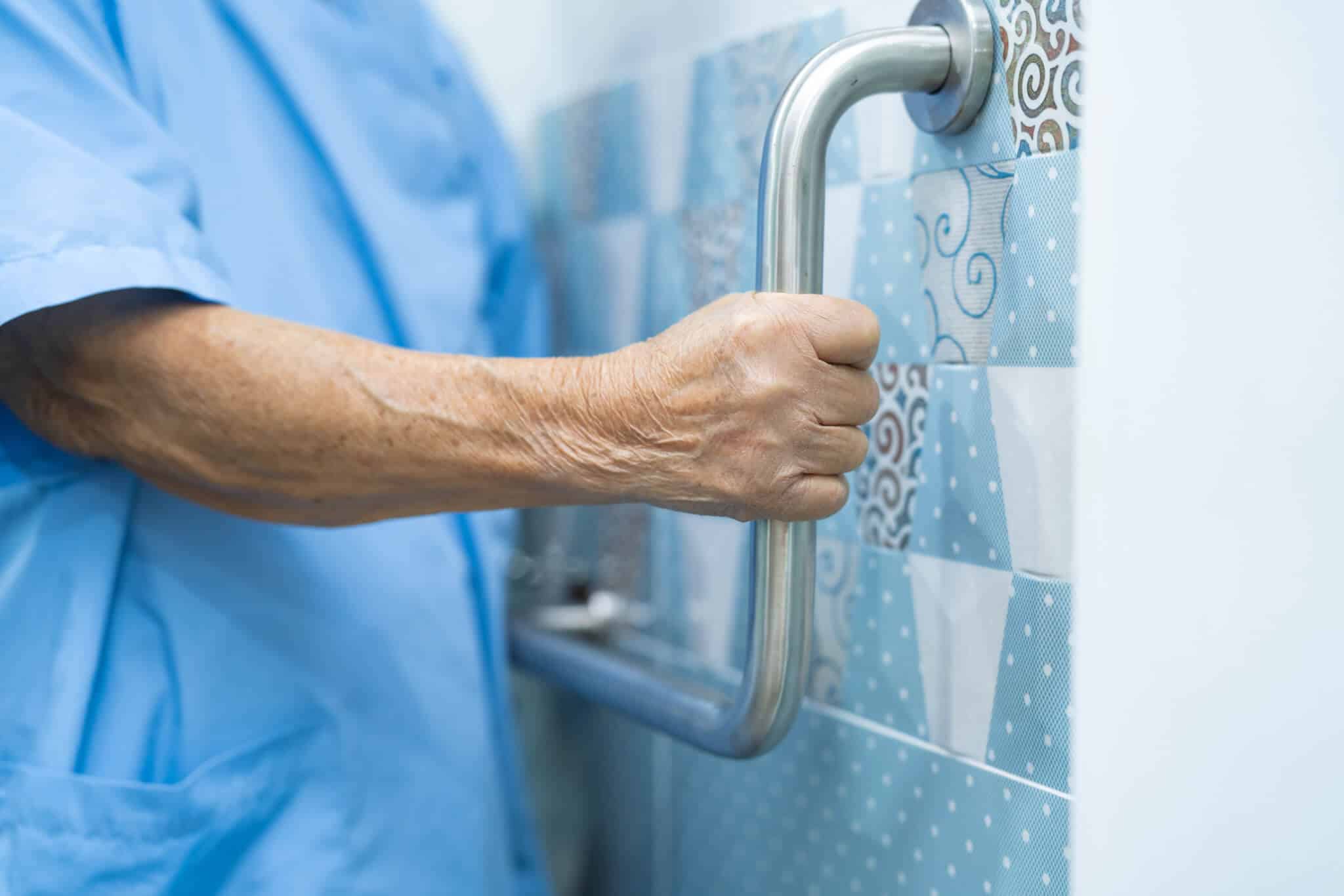 Bedroom & Sleeping
Hospital bed
Body-aligner wedge cushion
Adjustable bed rail
Bed caddie
Mattress lift
Overbed table
Mobility
Star lift
Wheelchair
Hydraulic stand-up lift
Mobility scooter
Folding Reacher
Choosing equipment is an investment in your loved one's comfort and safety at home, especially when considering in-home care, so consider their medical history as well as their current state of health when deciding on which options are best.
For example, If they have trouble getting around or walking but still want to live independently, then a wheelchair would be appropriate. Remember your senior help services are there to help with all of the necessary options.
You can also consider a pendant alarm which can be worn around the neck or attached directly to a senior's clothing so they're easy to reach in case of emergency—for example, if they fall without someone else nearby who can help right away. This is only necessary if in a large community facility. In the case of smaller home-like facilities, the help is already right there.
Find out if the health care facility you are considering has all the necessary equipment needed by your loved one.
Transportation
Senior care agencies that offer door-to-door non-emergency transportation services help seniors stay independent and avoid isolation. Not only do they provide a way for seniors to get out of their homes, but they offer transportation to and from appointments, errands, shopping, social engagements, and other activities. For family members who have busy work schedules, this service can help make life a little easier and should be put into consideration when selecting a senior care provider who will set this up for you.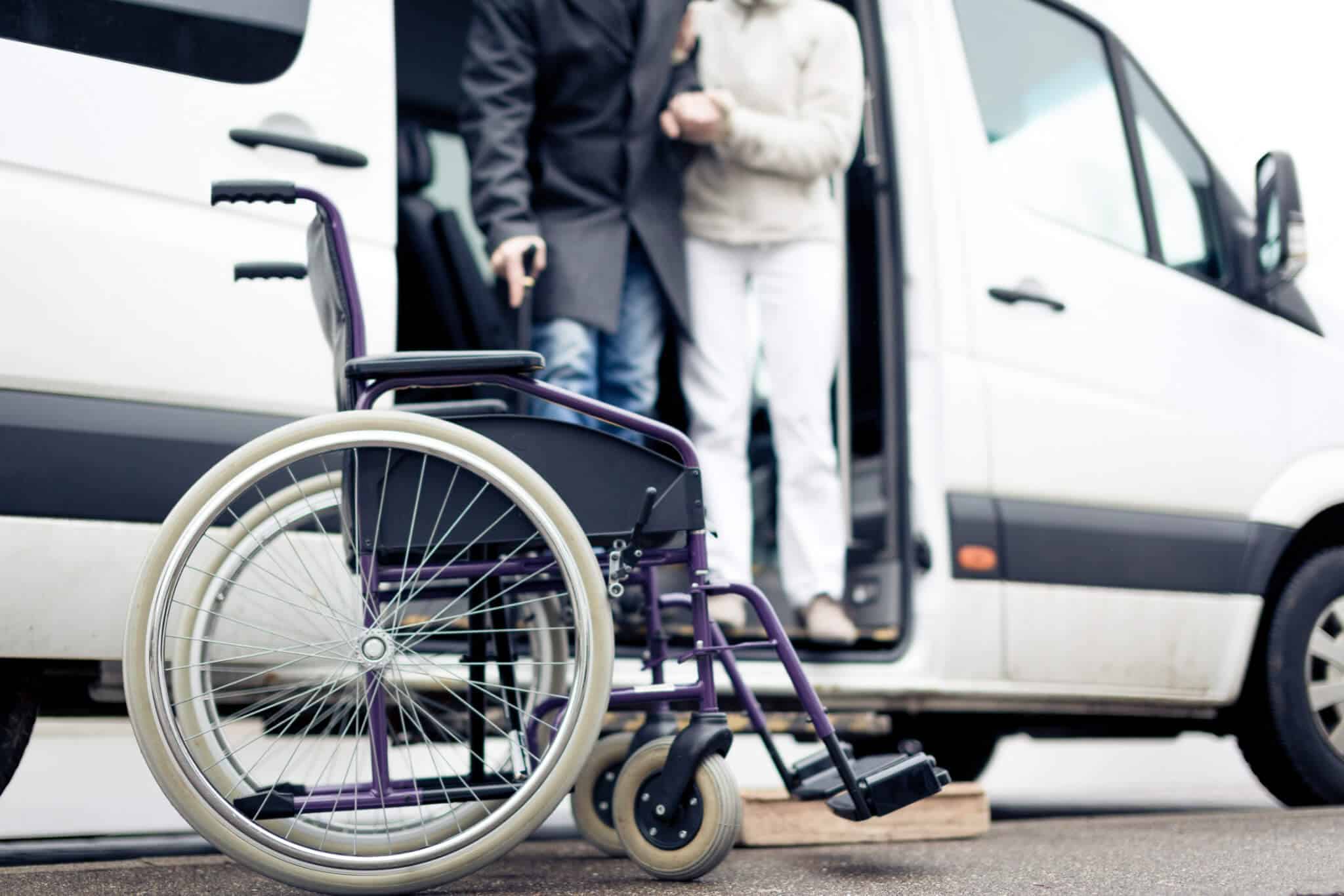 Long-Term Care
When you think long-term care, think life-altering! For both the senior and his or her family. The likelihood of requiring long-term care increases if a patient has a chronic medical condition, such as heart disease or suffered from a stroke that has caused a disability or debilitating state of health. They are more likely to need long-term care.
The most common type of long-term care is in-home personal care which is provided by an in-home agency but can also be given in a facility such as a nursing home, adult day care, etc… Consequently, the decision should not be taken lightly. Thank goodness because of loving caregivers today's new options are life-changing in the best of ways!
In addition to providing hands-on assistance, caregivers help seniors with daily tasks such as cooking and cleaning or personal tasks like bathing, and dressing and include monitoring the seniors' overall health and well-being. They can alert their clients' families if they notice any concerning changes in behavior or health status that might indicate a need for more intensive medical intervention. This extra level of attention helps ensure that seniors remain independent and comfortable at home longer.
If long-term care is needed for a longer period of time, then permanent placement in an assisted living facility may be required due to health conditions or frailty. Here are some criteria to reflect on when considering assisted living in long-term care for your loved one.
Does it provide the specific service you need?
Is it close to home? Is it close to where you live so you can easily check in on your loved one? Being close to family and friends who can ease the transition.
Licensure and reputation. Do they receive Medicaid or Medicare funding and have passed state survey inspections?
Quality of care: Do they have a Wellness Director, trained and experienced caregivers and do they provide 24/7 nursing care and supervision?
Meals. Are the meals and snacks tasty, and nutritious? Do they have a customized a nutritional plan which will focus on the needs and personal tastes of the elderly?
Memory care: Memory care is crucial in long-term care, especially for seniors who need it. Is there a secure, separate location for dementia patients? So you really want them to be in a separate location? Is staff trained and experienced enough to care for dementia patients? Is Alzheimer's and dementia training ongoing?
Is there a home-like environment: It will be a smoother transition into long-term care if the environment is comfortable and your loved one feels at home? It is surprising when one finds a real home as a care place for your loved ones ongoing relationship needs.
Hospice and Palliative Care
Palliative care focuses on relieving symptoms and improving quality of life while dealing with a serious illness which could be long-term or short-term as the case may be. Hospice is a type of palliative care that specifically deals with end-of-life issues.
It provides comfort and support as well as pain management, but it does not provide curative treatment or prolong life. When you're choosing an assisted living facility, it's important to know whether they offer hospice or palliative care to come in and provide their services, so you can ensure your loved one receives appropriate care as needed.
Social And Recreational Facilities
If you want your loved one to remain happy, and maintain a healthy quality of life, make sure they have assistance with recreational activities! As long as their health allows it, why not?! An in-home care agency can help you figure out what activity is best suited for your loved one depending on their traits or personality. For example, an in-home care agency may provide social and recreational facilities like trips to the movies, local senior center, local gyms, or swimming centers, allowing your loved one to interact with others while keeping up on current events or staying entertained.
Whether your loved one is living alone or with another person in need of assistance, most caregivers agree that social interaction is an important part of a senior's daily routine.
In fact, it can not only contribute to overall happiness but can reduce the risk of certain diseases like Alzheimer's disease by boosting brain activity! On top of human interaction, seniors often benefit from exposure to natural light and color through occasional outings: doctors recommend getting outside every day if possible for mental health benefits as well as physical ones.
It could be a trip around town in a wheelchair-accessible van service or even just a walk around the block to see neighbors greet each other on Halloween night.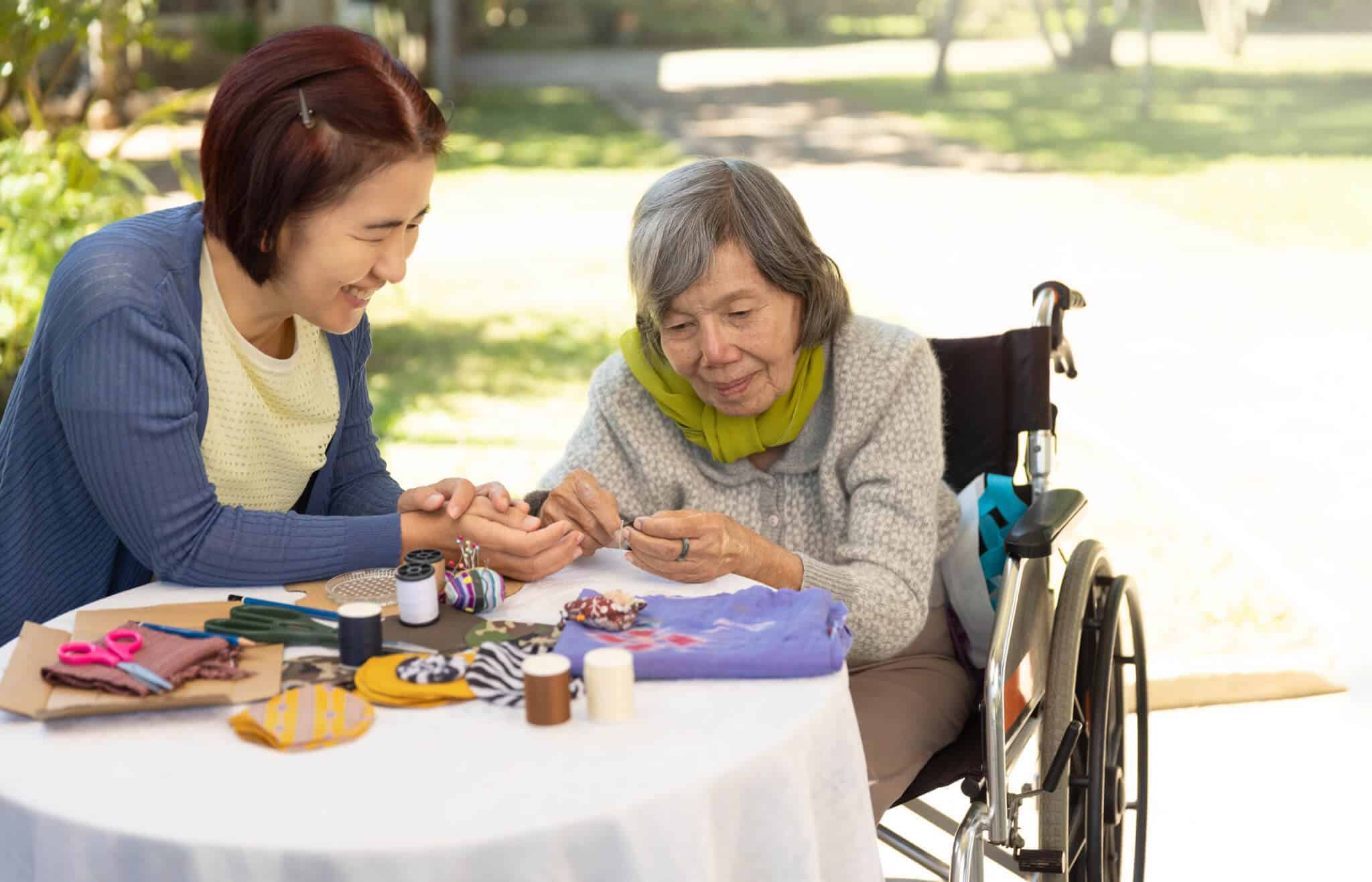 In-Home Supportive Services
In-home care providers assist seniors daily with activities like bathing, dressing, cooking, and more – and good ones also allow them some level of independence. In-home care providers can offer physical help, companionship, and emotional support as well. They will typically visit your loved one every day and handle a wide range of tasks involving them in the processes depending on what is needed on a given day.
For example, an in-home caregiver might help with a shower or get dressed in the morning before heading off to other appointments. If they are well trained, they will include them in the decision making. Later that afternoon, she might return to make dinner or do laundry while checking in on her patient throughout the day, so she may assist in the folding of her own clothing if able. This flexibility makes it easy for seniors to continue living at home without feeling dependent on others or trapped by their limitations.
It's important that you choose an agency that has experience caring for your loved one. For example, if you have a parent who needs 24/7 monitoring due to health concerns or dementia, you'll want someone who understands how best to keep him or her safe and comfortable at home while still allowing him his independence when possible.
We've broken down three popular options so you can make an informed decision about what In-Home care support you may need to decide upon that would be best suited to you or your loved one.
These categories are broad and services can be personalized depending on the agency you choose and the needs of your loved one.
Live-in: Live-in providers live in your home with your family and assist them with daily activities. They don't have any other clients at any given time or may only have two or three, helping them be more flexible with their schedule around yours. You or another family member can sometimes remain present in the home as needed or desired.
Live-out: Similar to having a full-time caregiver come into your home, live-out caregivers visit seniors directly in their homes and help provide care when needed. These senior care professionals typically charge per visit where caregivers visit several times per week for longer periods. If you have more than one family member who needs assistance caring for your loved one, then these services might be right for you since they can schedule visits around everyone's schedule.
Part-time: Part-time caregivers work on an as-needed basis. Here they don't spend as much time with clients compared with other types of senior care services. These providers are ideal if you only need occasional help with activities like meal preparation or running errands. However, it's important to keep in mind that part-time providers may not be able to provide as much support as someone who works with your loved one all day long, every day.
Companionship
Senior care services provide companionship and support to seniors who might otherwise be home alone. If your loved one is often home alone, consider whether they'd benefit from a companion—another person or caregiver who can help with errands, meals, and other daily tasks. Companions don't need to have any special training or certification. However, experience is always a plus. Sometimes all it takes is to have someone else in their life who cares about them. When choosing a companion service, make sure you find out how much time they spend with your loved one. A good caregiving agency watches and hires only those who mutually interact where both benefit from the arrangement.
Caregivers who have empathy and love their job are essential when considering hiring for this service. That's why you should look for an agency that has staff dedicated specifically to serving seniors 24/7; professionals who are passionate about what they do and feel honored to serve our older generation.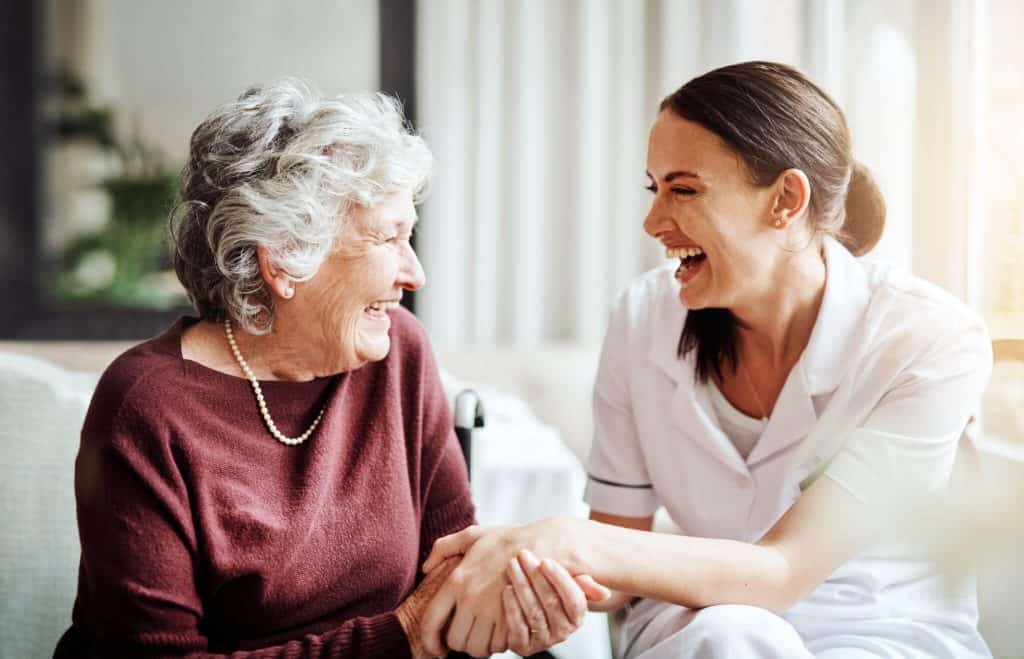 Conclusion
It can be difficult for your loved one to begin receiving help. When you begin helping them or getting help for them, try your best to be patient.
Preparing ahead of time will help you and the potential aide ease into the change. There are superb and experienced providers who can help you and give your loved one the care and service they deserve and need.
It doesn't matter whether your loved one just needs some companionship on a part-time basis or requires round-the-clock care—there's a health care service provider out there ready and willing to make things better. In fact, if you need more information about how to choose a good in-home agency for seniors, don't hesitate to check Amyseden.com. We love helping people take control of their lives again.
In-Home Caregiving Services Find an in-home caregiver in Reno & Carson City, NV! Amy's Eden caregiver in NV Free care assessment > Amy's Eden Senior
Read More »
Contact Amy's Eden Senior Care