Healthy and Engaging Activities for Seniors in Assisted Living Homes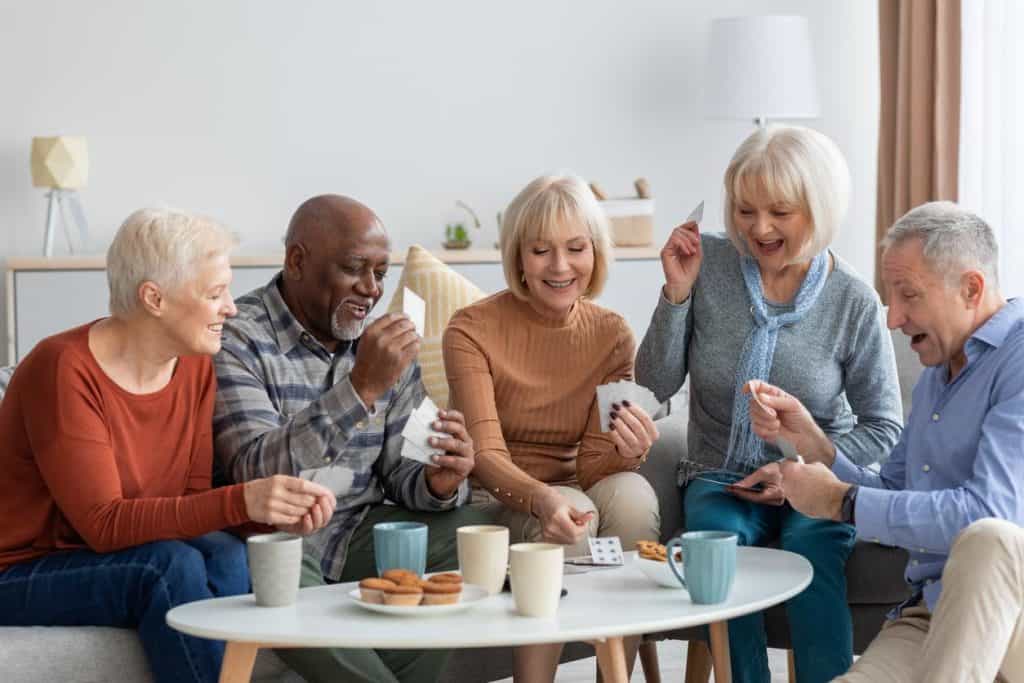 As people age, they become more prone to isolation and physical dependence. The transition to a new environment can be challenging for them. They may seem stressed, agitated, or lost. Even though assisted living homes provide maximum privacy, care, and companionship for seniors, they should have an activity program that keeps seniors involved.
However, planning activities that fit everyone's interests, needs, and preferences can be daunting. Repeating the same activity plan gets monotonous. It is important to introduce new constructive activities for seniors to maximize their participation.
Looking for some fun activity ideas for your residents? Check out our list of assisted living activities for seniors.
Why Are Assisted Living Activities Important for the Elderly?
Although assisted living activities are often overlooked, they are undoubtedly an essential part of any care home. A couch and a TV all day will not make older people happy. They need to be engaged in creative and fun activities to stay healthy and active. To promote a confident lifestyle in residents, these activities address all aspects of their physical, mental, and social well-being.
Improvement in Quality of Life
An inactive and isolated lifestyle diminishes quality of life. Residents of assisted living homes who participate in healthy activities are more likely to remain physically active and live a longer, healthier life. Group activities allow them to form new relationships and reminisce about past experiences and life stories with other residents. Keeping them connected keeps them from feeling lonely and isolated, ultimately improving their quality of life.
Sense of Control
The physical dependence of older people on caregivers often deprives them of a sense of control and purpose. They may also become agitated or depressed. Engaging them in meaningful activities will let them use their skills from their old days and give them a sense of ownership. Interactive group activities where they help each other accomplish tasks will make them feel satisfied and purposeful.
Elevated Self Esteem
It can be demotivating for seniors to rely on others for even the simplest aspects of their daily lives. It is ultimately detrimental to both physical and mental health. The more activities they participate in, the more positive self-image they develop. They can pursue their favorite hobbies and enjoy their leisure time with other like-minded people in the facility. The result is an elevated sense of self-esteem and confidence. Eventually, they start feeling good about themselves.
Reduced Risk of Depression
'Relocation Stress' is reported as one of the most prevalent causes of depression among seniors in nursing homes. Transitioning from their beloved homes to a residential care facility affects their mental health. The goal is to give them a sense of acceptance so they do not feel alienated. Assisted living activities that promote social interaction, foster new friendships, and create a sense of belonging reduce the risk of depression in seniors.
Improved Physical Health
Activities for seniors in assisted living facilities positively impact their physical health. They tend to stay active and keep moving. When exercises are made to look like fun activities, older people are more likely to participate. Physical activities also enhance their cognitive abilities. When activities are part of their routine, they develop strength and balance and become less prone to falls and injuries.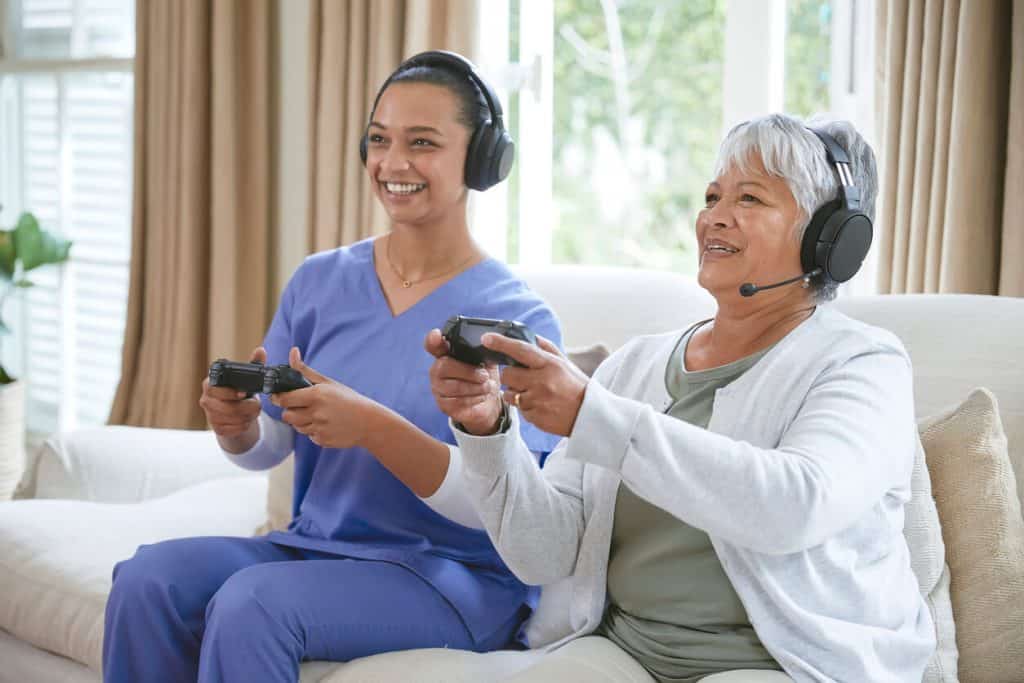 Activities for Seniors in Assisted Living Facilities
Indoor Activities for Seniors in Retirement Homes
The weather can sometimes be too harsh for older people to spend time outside. Seasonal flus and Covid-19 can also limit some social interactions. The nursing homes, however, should not hinder their enjoyment of life. Here are some exciting indoor activities for seniors:
Games
Board games, puzzles, bingo, and Scrabble are good indoor activities for seniors in assisted living homes. If you want to make the party more exciting, you can include soft tip darts, a pop up golf game, or inflatable ring toss. These can be played individually as well as in teams. These are equally popular among the seated elderly and those with better mobility.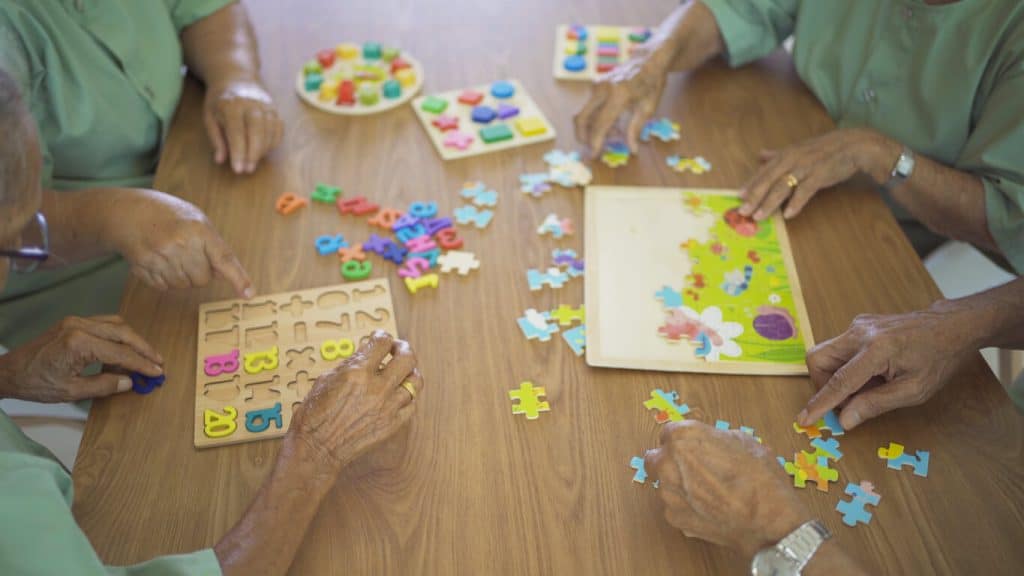 Story Time
Many older people enjoy reminiscing about their past and sharing their favorite memories. Their stories are filled with amazing experiences and life lessons. Taking turns sharing favorite memories, love stories, or memorable experiences can make afternoon tea or brunch a meaningful indoor activity for everyone. Also, this would make a great icebreaker. Letting them talk and express their feelings and thoughts is therapeutic, interesting, and fun.
Sing Alongs
A sing-along is another fun indoor activity for seniors in nursing homes. Music therapy is proven to be effective in improving memory, reducing stress, and elevating mood in elderly people.
Get residents to choose their favorite songs, create a playlist, and play it on a CD, and everyone sings along. Some of the seniors might not remember all the lyrics. In that case, print out the lyrics or find the lyric videos and play them on the screen so they can read while singing. You can also encourage your residents to dance along.
Even seniors suffering from dementia or Alzheimer's can often recall the words to their old favorite songs.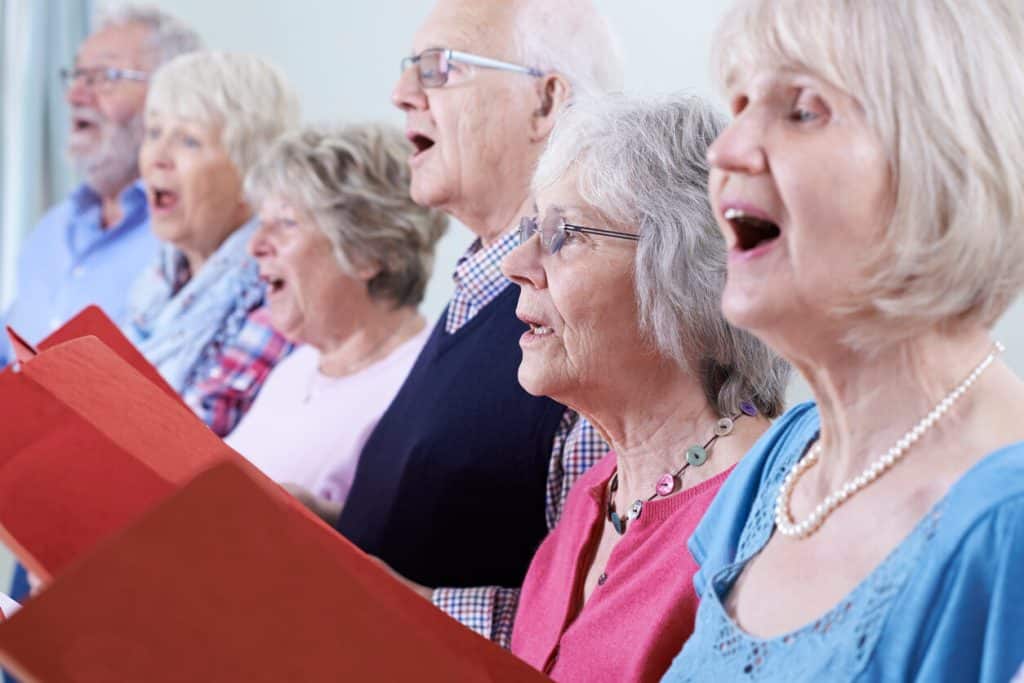 Book Reading
Books are often a favorite pastime for seniors. You would be surprised how many of them still have a large book collection in their homes. There is nothing better than creating a book club full of nerdy readers. Have a book club meeting every other week so they can discuss the book of the week. You can also make 'book buddies,' where two seniors pick their favorite books. Once they finish reading, they exchange their books with each other.
Be considerate of seniors with visual impairments. There are many versions of books available, including large print editions, or e-readers with expandable fonts. For those golden agers who can't read anymore, audio books are another option.
Indoor Exercises
Fitness programs don't always need to be conducted in equipped gyms, on lawns, or in parks. Exercises performed indoors have proven to be equally effective at improving mobility, balance, and strength. A few simple exercises you can do indoors are stretching, dumbbells, walking, ankle rolls, leg raises, heel slides, shoulder presses, wrist rolls, and sitting torso lifts. Based on seniors' preferences, exercises can be carried out indoors one-on-one or in groups.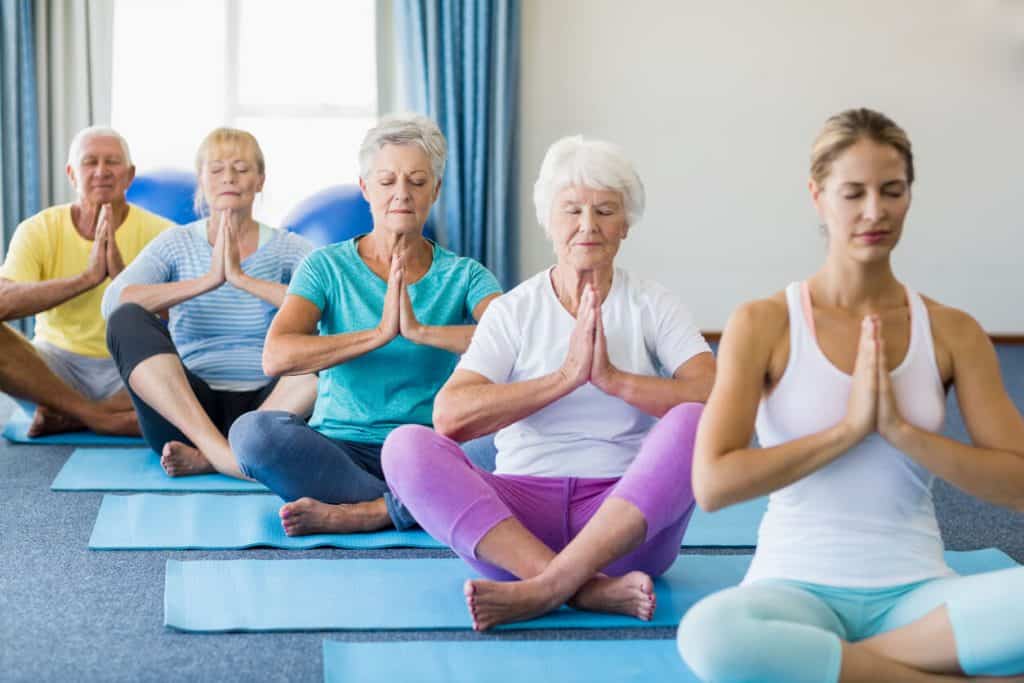 Outdoor Activities for Seniors in Nursing Homes
Outdoors are ideal for older people in nursing homes to soak up the sun and enjoy nature while enjoying time with friends, family, or other fellow senior residents. Here are some outdoor activities that you can organize for elderly people:
Picnics
Older people love picnics, especially by a beach or scenic view. However, it doesn't necessarily have to be in a particular location. Take them to your nearby local park, pack some healthy snacks, and just let them enjoy the open air. Some older people may not want to join the group but enjoy it with their family members. In that case, invite their loved ones to spend quality time with them.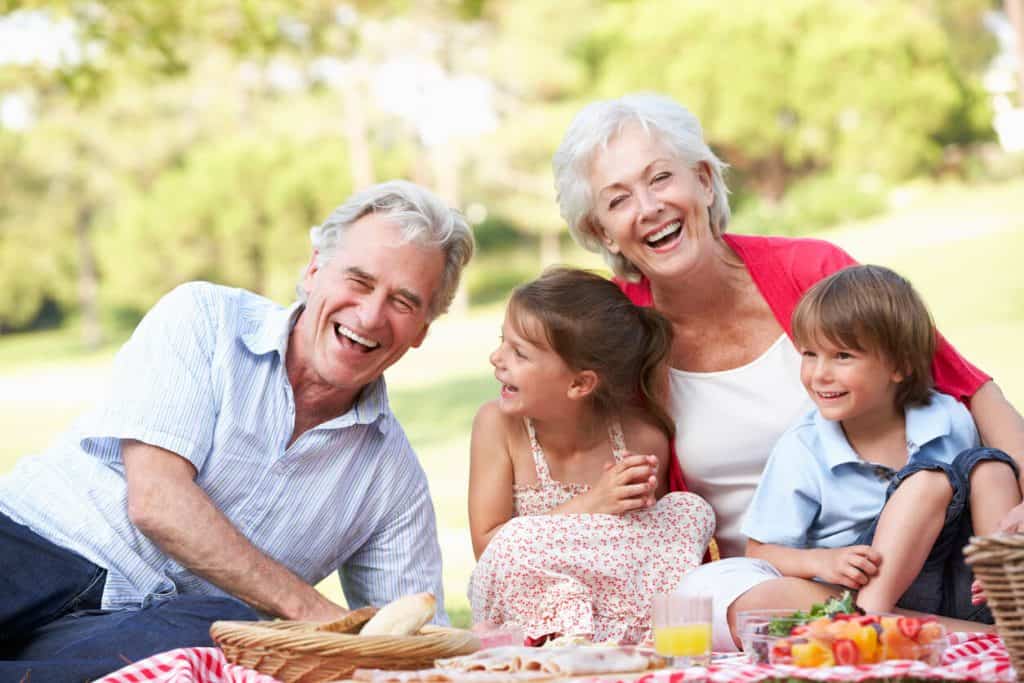 Concerts
Music concerts are another fun outdoor activity that seniors really enjoy. You don't have to arrange an expensive concert or invite a high-profile singer. You'll be able to find many sponsored shows that are free to attend. Moreover, many small bands and NGOs offer volunteer shows for care homes. Invite them and set up a small, cozy concert in the backyard of the assisted living facility or a nearby community park.
Outdoor Games
Seniors who enjoy outdoor games can play badminton, miniature golf, bocce ball, wooden stacking games, and cornhole. They provide good exercise for the body without being physically exhausting. They also improve cognitive functioning in older people. You can divide them into teams and organize game contests to make the activities more engaging.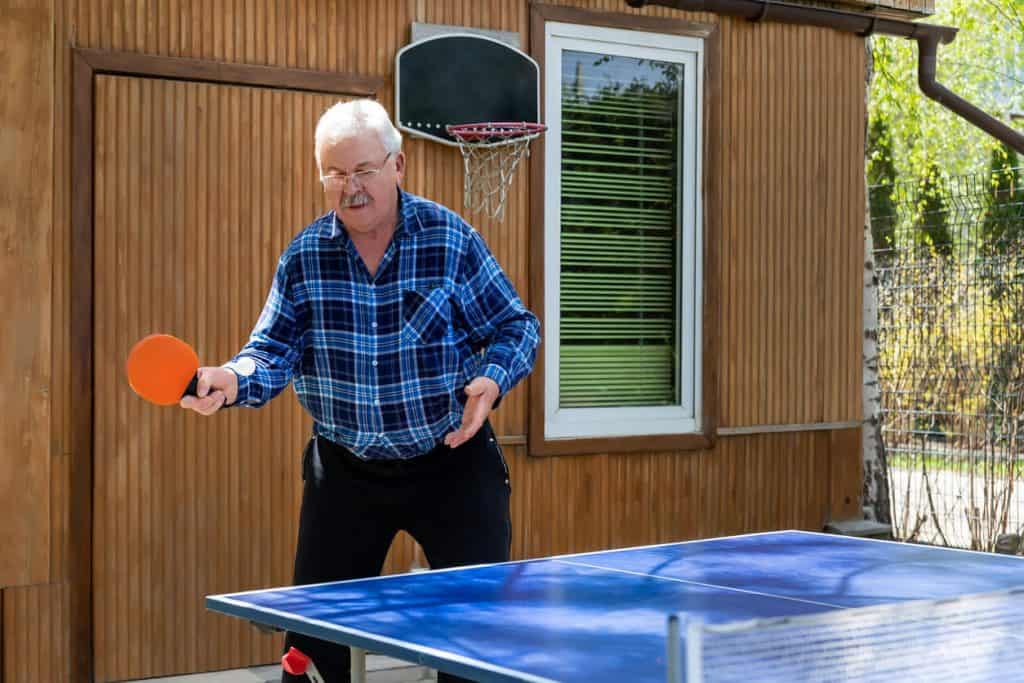 Gardening
Gardening is one of the most popular and healthiest activities for seniors in retirement homes. As they tend to their plants daily, it not only gives them a sense of accomplishment but can also improve their fine motor skills. Since it can be challenging for older people to bend and reach those little plants, specific adjustments can be made accordingly. They can include providing benches in the backyard, raising the plant beds, getting movable hanging pots, using light-weight tools, and getting stable chairs and tables.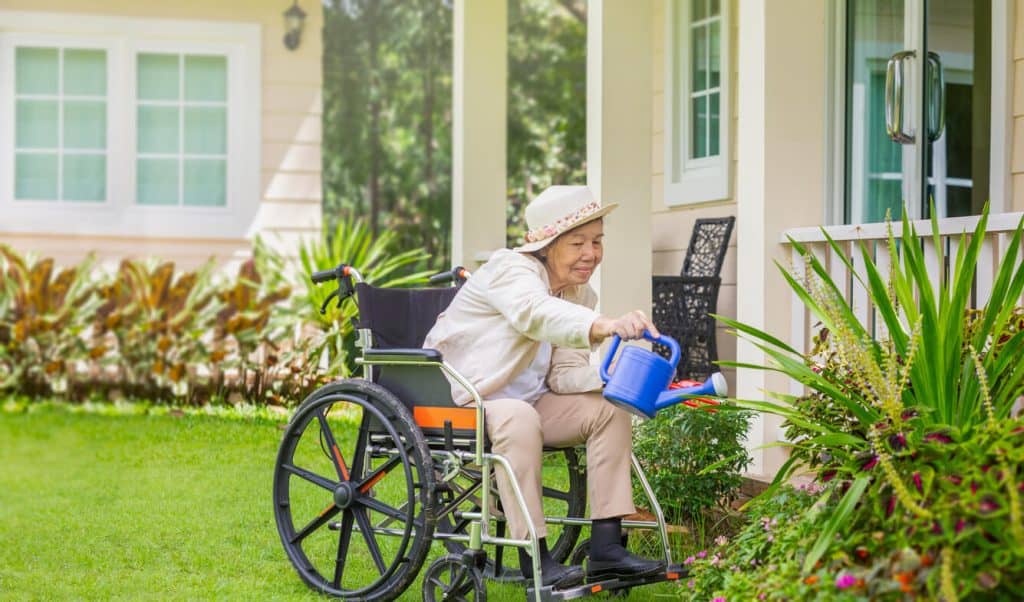 Exercises
Outdoor exercises for seniors in assisted living homes include brisk walking, tai chi, yoga, stretches, and meditation. Seniors with higher mobility can enjoy swimming and hiking as well. Outdoor exercises lift the mood and reduce stress while physically strengthening the body.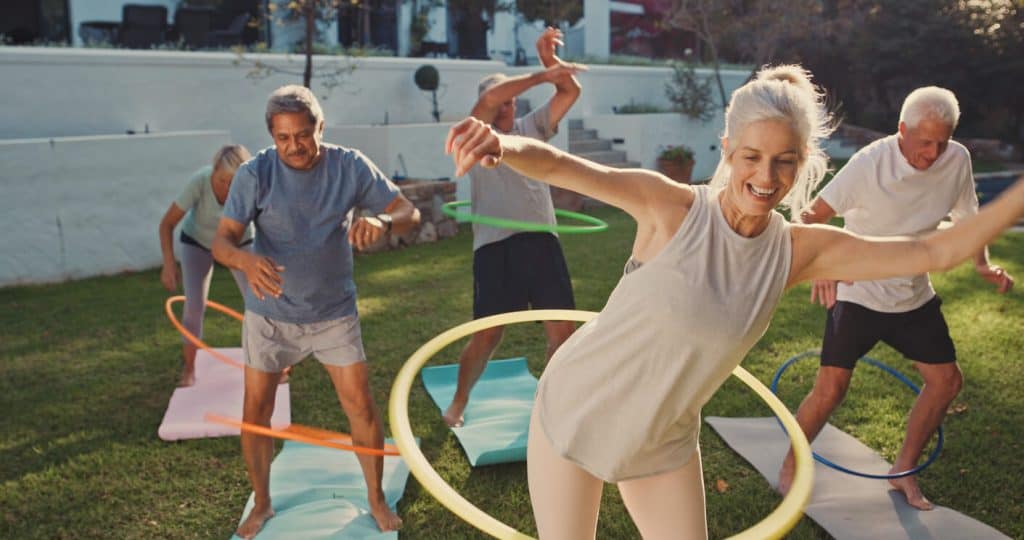 Activities for Seniors With Dementia
As people age with dementia, they lose their memory, cognitive ability, and communication skills. They need an activity plan geared more towards memory care in nursing homes. Listed below are a few healthy activities for seniors with dementia:
Knitting
Knitting is a great activity that helps slow down the progression of cognitive impairment, including slowing the onset of dementia. It also contributes to the maintenance of attention and concentration in older people with dementia.
You can form a knitting group for knitters and wannabe knitters in assisted living homes. It is an excellent opportunity for those interested in learning a new skill. They can knit beautiful gifts for their loved ones as birthday or Christmas presents.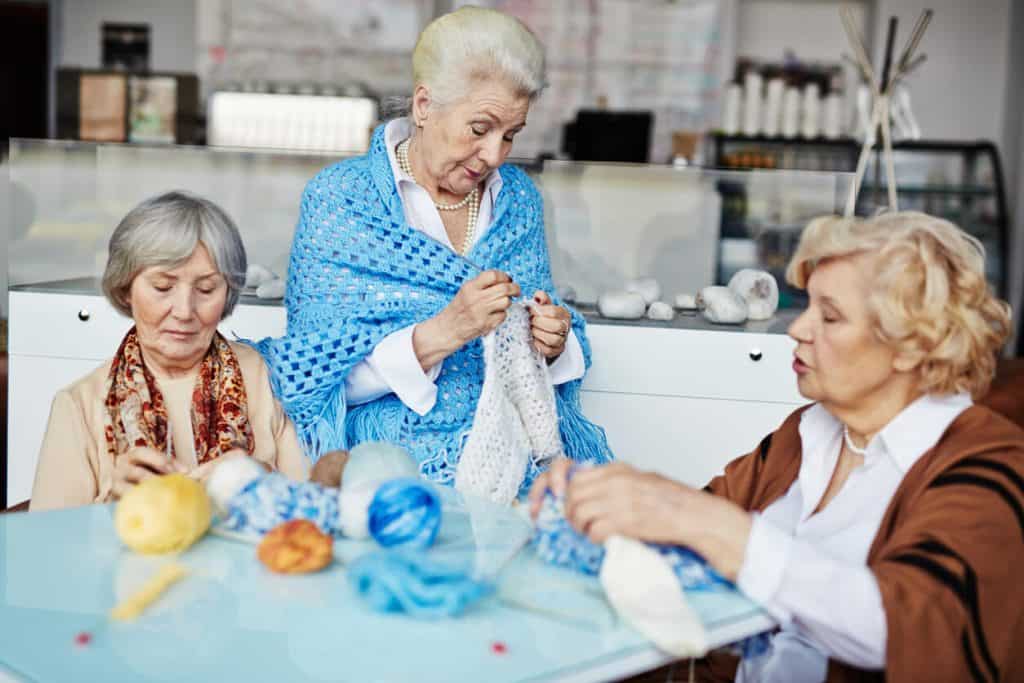 Board Games
Although the complexity of board games depends on the stage of dementia, some common board games for seniors with dementia are bingo, Monopoly, Uno, checkers, and Scrabble. These games increase alertness and mental stimulation in older people. It is advised to use large-sized boards and cards because smaller visuals can cause agitation and stress in people with dementia.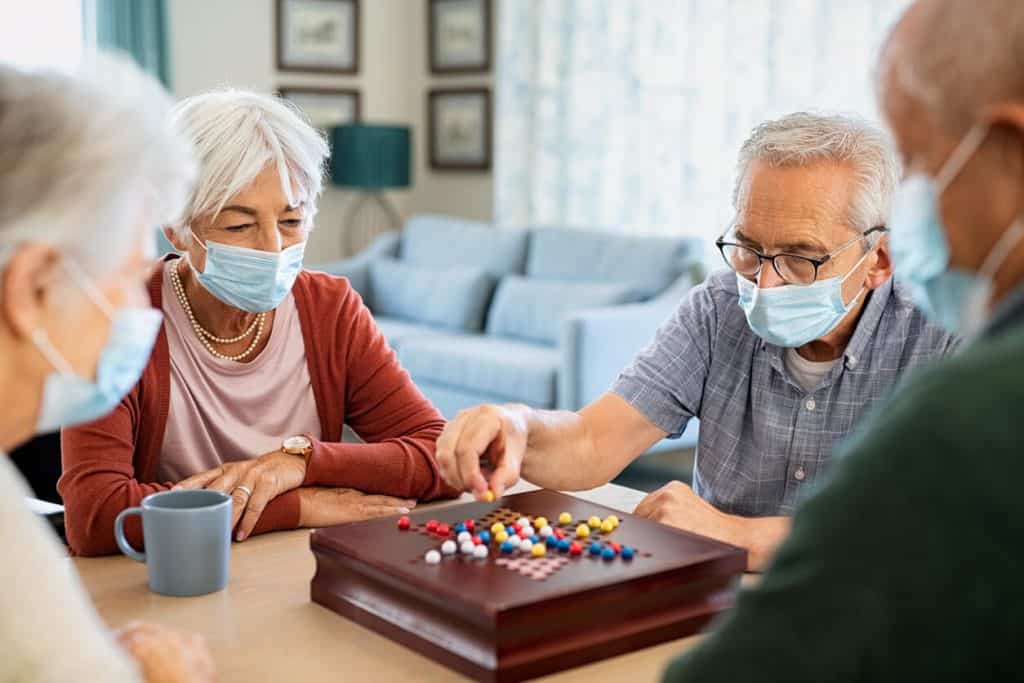 Arts and Crafts
Art and craft activities like painting, coloring, making scrapbooks, arranging flowers, making bracelets with beads, and upcycling glass jars are very effective in memory care programs for seniors with dementia in assisted living homes. These activities improve coordination, visual input, and brain activity. They also help in retaining colors, shapes, and patterns.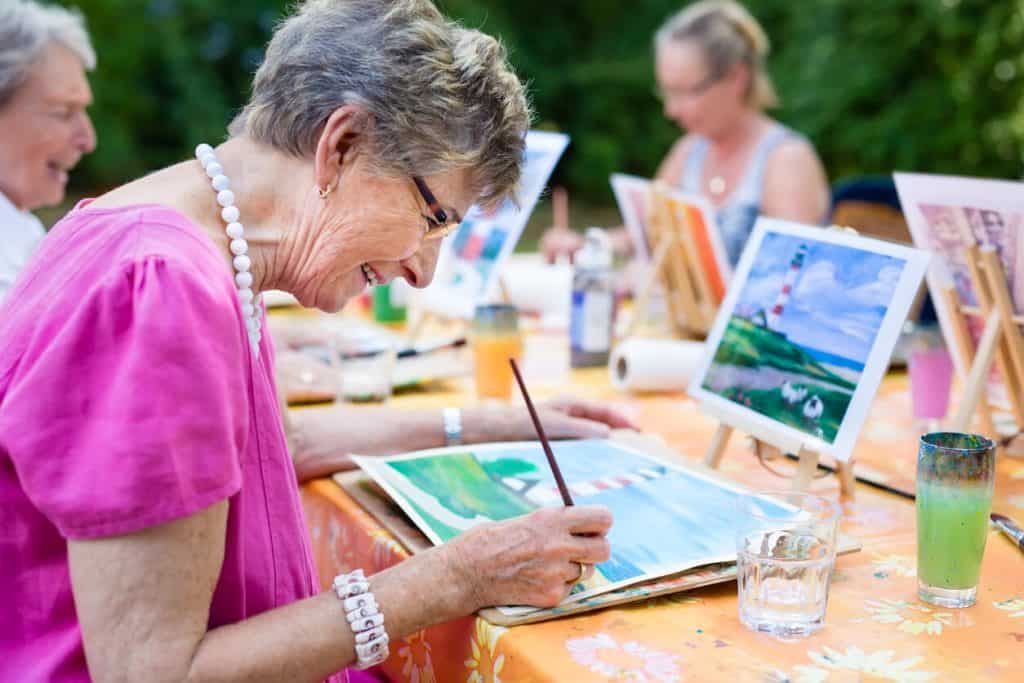 Cooking and Baking
Cooking and baking are specifically recommended in the early and middle stages of Alzheimer's. It helps them use their visual, sensory, and motor skills simultaneously. You can ask them to cook mashed potatoes, peel apples, or bake muffins. They may not be able to follow the instructions strictly, so you can assist them wherever needed.
Use caution when cooking or baking with elderly individuals. Slower reflexes increases the risk of injury, especially burns.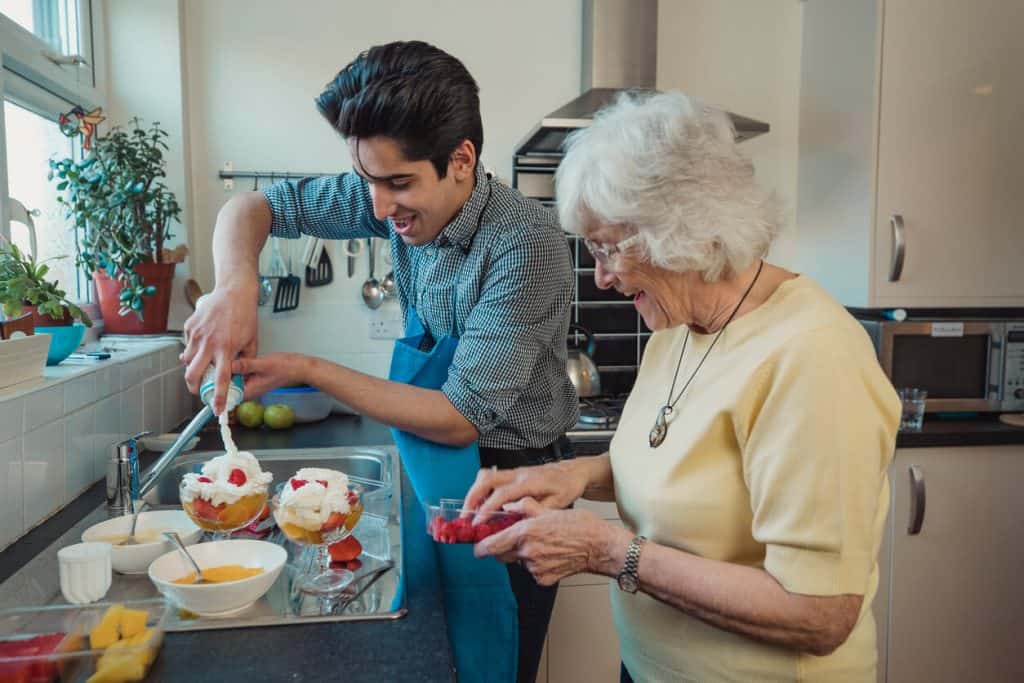 Go Down the Memory Lane
Ask the family members of seniors to send over their old photos and other memoirs that could remind them of their good times. Create a memory box with these items and open it with them. Let them tell you about each item and share the associated stories. This would allow patients with dementia to connect with their past.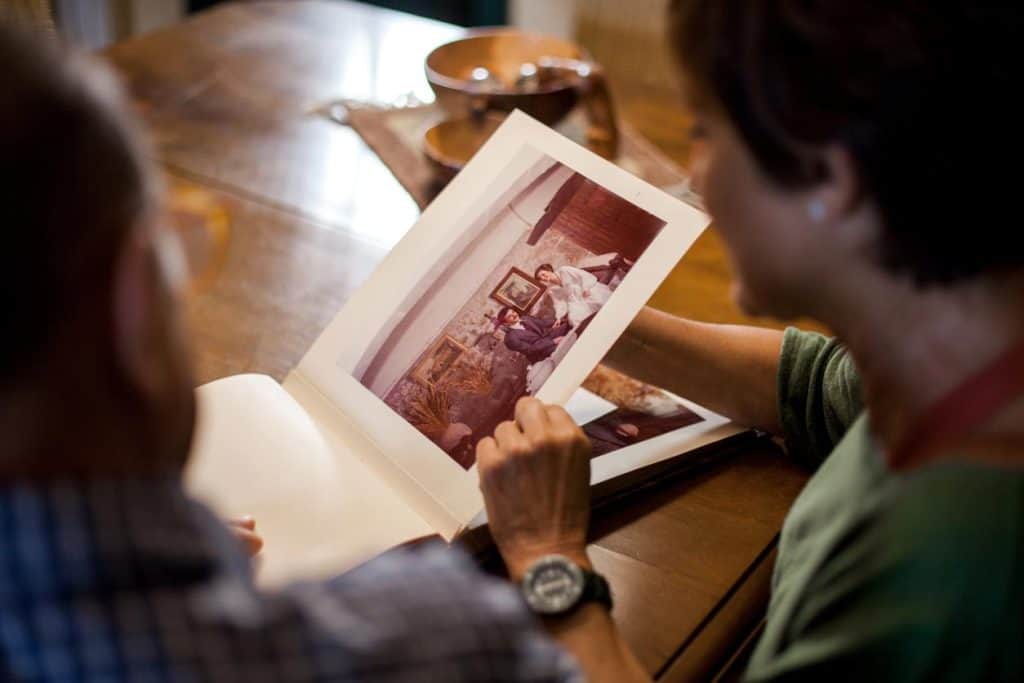 Christmas Activities for Seniors in Nursing Homes
Christmas and other festivities bring back a lot of memories for older people. Everyone has their own kind of attachment to these holidays. Before planning Christmas activities for seniors, it is a good idea to listen to their stories and how they used to celebrate with their friends and family. Ask for their input on things like decorations, dinner menu, dress theme, music, etc., to engage them in festive celebrations.
Decoration of the Facility
Decoration of assisted living facilities is something that everyone enjoys. You can start with seniors decorating the doors of their rooms. Make it a contest where the best decoration wins a prize. Christmas decorations are a great way to involve everybody. You can also invite friends and family of residents to join them in decorating the facility.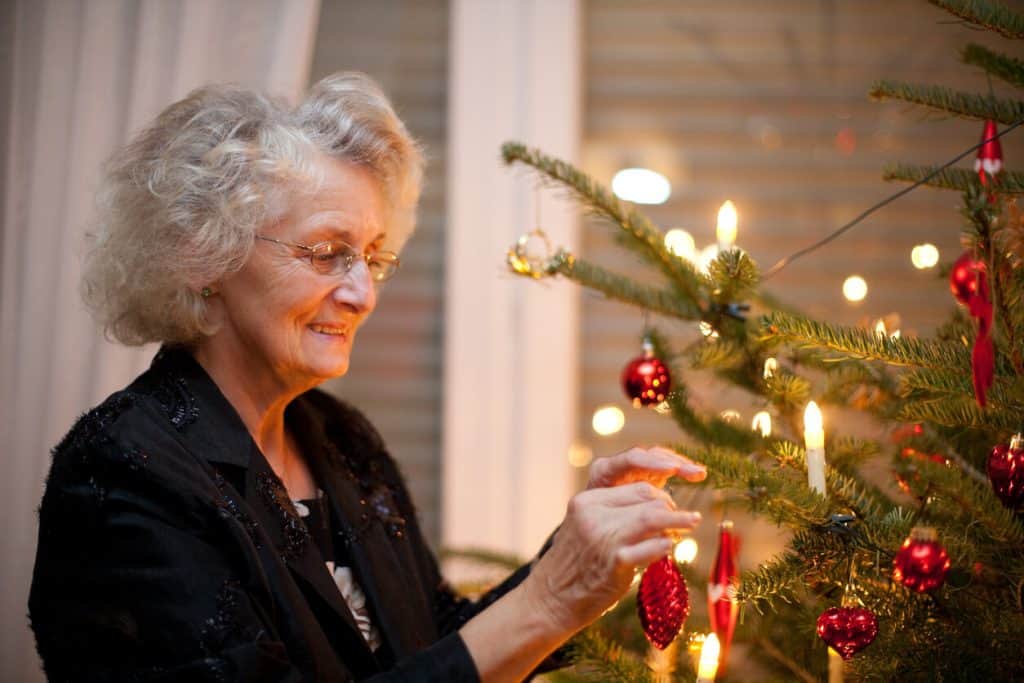 Christmas Cards
Older people with limited mobility can't walk around to decorate, but that doesn't mean they can't participate in holiday celebrations. Set out all the supplies on a table and let them enjoy making cards for their loved ones. Bring wrapping papers of different colors to improve their visual output. They might have made new friends at assisted homes. So, ask them if they want to design a card for someone special at the facility.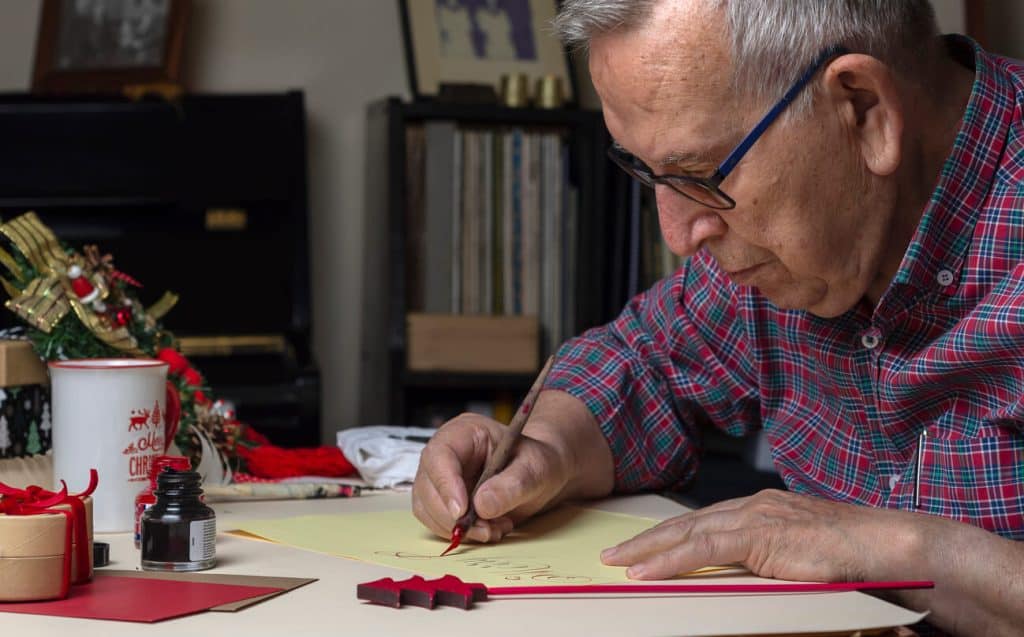 Gift Wrapping Party
Gifts are the heart of Christmas, and older people particularly love exchanging gifts. Friends, families, and other volunteers usually send gifts to nursing homes for seniors on Christmas. You can involve your residents in wrapping those gifts with you. Divide the duties. Each person can be assigned a task, such as cutting the paper, wrapping and taping the gift, tying bows on them, and so forth.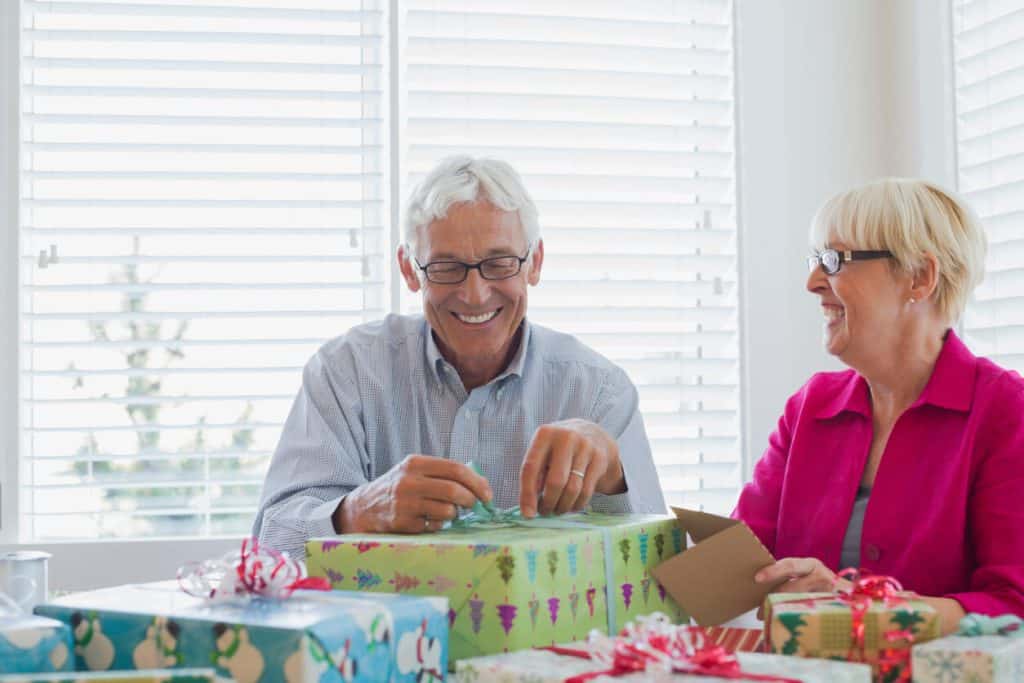 Trivia
Trivia helps improve older people's brain activity and memory performance. A Christmas-themed trivia game is also a great way to engage seniors during the holidays. Come up with exciting questions with one-word answers. Organize teams to answer multiple rounds of questions. Play music whenever a team answers, which is sure to add a fun element to it.
Movie Night
Movie nights are a great entertainment for seniors on Christmas, especially if it's not a regular thing at your assisted living home. Ask them about their favorites. Pick a lighthearted movie. Set up a big screen. Bring their favorite (healthy) snacks. Popcorn is always welcome. For older people, you can also play reality television shows like American Idol, The Great British Baking Show, America's Got Talent, etc., since these shows don't have a story and are easy to follow.
Conclusion
Aging often leaves people feeling lonely and depressed. The physical health of older people deteriorates, as do their cognitive abilities. Assisted living homes are responsible for creating a healthy and fun activity program for their residents. The program should engage seniors while helping them improve physically and mentally.
In-Home Caregiving Services Find an in-home caregiver in Reno & Carson City, NV! Amy's Eden caregiver in NV Free care assessment > Amy's Eden Senior
Read More »
Contact Amy's Eden Senior Care