Home Care for a Family Member: 3 Unique Ways
According to AARP, the vast majority of adults over the age of 65 hope to remain in their own home for as long as possible as they age. In order for families to prepare to take care of their loved ones, they need to develop a plan that includes possible care options: at home, home health care, or care in an assisted living home.
Whether your loved one stays in their own home, lives with you, or in an assisted living home, it is essential to focus on two things at the same time: The immediate needs and possible future needs of your family member because things can change quickly.
Consider the needs and wants of your loved one as well as your own personal needs. For example, ask yourself the following questions:
Can I afford to take time off work or quit my job in case of a prolonged illness or disability?
Am I comfortable bathing and grooming my loved one?
Is there someone I can call to help in case of a minor emergency?
Do I understand all of their medications and possible side effects?
Is their/my home safe for them? If not, can I make the necessary adjustments?
Am I prepared to provide around the clock care for my elderly relative?
1. Taking care of loved ones at home yourself
Preparing your home or your loved one's home is essential for safety. Things that didn't used to be dangerous for your loved one can become a safety hazard as they age. Sometimes specialized equipment is needed in order to prevent falls and to maximize the environment for easy maneuverability. Most of the following assistive devices can be purchased through pharmacies, online, or through Medicare, Medicaid, or the Veterans Administration (VA):
Shower chair
Grab bars in the shower/tub area or any other place where appropriate
Raised toilet seat with a safety frame
Electric lift chair/recliner
Walker and/or wheelchair (as prescribed by physician or physical therapist)
Hoyer lift/patient lift to assist with getting out of bed or the bath
There are often community resources that can assist in the procurement of some medical equipment. For example, if your loved one is a military veteran, check with the VA or the local VFW for equipment loans. Some VFWs even have portable aluminum ramps that they loan to local residents for outdoor use. These are not only helpful for getting into the house in a wheelchair or while using a walker, but ramps are also more comfortable for anyone who has recently undergone knee or hip replacements.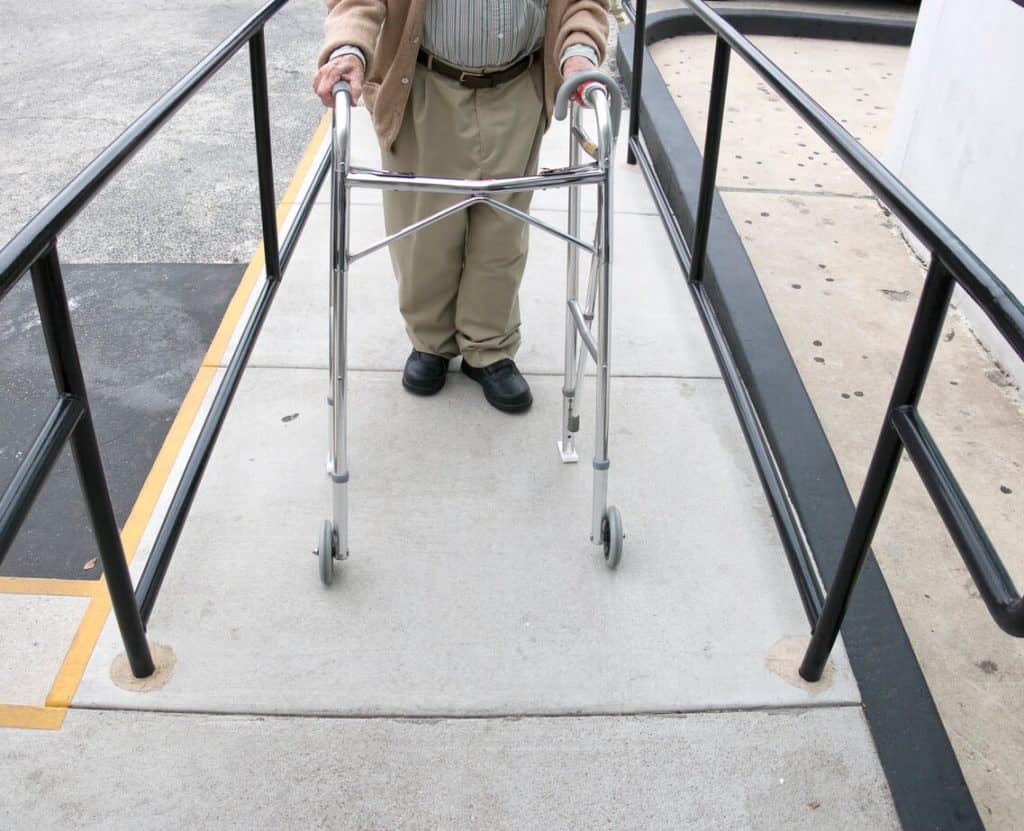 Other things to do around the house in order to prepare it for your aging loved ones include:
Removing rugs which can contribute to tripping and falls
Adding nightlights and/or baseboard lighting
Removing full-length mirrors which can cause confusion
Placing surveillance cameras that are easily accessible by phone in living and sleeping areas, perhaps even in the bathroom as their risk of falling becomes more likely or if they experience episodes of confusion
Installing a Google home mini or other device that is voice-activated and programmed with emergency numbers so they can call for help
Ensuring that locks will protect loved ones who wander
Disable bathroom locks for quick access in case of an emergency
Removing any power cords that are on the floor (even a color change in flooring can cause confusion)
In addition to the above recommendations around the house, you may find that your loved one has trouble getting in and out of the car. AARP has a Wheelchair Accessible Vehicle Guide to help caregivers who either need to modify or purchase a vehicle to accommodate seniors who use a wheelchair. https://www.aarp.org/auto/trends-lifestyle/info-2022/wheelchair-accessible-vehicle-guide.html?intcmp=AE-CAR-BB-LL1
2. Home care for a beloved family member
If you are considering home care for your loved one, keep in mind that there are certain care services that In home care can provide which will help alleviate your concerns and daily responsibilities. Some home health, in home care services include, but may not be limited to:
Bathing
Personal grooming
Meal preparation
Feeding assistance
Medical appointment/ telehealth management
Housekeeping
Shopping/running errands
Respite care
Personal care assistants provide caregiving services in your home or your loved one's home. This type of care allows your loved one to maintain the lifestyle with which they are most familiar and comfortable. Home health caregivers tailor their services to meet the unique needs of your loved one. For example, home health personnel can also care for the family pets.
Personal care assistants perform another very valuable service: Companionship to counter the loneliness and isolation that so many elderly endure. Research shows that social isolation contributes to mental decline. Regular interaction with other people helps prevent cognitive decline.
When searching for the perfect in-home health provider for your family member, be sure to check that they have the appropriate licenses and are bonded. Another thing to check is availability. It's best to have a home health provider who is able to cover any and all shifts, even if that isn't necessary to begin with, because circumstances can and will change over time.
3. Care in an assisted home for your loved one
When circumstances are such that an assisted living facility is the preferable choice, it's important to carefully review your options. Here are a few considerations to keep in mind as you search for the right assisted living facility for your loved one:
Because assisted home facilities for seniors vary in quality and staff-to-resident ratio, insist on a situation in which your loved one will not be "lost in the crowd." Look for a home with only one or two residents per full-time staff member.
Since inflation and cost of living can increase dramatically, look for an assisted home that will not systematically raise rates while your loved one lives there.
Never select an assisted home sight unseen. It's important to tour the home either in person or virtually before placing your loved one there. Look for an assisted living home that offers a tour before committing.
A healthy diet helps seniors physically and mentally. Only consider an assisted living home that will offer nutritious, balanced meals. It's also important to know that they will create a meal plan to match your loved one's special dietary needs and wants.
Staying active is vital, so ask about activities, recreation and entertainment that will provide for your loved one's preferences.
Living in the right assisted home provides security, safety, companionship, and a unique environment that is both friendly and familiar. That environment is essential to your family member's well-being. The physical environment should be clean with comfortable seating. It should have social areas, as well as private space. There should also be accessibility and safety features to keep everyone safer. It should be someplace you look forward to visiting, knowing that your loved one is well-cared for and in a pleasant place.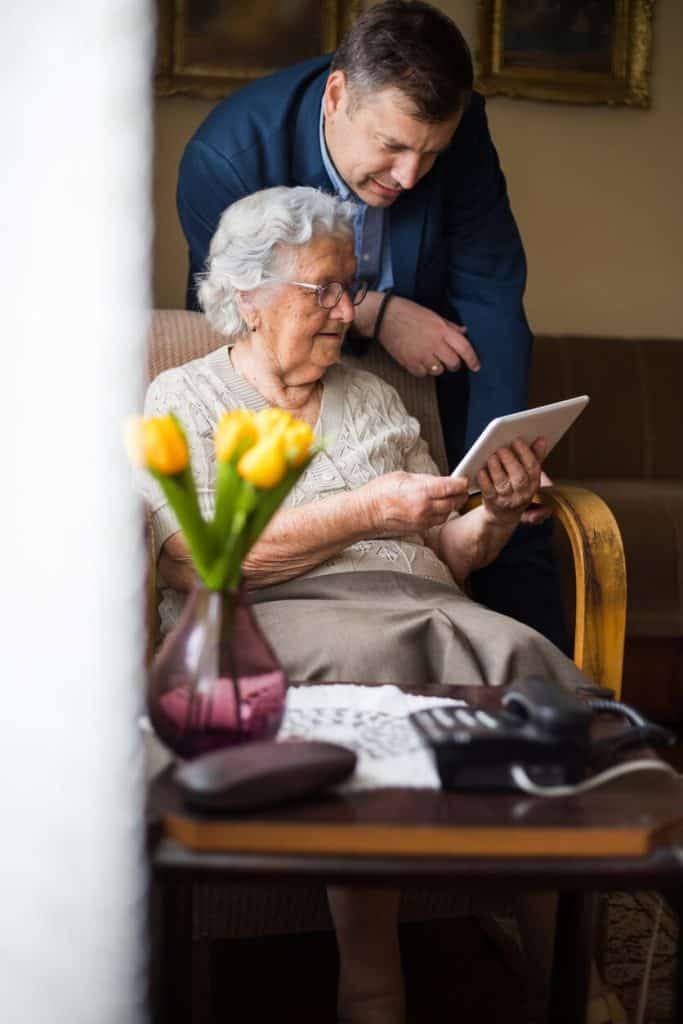 Although the physical environment is very important, the social environment is extremely important. Meet the staff and discuss any concerns you have with them. Get a feel for how well the caregivers interact with the other residents and each other. Are they friendly? Are they compassionate? These factors are important to ensure that your loved one will have a sense of well-being and a quick, easy adjustment period when they move into the new assisted living home.
According to the World Health Organization, societies around the world are experiencing increased proportions of citizens over the age of sixty. This changing trend means that we will also experience changes in the way society needs to serve that part of our population. It will impact everything from transportation to technology and healthcare to housing.
There is no doubt that housing is a top priority and at the center of senior care concerns. Prepare now by studying the ways in which you can best care for your loved one, today and in the future. Whether you opt for caring for your loved one by yourself, reaching out to a home health or in home care provider, or selecting the perfect assisted living home, the decision is yours. Give yourself and your family members the situation that will bring the greatest sense of safety, belonging and peace of mind.
In-Home Caregiving Services Find an in-home caregiver in Reno & Carson City, NV! Amy's Eden caregiver in NV Free care assessment > Amy's Eden Senior
Read More »
Contact Amy's Eden Senior Care