Everything You Should Know About Home Help For Older Adults
Your elderly loved one wishes to remain at home for as long as possible in order to help retain their independence. But, you notice they find it difficult to perform regular housekeeping tasks, take care of themselves, or worse, they begin to feel lonely.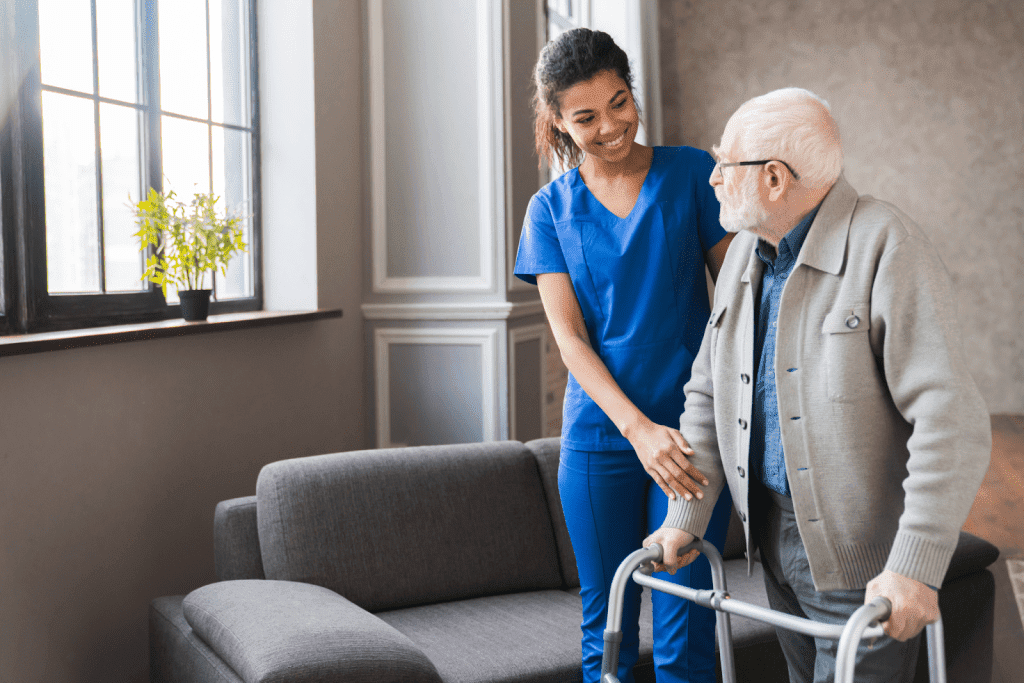 Instead of trying to convince them to transition to a care facility, home help can make living at home easier and safer.
Whether your loved one's needs are minor or complex, getting help at home ensures they get assistance for needed tasks they can no longer perform, while they continue to manage the day-to-day activities that they can handle.
What is Home Help?
Home help is for older adults that long to remain at home as they age, but require day-to-day assistance with activities they can no longer perform independently. This could be light housekeeping, meal preparation, or running errands. A home help aide makes living at home safer and possible for your elderly loved one.
Home help usually extends to older adults who require the companionship of another to help prevent loneliness or isolation. It can also be provided for seniors that require assistance with ongoing medical care or post-hospital care but would prefer to get that care at home through telehealth assistance.
Home care is provided based on the individual needs of your loved one, in a familiar environment where they are most comfortable — in their own home.
What are the Benefits of Home Help?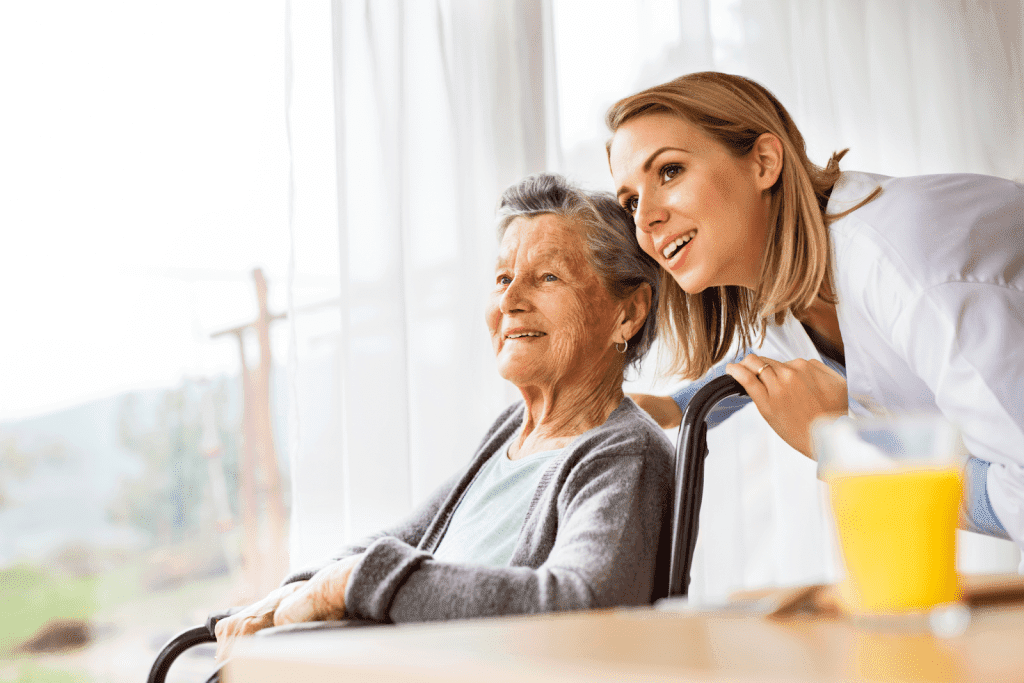 For most older adults, the major benefit of having a home help aide is the ability to retain their independence and still receive much needed assistance. While this is the fundamental benefit, there are numerous other  benefits your loved one will enjoy from receiving help at home. 
They include:
Independence

Comfort

Personalized care

One-on-one attention

Companionship

Keeping pets 

Memory Care

Meal planning and preparation

Medical telehealth assistance

Light housekeeping

Change linens 

Crisis management assistance

Family involvement

Cost-effectiveness
Independence
More and more older adults are opting to receive care at home because they fear losing their independence in a large facility or nursing home. At home, they can still help with simpler tasks and still choose when to eat, sleep, or have leisure time. Outside the home, some activities become more and more limited, and unfortunately they have to depend on someone else full time or 24/7.  Either way independence is maintained much easier when activities stem from receiving care at home.
Comfort
Home help provides a comfortable and familiar environment for your loved one. They can use their own bathroom, sleep on their own bed, and tend their own garden while remaining at home with a personalized caregiver.
Personalized Care
Unlike large assisted living facilities or nursing homes that provide one-size-fits-all care for their residents, your loved one gets the best care designed specifically to suit their needs while remaining home .
One-on-One Attention
Since your loved one is the main focus of the home care aide, they get the highest quality of care unlike in out-of-home care oversized facilities where one caregiver has to attend to too many other residents.
Companionship
Loneliness and isolation are one of the risks of living at home for seniors. Home help provides seniors with a companion. A friendly conversation, laughter, and someone to share your favorite hobbies with, goes a long way.
Keeping Pets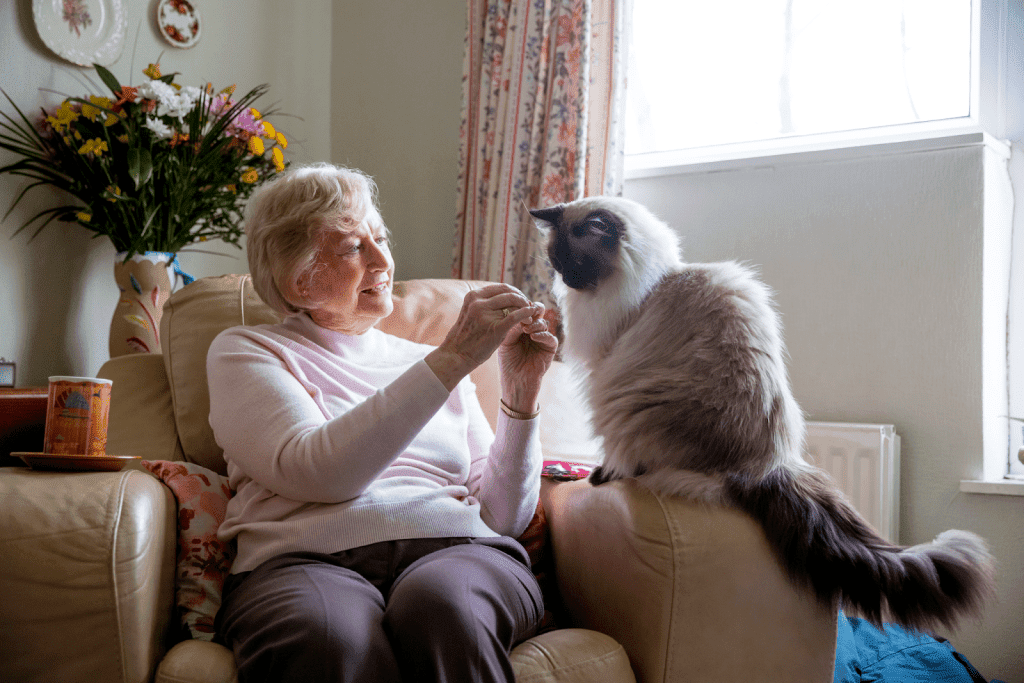 Pets are a great source of comfort and happiness for older adults. Receiving help at home means your loved one doesn't have to part with their pet which can be devastating to them, as quite a number of larger care facilities wont house pets for seniors.
Family Involvement
With home care, you, and other family members can be actively involved in your loved one's care compared to a huge care facility. 
Cost-effectiveness
Home help is relatively cost-effective compared to other senior care options such as nursing homes or assisted living. 
According to the Genworth Cost of Care Survey 2021, home help services can range an average of $4957 – $5148 per month depending upon the actual number of hours per day needed, while nursing homes range from $7908 – $9034 per month. 
What Kind of Home Help Service Is Available?
There are different kinds of home health services available, depending on the needs and preferences of your loved one. In this article, we'll categorize them into:
Non-medical

Medical home help 

Respite care services
Non-Medical Home Help Services
These services include home care assistance such as basic housekeeping services, running errands, and companionship services, as well as personal care, and dementia care.
Seniors requiring non-medical home help do not require constant medical attention. A home care aide or personal care assistant helps with activities of daily living (ADL) such as bathing, grooming, toileting, and light housekeeping when needed. 
They can also help with meal preparation, laundry, grocery shopping, medication reminders, and other non-medical tasks.
The amount of care provided depends on what is needed and can range from a few hours a day to 168 hours a week or 24/7.
Medical Home Help Services

These include services of a medical nature and are also referred to as home health services.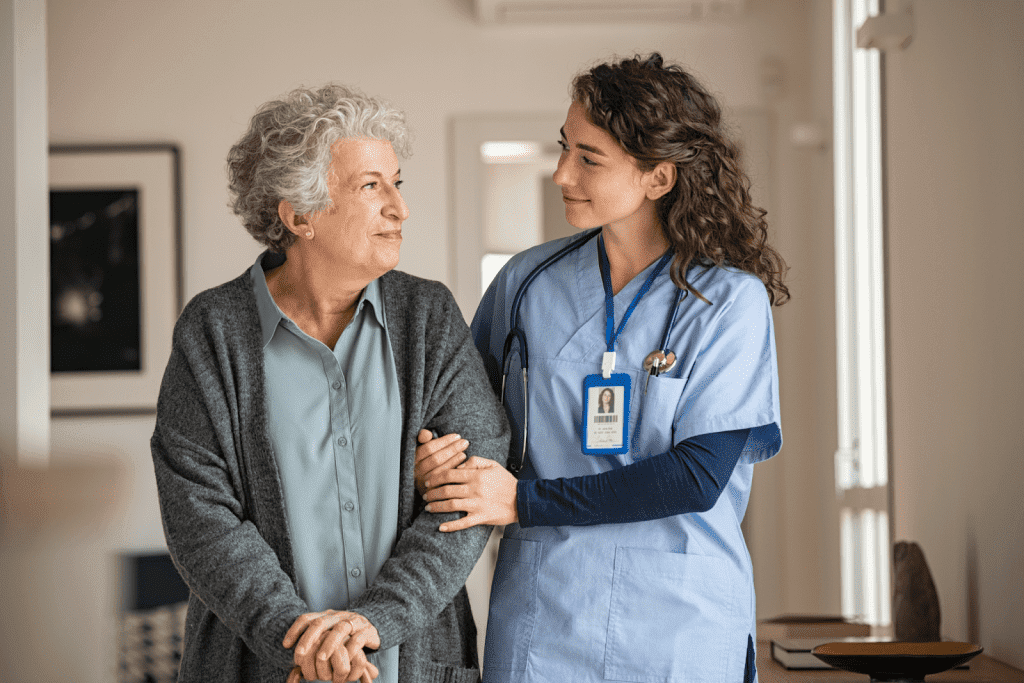 Seniors suffering from mild to chronic medical conditions can choose to get nursing care at home instead of in a nursing facility.  This nursing care help comes right into a loved one's home. Also, seniors recovering from injuries, or surgeries may opt for help and rehabilitation at home rather than at skilled nursing centers.
Medical home help services include but are not limited to:
Medication administration and management

Wound care and catheter changes

Diabetic care

Pre-operative and post-operative care

Skilled transfer and lifting

Physical and occupational therapy

Palliative care and hospice care
Home help medical services are provided by home health nurses who are trained and/or licensed to provide such care or by registered nurses. Some intermediate smaller facilities such as a few are found only in Nevada and may also provide such services as long as the patient transitions into a stable and predictable course.
The purpose of respite care is to give primary caregivers a break to attend to their personal needs. This can be going on a vacation, spending time with their family, or pursuing their ambitions. Respite care is temporary.  Respite care is temporary in home caregiving provided by a different caregiver while the primary caregiver is taking a break from the constand never ending care demands of their loved one.
If you have been the primary caregiver for your loved one, you may need home respite care services to give you that much-needed break. Typically, personal care aides provide respite care at home, if they are of a non-medical nature.
What is the Cost of Home Help?
The cost of home help can vary greatly depending on factors that can influence the care. Some of these factors include the level of care needed, and location where care is provided.
If your loved one requires a lot of care, the cost of care might be more expensive compared to if they just need help with basic house tasks. In other words, basic personal care will be cheaper compared to help with health or medical care.
The number of hours a caregiver is expected to provide care will also influence the cost of care. For instance, a full time or live-in home help will cost more than a part-time or hourly home help.
***
According to Genworth, the average monthly cost of home help is $4957 for non-medical care services provided by personal care assistants, depending upon the amount of hours needed per day. The care needed includes housekeeping, ADLs, running errands, transportation, meal preparation, medication reminders, and more.
For home health care (medical-related home help), the average monthly cost is $5148. However, it's also typical for costs to be within the $2500 to $4000 range, for less hours per day needed.
A lot of factors can influence the cost of home care, including the level of care needed, amount of time needed per day, and location.
If your loved one requires a lot of care for many of their hours in their day, then the cost of care will be more expensive compared to if they just need help with a few basic house tasks.
How Can I Pay for Care?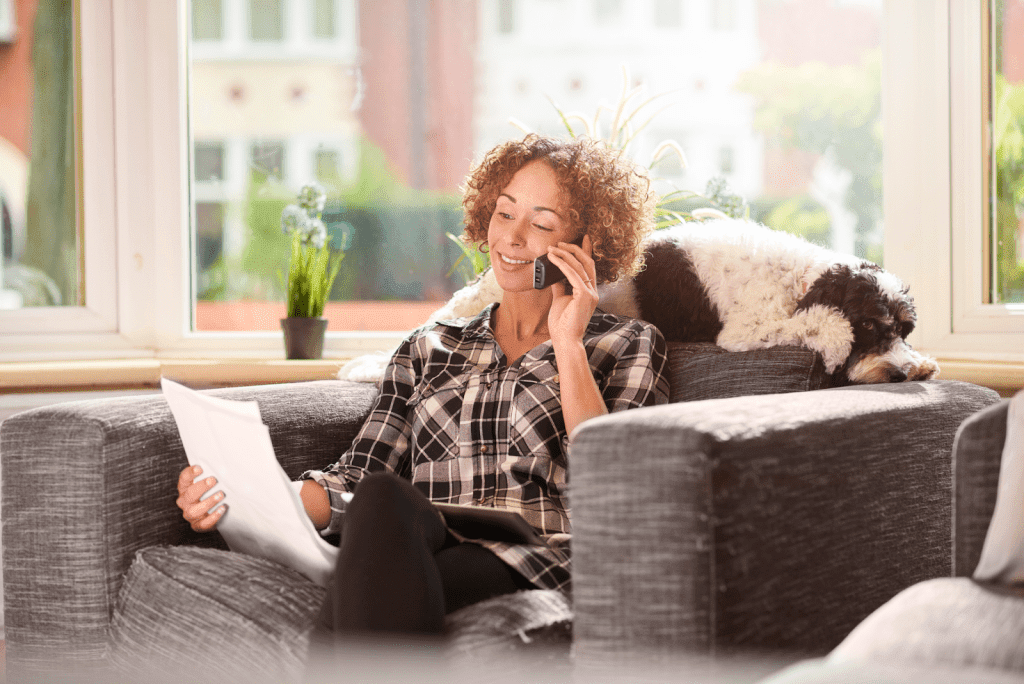 Care doesn't come cheap; and many seniors and their families find it challenging to pay for care. Unfortunately too many seniors have difficulty paying for their much needed home help.  The seniors that receive the help needed have usually planned for this step in their lives by saving, investing, and have cashed in their nest eggs for this much anticipated time in their lives. Because of this seniors and their loved ones usually opt for private pay (pension, retirement savings, and other personal sources), which may not be enough if poorly planned for. 
Fortunately, there are a variety of options that can help older adults and their loved ones pay for in-home care and lessen the financial burden. Some of these are:
While Medicare and Medicaid don't cover basic home help such as housekeeping, they do cover nursing home and personal care from caregivers in almost all states. In addition they might cover medical-related care including short-term nursing care, palliative, and hospice care.  This is in effort to assist elderly to remain in their own homes for as long as possible.
If your loved one has either of these healthcare plans, contact their provider to know what is eligible for coverage and what isn't.
If your loved one has long-term care insurance, this can also help fund home help. 
For most long-term care insurance policies, seniors must need assistance with at least 2 ADLs (Activities of Daily Living) or have cognitive impairment before they are eligible for coverage. 
Contact the insurance company to know what the terms of their policy are.  Most in-home caregiving agencies and senior care facilities are experienced in the billing and qualifying their business for long-term care insurance when a senior holds a policy.
An eligible veteran or surviving spouse can receive Aid & Attendance (A&A) Pension benefit which can help offset some of the cost of home help. 
The A&A benefits can provide veterans up to $1794 per month, $1153 to a surviving spouse per month, or $2127 to a couple per month.  However, a VA representative and their physician will have to prequalify them for the particular amounts they may be entitled to go towards the costs of care.
The VA (Veteran Affairs) also provides Home Care and Home Health programs to eligible veterans. Only those organizations that work with the VA provide this care. Note that these services aren't the only ones offered to veterans.  Respite care can also be provided to give primary caregivers a break.
The Program for All-Inclusive Care for the Elderly is provided for frail seniors who require nursing care. Eligibility is restricted to low-income seniors, and typically to those who are eligible for Medicare or Medicaid. It's not available in all states. You can confirm if there is one in your loved one's area by checking their website.  Amy's Eden Senior Care is also a little known option for care for the very frail who can also afford the private pay for those who no longer thrive in large environments and yet need extra attentiveness. Their services here are not to be confused with the In-Home care options that they also offer.
How To Find In-Home Care For Your Loved One
There are two ways to get home help for your loved one. You can choose to hire independently or go with a help at home agency like Amy's Eden.
If you're hiring independently, you can look up your local registry for listings, or ask friends and family to recommend caregivers. You'll be responsible for the interview and screening process, as well as managing the caregiver, by checking their references, and arranging their schedules.  This is a burden most families don't anticipate as many quit, require lots of attention, or just plain steal because background checks are not usually done when hired independently.
Hiring from a home help agency relieves you of the time, hazards, and effort it takes to hire independently. Once the care needs of your loved one have been assessed, the agency pairs your loved one with pre-screened, trained, and vetted home help. The agency also manages the caregiver.  This minimizes the effort and risks involved in hiring and overseeing the care given.
Home Help at Amy's Eden Senior Care Services
Finding home care is easy with Amy's Eden if your loved one resides in Nevada. Let us take the worry off your shoulders by providing your loved one with a trained and vetted caregiver to help them age safely at home.
Contact us today to find out how we can give your loved one the peace of mind, comfort, and care they deserve.
Contact Amy's Eden Senior Care