How To Find In-Home Care Services for Disabled Loved Ones
What is In-Home Care?
While in-home care generally comes to mind only for the aging population, those with severe disabilities or Alzheimer's can also benefit from this type of service. Mental or physical disabilities such as ALS, or early-onset dementia tend to make life difficult – and many of us with disabilities find it difficult to do every day tasks and chores, and require just a bit of support.
According to the CDC, mobility issues are the most common type of disability, followed by issues with cognition, independent living, hearing, vision, and self-care, and a staggering 1 out of 4 adults are currently living with a disability. This is where in-home care can help.
Those with disabilities can benefit greatly from having someone there to help – be it with simple, everyday tasks such as getting dressed and keeping the home tidy, to more complex, non medical-related tasks such as reporting a need in changing a colostomy bag or making sure that the less than able take their pills on time.
There are many types of in-home care that we offer at Amy's Eden, and our goal is to offer the most appropriate care for your loved one.
Benefits of Care Services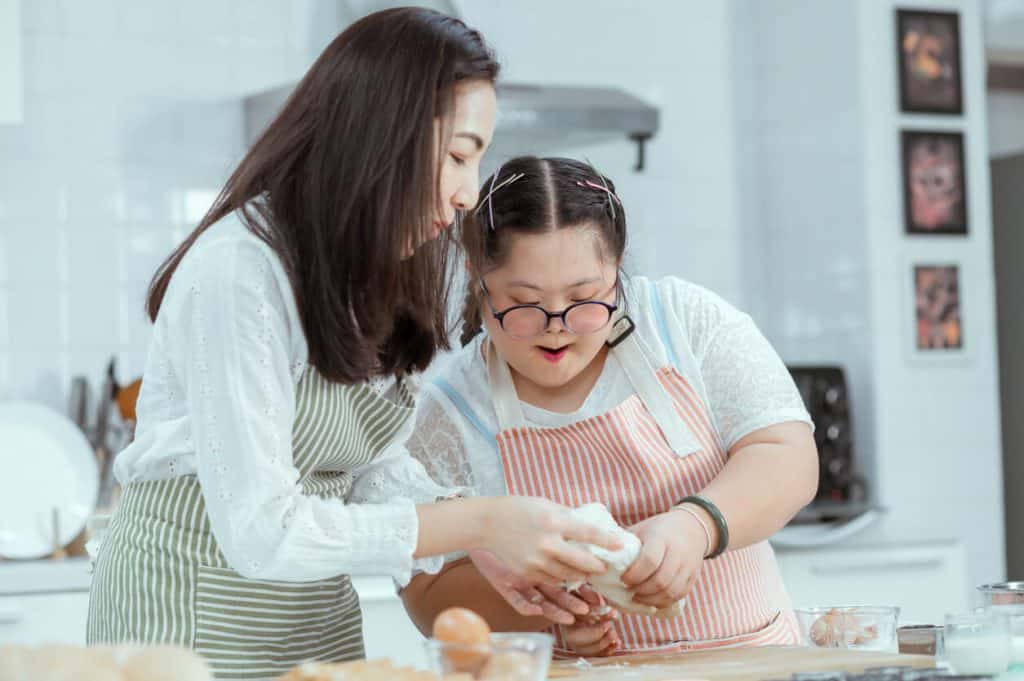 Living with a disability can be hard for everyone involved. Feelings such as hopelessness, frustration, and even disbelief can hit hard. The good news, however, is that getting help like that from an in-home caregiver can mitigate these negative feelings and give everyone a much needed respite.
In addition, an in-home caregiver can provide the disabled person with an improved quality of life. As they handle tasks that prove difficult for someone who is disabled, the patient finds themselves with more free time, fewer hassles, and an overall easier day-to-day life. Together with this, patients also maintain a sense of dignity and can enjoy the comfort of their own home, without the need for going to a specialized facility.
For those that take care of disabled family members, in-home services for the disabled can be a godsend. Between 40 and 70% of caregivers suffer from depression – which can be relieved with a little help. The specific type of help depends on each case, but it is often the little things that make a difference: having someone to help the patient get around, and offer companionship. Caregivers can also offer more involved services such as helping with hygiene, which prove difficult for family members who aren't professionally trained for such tasks.
Types of Assistance for the Disabled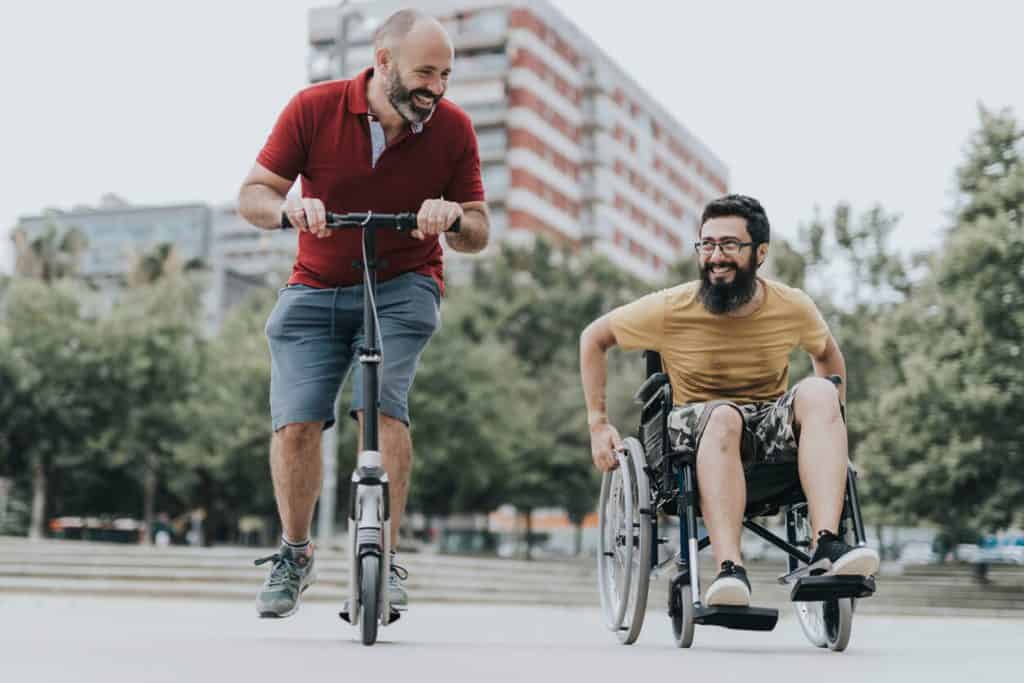 There are four main types of care a client can choose. Each of these are services provided by Amy's Eden:
Companion care services
Personal care services
Specialized home care
Respite care services
Companion Care Services
Companion care services are related to the day-to-day errands and chores the individual needs to have done. These include going to the bank or the supermarket, shopping for clothing, or even just getting out of the house and going to a restaurant. The caregiver will be there to keep those who feel lonely company and make sure that mobility isn't an issue, mainly by offering an extra pair of hands whenever needed, offering social interaction, to prevent an emergency.
Personal Care Services
Personal care services include companion care and other activities. For example, bathing, meal preparation, and light housekeeping – all while respecting the aging senior's privacy – fall under this category. Personal care providers can also help with reminding the patient about medication and taking them to doctor appointments, but they are not to help with medical care.
Specialized Care Services
This is the type of care required when you're looking for a caregiver that can help with medical services. In home help for disabled patients often comes with the need for medical tasks such as tube feeds, using medical equipment that the patient requires at home, and wound dressing. This is usually found in Home Health Agencies instead of in In-Home Agencies.
CNA's under this type of service are licensed and/or have undergone the appropriate type of training. When you ask for this type of caregiving service, it's important to explain exactly what the patient needs. A doctor will refer specialized care services. The following questions are a good place to start:
Has the patient been provided any prescription medications?
Does the patient have access to any in-home medical equipment?
Does the patient have any routine tasks (injections, administering medications, physical therapy) prescribed by a doctor?
Will the patient need their vitals checked periodically or routinely?
Are there any other health care issues or conditions we need to be aware of?
The patient's doctor or general physician will also be able to give a few tips and guidelines – just explain that you're looking for a caregiver service, or specialized in home care services and ask for some advice. The doctor will be more than happy to help.
Respite Care Services
Sometimes we just need an extra set of hands. If you and/or other family members have been the caregivers for the disabled family member, chances are you have experienced caregiver burnout. It's an extremely common issue in nursing and caregiving situations. The symptoms of this type of burnout include lowered self-esteem, physical and mental fatigue, and even depression and withdrawal.
A helper or two is the easiest way to avoid caregiver burnout and get your life back. In order to help Amy's Eden find the right type of auxiliary caregiver for you, it's best to tell us what your daily life looks like and what you typically do for your disabled or elderly loved one.
Caregiver Costs
Finances can sometimes be an important aspect to consider when looking for caregiver services. Read on to find out more about costs and ways to help.
How much does care cost?
This is highly dependent on the patient and their requirements. Generally, specialized care that requires a licensed nurse or healthcare professional will be covered by insurances however, they are not available for as many hours as may be needed. Do not be afraid to ask questions and tell us your exact needs so that your package is perfectly tailored to you and the senior. Cost may not always be super crucial because for those who DO need the help, cost makes NO difference when it comes to receiving the best care possible.
How can I pay?
Here, we'll look at a few different payment methods and resources when it comes to in home care services for the disabled.
Out of pocket
Long-Term Care (LTC) Insurance
Medicaid
Out of Pocket
This is considered one of the simplest ways to pay. It requires the least amount of paperwork, and it ensures that the patient gets care as soon as possible and skip any hoops to jump through. These funds can come from savings accounts, retirement plans, and even reverse mortgages, depending on the situation.
Long-Term Care Insurance
Long-Term Care (LTC) insurance is the type of insurance we can buy in preparation for chronic illness or disability. This kicks in when normal health insurance doesn't – especially when we're dealing with long-term or even lifelong illness.
Medicaid
More than 10 million people in the US are eligible for Medicaid based on disability. The caveat is that eligibility and coverage differs depending on the state, so you'll need to get in touch with your state's authority in order to find out more about the available policy or policies.
Your Search is Over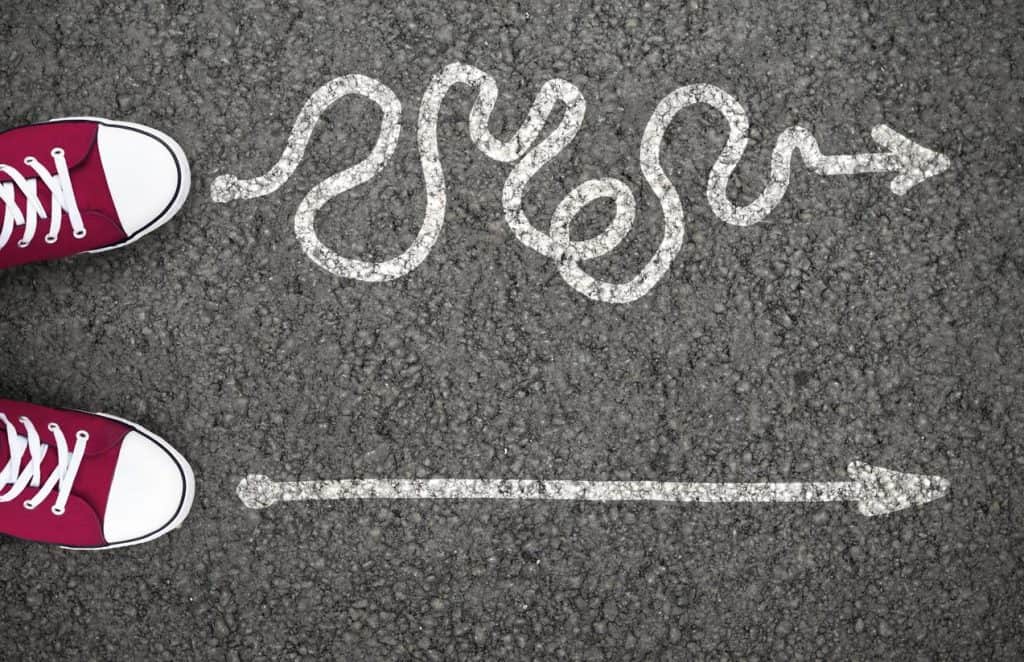 We know that looking for in home care services for seniors and disabled can be an overwhelming task, but we want to make it as stress-free as possible. Here are some steps to consider:
Visit our In Home Care Services site page for more information.
Talk to the seniors, family members, and current caregivers and get their opinions.
Discuss your loved one's situation with their health care provider.
Ask the community – get online and ask others for orientation. Plenty of us are in the same boat, and would like to help you get your bearings.
Contact us and ask us anything. Everyone here at Amy's Eden wants to help.
We are your community-based resource. Call our office today!
In-Home Caregiving Services Find an in-home caregiver in Reno & Carson City, NV! Amy's Eden caregiver in NV Free care assessment > Amy's Eden Senior
Read More »
Contact Amy's Eden Senior Care