3 Types of In-Home Nursing Care: Companion, Personal, and Nursing Care
We love our homes! We build them with love and care because they hold the best memories of our lives. Most of us, including the elderly, don't want to leave the comforts of home.
Of course, most elderly want to spend their retirement years at home. Sadly, as they age, they require extra emotional support, personal assistance, and medical help. They may feel reluctant to ask for help due to the fear of ending up at a large nursing home or huge assisted living facility, not of their liking. Sometimes families may be unavailable for them due to various reasons. Then, too, families want to make sure they get the best senior care possible.
Are you wondering how your elderly loved ones can still get the best care and medical support without having to live anywhere else? Let's find out how to do that.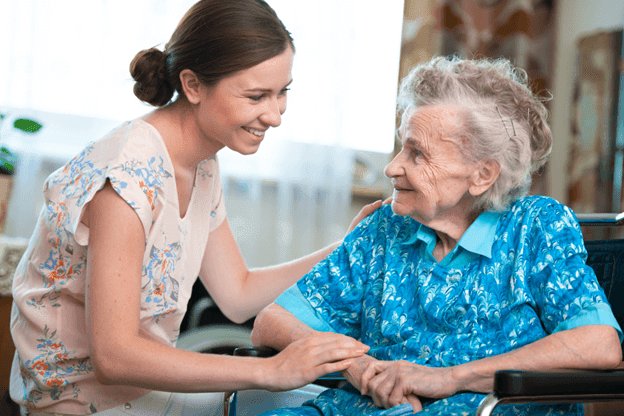 What Is In-Home Nursing Care?
In-home nursing care includes all professional medical or non-medical support that elderly people require to carry out their daily lives and recover from a temporary medical condition while staying in the comfort of their own homes.
In-home nursing care is often confused with an in-home registered nurse. It is not restricted to home nurse care only. In fact, it covers all kinds of medical and non-medical assistance that your elderly loved one might need, including caregiving, companionship, and RN nurse care.
In-home nursing care not only shares family caregivers' duties but also makes high-quality care affordable at home. You only pay for the services you receive and for the time you get them. This is sometimes less expensive than large nursing homes, where it gets pricey because they charge for everything, including housing, food, utilities, transportation, personal care, medical care, and any added help during inevitable decline.
In-home nursing care is also flexible in terms of services and duration. You can create a tailored home nursing care plan with your home care agency by discussing wants, needs, and requirements with them. Only in intimate and smaller settings, can assistance regularly include things that your loved ones enjoys, like passing their time in their favorite and preferred ways.
Here is where you choose the duration and time frame of nursing services. If you only need nursing care at home for only a few hours, you can hire a home caregiver for that period. If you are out of town for a few days due to work or play, you can rely on home nursing assistance at home and leave without having to worry about your loved one's needs.
If family caregivers are unavailable or unable to take care of their elderly family members, they often rely on in home nursing permanently.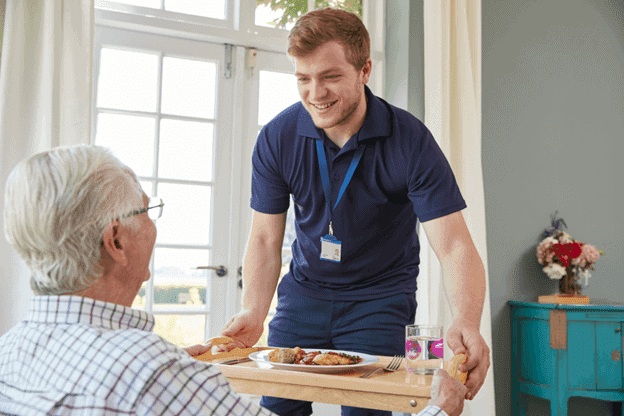 Types of Home Nursing Care
There are three main categories of home nursing care services:
Companion Care
Companion care involves providing companionship and emotional support. Elderly people often feel lonely and left out when they are homebound. Home-bound or bed-ridden seniors are often at risk of depression. They might need someone to listen to stories from their past, simply play cards, or watch TV with them. A little emotional support might be all they need to feel better and more confident. In many cases, family members are understandably preoccupied with work and other personal and professional matters. They are unable to spend the desired time to accompany their elderly loved ones as much as is needed.
This is where companion care comes in handy. Your elderly loved ones might enjoy the company of companion care providers. The main point here is to help them feel satisfied, loved and engaged. Caregivers might play card games, paint, sew, photograph, take walks, watch their favorite show on TV with them, or listen to their favorite playlist with the patients. The sky's the limit. Companion caregivers seek out favorite hobbies of the elderly and accompany them in doing those activities.
Usually, companion care is also coupled with some level of personal care like activities of daily living (ADLs) to keep elderly people independent and active.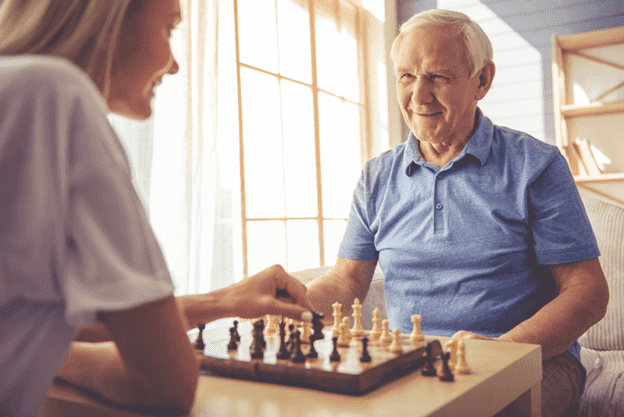 Personal Care
Personal care includes all kinds of non-medical skilled support that a homebound person might need to perform his daily-life activities. It involves assistance with activities of daily living (ADLs), instrumental activities of daily living (IADLs), housekeeping, shopping, medication reminders, transportation, grooming, personal hygiene, cooking, and supervision and mutual activities.
When you notice any irregularity in the taking of medication, combing hair or other personal grooming issues, eating meals, or walking, it's probably time to hire skilled personal assistance for your loved ones.
You can hire personal assistance for as long as your elderly family member needs it. Some people only hire services during the recovery phase from trauma, injury, or disease. Others with terminal illnesses may hire care for an extended or indefinite period.
Elderly patients with degenerative diseases like Alzheimer's, Dementia, or Parkinsons require constant supervision and assistance with activities of daily living (ADLs) as the disease progresses. Personal care can help them with monitoring as well as assistance with daily life chores. Seniors who are in need of care providers, especially those with memory or ambulatory issues, should have highly trained and experienced personal caregivers who know how to deal with their specific health care conditions.
The level and amount of personal care needed depends greatly upon the health status of the individual elderly. When families consult a home care agency for personal care, the agency will request an assessment of the senior's current health status, the level of activities of daily living (ADLs) and instrumental activities of daily living (IADLs) that they can perform, and how much help they require.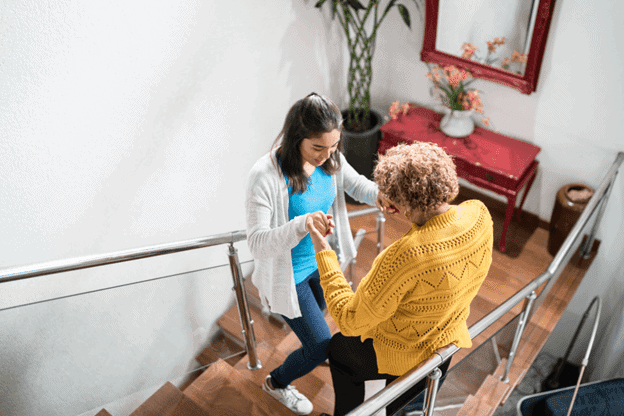 In-Home Nurse Care
In-home nurse care by an RN is also known as home health care. It refers to skilled medical assistance for older people in their own homes. This type of home nurse care is provided by a licensed Registered Nurse (RN). In-home nurses who are RN's offer various services including wound cleaning, dressing, administration of medicines, IV injections, infusions, dialysis, vent care, vitals monitoring, feeding tube care, and catheter care.
In-home nurse care services by an RN can be specific to the disease or disorder of the elderly patient. Disease-specific RNs are usually hired for diseases like diabetes, dementia, Alzheimer's, Parkinson's, breathing issues, heart problems, kidney failure, arthritis, and frequent falls for those who are not yet on a stable and predictable medical course. The nature and severity of the disease also decide whether you need non medical in-home care services around the clock or part-time. This is provided by an in-home caregiver who is also often considered an in-home nurse.
Disabled elderly patients have unique requirements for medical in-home care services. They might need daily sessions for physical therapy, occupational therapy, or speech therapy.
Patients with limited mobility are also more likely to develop bed sores and ulcers. For such patients, in-home nurse care services through a home health agency may encourage services of a non-medical in-home nurse to offer routine assistance in order to provide careful transfers and regular pressure relief. They also change positions of bed-ridden patients at intervals to avoid the formation of ulcers and sores.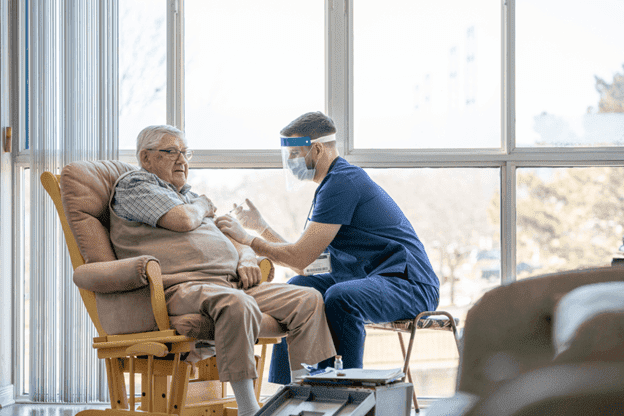 How Is In-Home Nursing Better Than Large Nursing Homes?
As your family members age, they may become weaker and prone to falls and accidents. This may cause excess worry. You may realize that they need extra attention and assistance. However, doing it yourself is often difficult or impossible due to your own personal and work life demands. When this happens, you know it's the right time to hire senior care. There are a few options in senior care such as nursing homes, assisted living, and home care.
Many people prefer home care nursing services over large nursing homes. Home care nursing eliminates the worry of having to leave their loved ones in large impersonal nursing homes.
In-home nursing care ensures one-on-one care and attention that might not be possible at a huge nursing home. With consistent care, elderly feel more confident and stress-free in their own home compared to anywhere else. No matter how well-decorated and furnished with amenities an oversized nursing home is, it usually is not a great substitute for a person's own home.
In grand nursing homes, food is often prepared in a large quantity for all senior residents. Oftentimes there are not many options and they feel that they have to eat it even if they don't like it. While at home, they can enjoy their favorite home-cooked meals while getting in-home individualized nursing care.
Many seniors have special needs, and the one size fits all approach doesn't work well with them. Most larger nursing homes can't give you the freedom of choosing specific caregivers. In-home nursing assistance is the only option that offers customizability, and you get to pick and choose the services and activities wanted and needed. After all, aren't we individuals? People are meant to live in family-like settings, not institutionalized settings. Yes, even when we're old.
How To Afford Home Nursing Care Services
In-home nursing care is generally more affordable than nursing homes depending upon the amount of time needed for assistance. The difference lies in the fact that home care services only cover the cost of care that your loved one receives at home and for the costs of a caregiver.
Large facilities offset costs by bringing in many residents to care for at one time. Although still highly priced, with add-ons that are not readily explained, large nursing homes end up costing the same as a reputable small assisted homes which also have to cover the cost of housing, food, personal care, health care, transportation, and utilities.
Attentiveness declines when sheer numbers of residents per facility goes up. Amy's Eden assisted homes offer one-on-one personal care with your elderly loved one's needs and desires as our top priority.
Home care costs are affected by a variety of factors such as where you live, home care agency, required services, and length of stay.
Although it is affordable, you still need to figure out ways to cover the costs. For those who have never hired a home nursing service before, it can be helpful to know all options. So, here is a table that explains some common options to cover your home nursing care.
Mode of Payment
Availability of Coverage
Services Covered
Services Not Covered
Medicare

Available

Only available to Medicare part A and B beneficiaries who need a covered service, are under medical supervision, home bound or bed-ridden

Skilled in-home RN

Physical Therapy

Occupational and speech therapy

Social services

Home health aides

Administration of injections for osteoporotic females

24-hour in-home care

Meal delivery

Companionship

Support with ADLs and IADLs

Personal care

Homemaking services

Medicaid

Available

But the types of services covered in Medicaid vary by each state

Support of ADLs

In-home RN

Respite Care

Therapy

Meal delivery

Varies with each state
Veteran's Benefits

Available to all veterans

Provided that they fulfill the clinical criteria and the required service is available

Support for ADLs and IADLS

Primary care at home

Services associated with rehabilitation

Psychiatric care

Food and nutrition services

Unavailable services in your area
Worker's Compensation
Employees

Personal care

Companionship

Homemaking duties

Private duty home nurse

Depends on the policies of every company

Varies with each state as well

Private Pay
Many families, who can afford, prefer to pay out of their pocket

All kinds of in-home nursing services

It depends on your need and affordability

Opt out of services you cannot afford
4 Necessary Steps Before Finding a Home Nursing Service:
Finding a suitable in-home nursing service requires knowing what type of care your loved one needs and when they need it. The following four steps will help you find the right home nursing care:
Make sure the house of the elderly patient/client is licensed, bonded and insured.
Make a list of all areas where you need help.

Companionship: Conversation, accompany them to social and religious events, play card games, read, reminiscing
Personal Assistance: Activities of daily living (ADLs), bathing, dressing, meal preps, feeding, transportation, shopping, reminding of medication.
In-home nurse care: administration of medication, IV injections, NG tube feeding, infusions, dressing of wounds, monitoring of vitals, vent care.

Determine your required duration and timeframe for home nursing services
Figure out your budget for in-home nursing services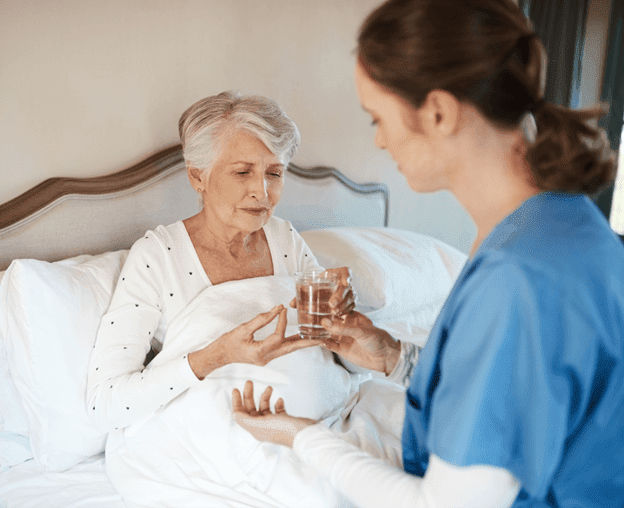 What Questions Should You Ask a Home Nursing Care Agency?
Choosing the right home nursing care agency for your elderly relative can be overwhelming since there are so many options available. The key to finding and choosing the right home care agency is to dig deeper and ask them important questions. We have listed a few questions that you can ask your potential home nursing care agencies:
Length of time in business
License, bonding and insurance of the agency
Management and support of caregivers
Types of services offered
Training of its caregivers
Cost of home nursing care
What Questions To Ask When Interviewing an in home nursing care service:
To find the right match for your loved one, it's important to ask the right questions to prospective home caregivers. While interviewing a home care provider, here are some questions you may want to ask:
Availability of services
Services offered
Training and relevant experience
Willingness to adjust their schedule
Way of dealing with elderly patients' moods
The vetting of their caregivers
Final Words
Sadly, our treasured elderly require additional care and medical attention as they age. Overly large nursing homes are not the only option. In-home nursing services and those rare nursing homes with a limit on the number of residents, are perfect alternatives that are not only convenient but offer better quality of care than the well-known grandiose, impersonal nursing homes. Home nursing care provides naturally tailored medical and non-medical support to your elderly loved ones without depriving them of the comfort of home.
With our guide, you can figure out the best alternatives to oversized nursing homes containing crowded and confusing dining halls, unused overwhelming amenities, and too little staff to provide for the actual individuality we all need and deserve.
Please contact our local office to learn more about the kind of personal, compassionate services we lovingly provide.
In-Home Caregiving Services Find an in-home caregiver in Reno & Carson City, NV! Amy's Eden caregiver in NV Free care assessment > Amy's Eden Senior
Read More »
Contact Amy's Eden Senior Care