Six Important Benefits of In-Home Assisted Living Care When Aging at Home
If your loved one wants to age at home but could use some assistance with daily tasks, it's valuable to know what advantages in-home caregiving can provide. There are many benefits for individuals and families when they choose quality at home caregiving. Families who are seeking guidance about elder care need to consider what advantages this type of service can offer.
Major benefits of in-home care include the following six examples:
Your loved one can stay in their own home and community
In-home caregivers can also perform household chores
Caregivers alleviate social isolation through companionship
Less exposure to illness staying at home
Help with technology to stay in touch
The ability to keep their beloved pet
The first major benefit to in-home assisted living care is that your loved one will be able to stay in their own community where friends and family can continue to stop by for a visit and where other familiar things will help your loved one feel comfortable. For example, there are sources of familiarity that we might take for granted under ordinary circumstances: a favorite restaurant, community activities, a religious organization or clergy with whom your loved one has established friendships, or even neighbors just walking by.
Wouldn't it be nice to know that your loved one doesn't have to give up those associations that are familiar and dear to them?
That's what Amy's Eden is designed to provide: Skilled and compassionate in-home care with many of the same benefits of assisted living but with the familiarity of your loved one's community and social network.
Spending time with friends and family is easier when your loved one is still at home. This is important because interactions with friends and family can help slow memory loss. According to the National Institute on Aging (NIH), it's common for seniors to worry about their memory and forgetfulness. However, a good diet, plenty of sleep, visiting with friends and family, and having a good daily routine can help your loved one stay healthy and deal with their forgetfulness.
The second benefit of in-home elderly care is that in-home caregivers can assist with a variety of household chores. These chores include, but are not limited to:
Meal preparation
Light housekeeping
Medication management
Grocery shopping
Appointment reminders
Laundry
Bathing
Even if your loved one is still capable of performing some of these daily tasks, an in-home caregiver can assist with those chores that are getting more difficult for your family member to do safely. For example, an in-home caregiver can help with meal preparation and clean up. This allows your senior to enjoy their favorite foods and meals, even when they need a little help to get it done. In-home caregivers can also perform light housekeeping tasks. This ensures that your loved one's living space will remain organized, uncluttered, and thereby safer.
The third benefit of in-home care is the important role of companionship which caregivers provide. According to the National Academies of Sciences, Engineering, and Medicine (NASEM), seniors are more likely to experience loneliness than any other group. With consistent help from an in-home caregiver, your loved one's risk of social isolation is significantly reduced. Companionship helps to alleviate or reduce the risk of many negative side effects associated with isolation. For example, having an in-home caregiver for companionship can reduce the risk of dementia by nearly fifty percent.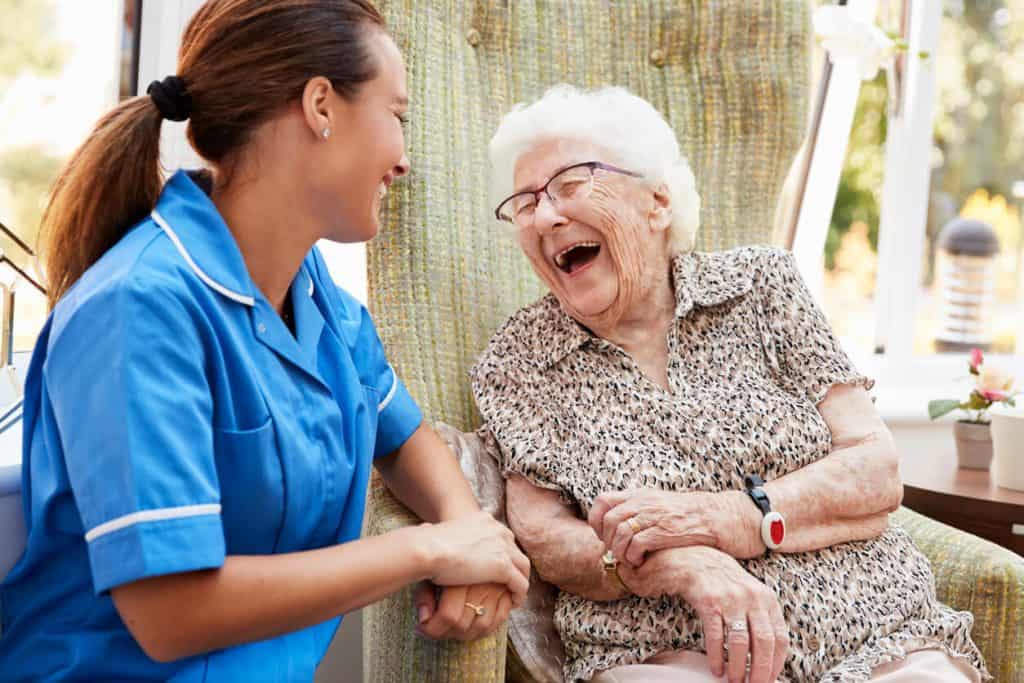 Not all seniors thrive in a group environment, so it's important to provide them the opportunity to remain in their own home if they prefer a more controlled situation. Living at home allows them to feel more in control. In this way, they won't be overwhelmed by too many people all at once.
The fourth benefit of keeping your loved one at home, with experienced in-home caregiving services, is the reduced risk of exposure to illnesses. As your loved one ages, their immune systems tend to become weaker. This, in turn, can lead to an increased risk of becoming sick.
According to Johns Hopkins Medicine, people over the age of 60 are more prone to severe illness, especially if they have any pre-existing or underlying medical conditions. Easily transmissible viruses, like coronavirus, need to be avoided to the best of our ability. One way to help protect your loved one is to avoid places with large groups of people, such as nursing homes, especially during a surge in cases in your community or during cold and flu season.
The fifth benefit of assisted living at home is having a caregiver who can help your family member with simple technology tasks. Our society has experienced a rise in the use of technology that sometimes frustrates many seniors who would like to be able to use it in order to stay in touch with loved ones.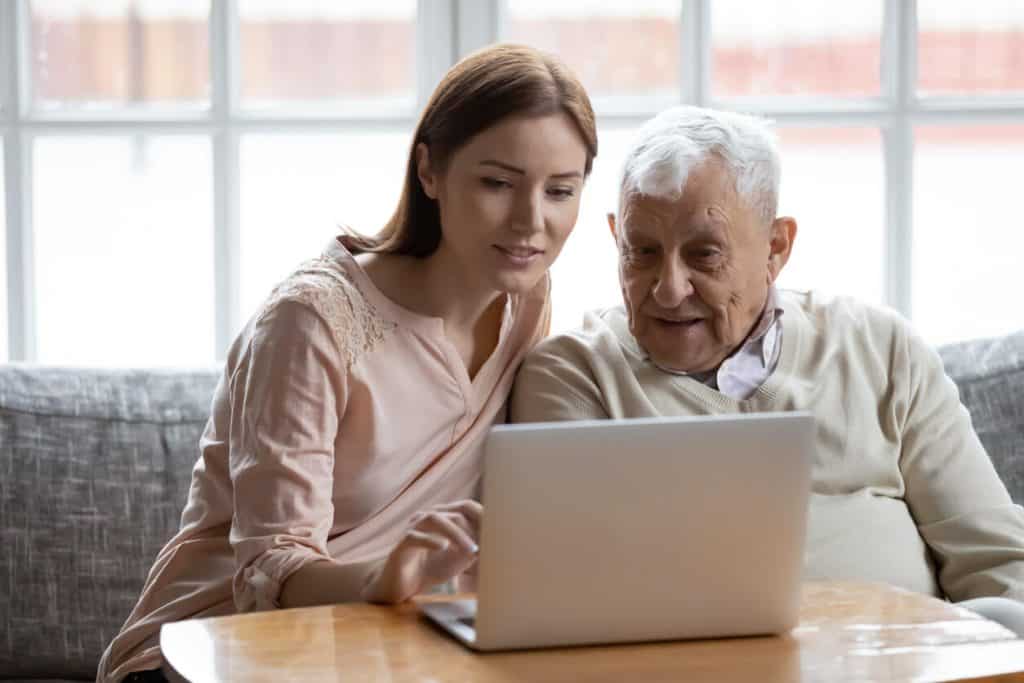 The Covid19 pandemic has shown us that many technological tools are beneficial in helping to protect our elderly population. To help your loved one stay safe but connected, in-home caregivers can assist them with video chats on various devices.
As we've already discussed, it's important to keep your loved one socially connected, but sometimes in-person visits are impossible due to time constraints, illness, or distance. When this happens then being able to reach out through social media can be a proverbial lifeline.
Another great use of technology for seniors is the ability to connect with their doctors through various online services. This allows them access to their physicians and some specialists without having to sit in the waiting room with other sick patients. It also saves them from having to endure extreme weather conditions or uncomfortable car rides.
There are some resources that help provide seniors with devices that can be used for both telehealth visits and to connect with their families online. Telehealth Access for Seniors is a national nonprofit organization that came into existence during the early days of the Covid19 pandemic. It provides technological tools for senior citizens through donations and volunteer help and is a great way to make sure your loved one has what they need to stay connected to their family and healthcare providers.
The sixth benefit of aging at home is the ability for your family member to keep their beloved pet. For many seniors, their pet is another member of the family. Pets not only provide company and unconditional love, but there are health benefits for the elderly who have a pet. Owning a pet can help with the following:
Lowers blood pressure
Lowers heart rate
Reduces risk of depression
More exercise
Increases healthy hormones
Because of the emotional and physical benefits of having a pet, research has shown that seniors who own a dog or cat tend to experience better overall health and fewer doctor visits than those who don't have a pet. According to the American Heart Association, owning a pet may protect your loved one from heart disease. In-home caregiving allows your loved one to enjoy those physical and emotional health benefits. Aging at home means they can keep their pets.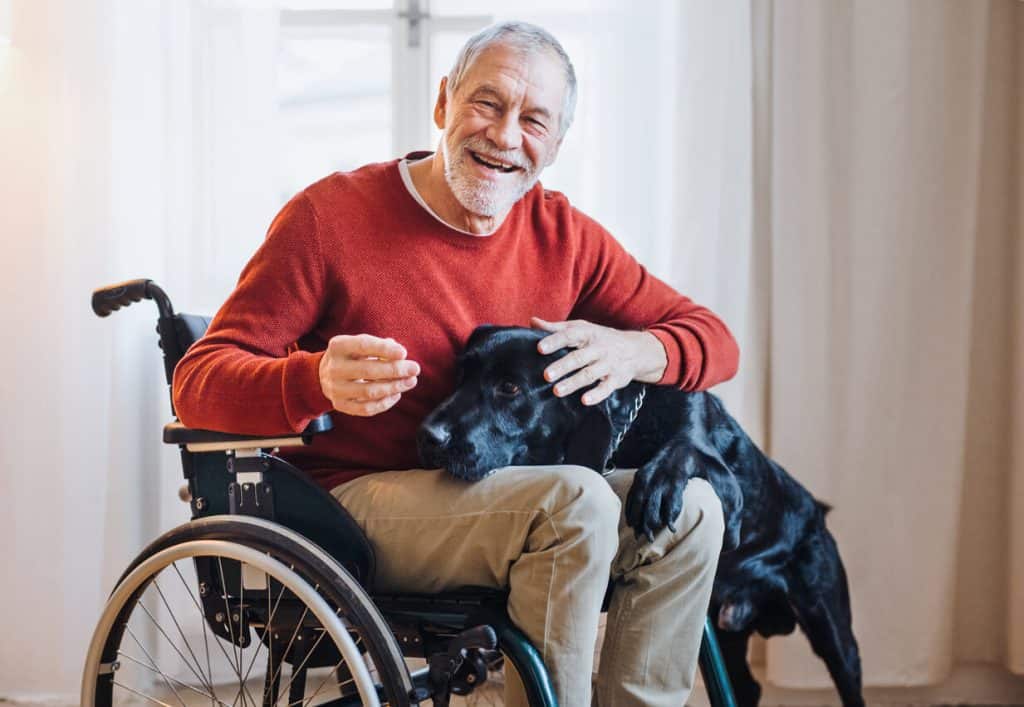 We all know that the world is changing quickly, sometimes so quickly that all we want to do is slow down and have a degree of certainty and familiarity in our lives. There are times in our lives that we want nothing more than to go home and be in our own space. There comes a time in our loved one's life when they want to stay at home. They don't want to move or experience change. They desire the dependability of what is most familiar: home.
What we do at Amy's Eden is to provide that certainty for what is most reassuring and familiar. RWe do this through skilled, bonded and vetted caregivers who come to serve your loved one in the convenience of their own home. Our compassionate caregivers are the answer to your question: How can we best care for our loved one at home?
In fact, if you imagine your favorite blanket, the one that is the softest and warmest and most comforting, then you'll understand how our in-home services will make you feel, knowing that your loved one is well cared for by someone who cares.
Contact the Amy's Eden site to learn more about our personal care, services, long-term senior care, and any other questions you may have about your options. Our staff is committed to our residents' and clients' safety and privacy. We are here to provide answers and help your loved one maintain as much independence as possible. Visit our website or call our office today.
In-Home Caregiving Services Find an in-home caregiver in Reno & Carson City, NV! Amy's Eden caregiver in NV Free care assessment > Amy's Eden Senior
Read More »
Contact Amy's Eden Senior Care