Checklist For Moving Into Assisted Living: 9 Things To Keep In Mind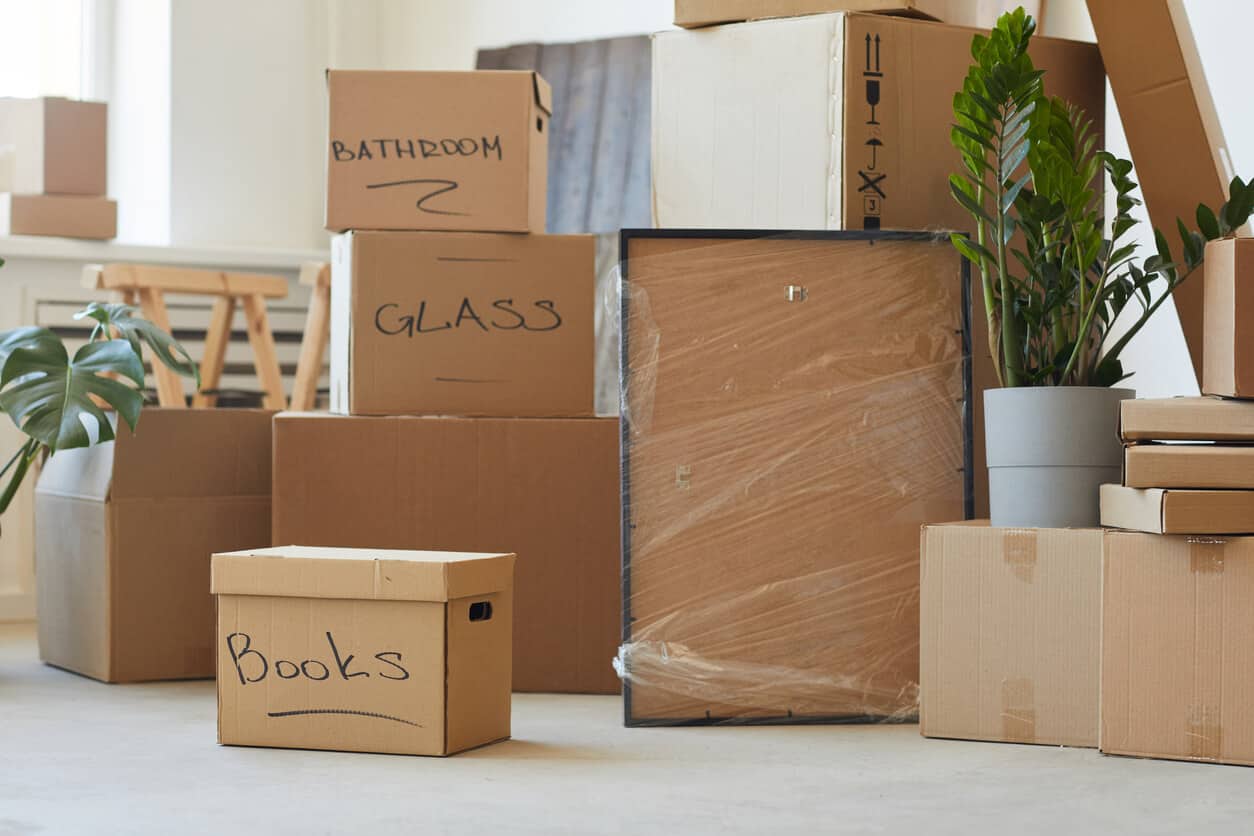 [packed boxes to move to a new home, moving into assisted living checklist]
As with any move, moving your loved one into assisted living can be complicated and emotional at the same time. The thought of downsizing and knowing what to pack, leave, or sell can be overwhelming.
Your loved one might also want to cling to the least of their belongings because of their memories, even though they might not need them.
Our checklist for moving into assisted living will help you make the transition seamlessly, and minimize stress for you, your loved one, and others involved.
Before The Move Into Assisted Living
You have found the best-assisted living home for your loved one at this stage and might have even completed most or all of the paperwork. To make a move into assisted living easier, here are some things to keep in mind.
Assess The Community's Services and Guidelines
Do not pack and move in until you understand fully what the community's services and guidelines are. While some assisted living communities will offer similar services and amenities, they might vary when it comes to other services and guidelines.
Does the community allow residents to bring their own furnishings or furnishings are already provided in the living area?
Can your loved one cook their own meals?
Are pets allowed?
Do residents provide their own toiletries?
Knowing the guidelines of the community will guide your packing, so you don't over-pack or under-pack.
Help Your Loved One Downsize
Downsizing is no small task, especially when your loved one would prefer to move in with everything they own if possible. Most assisted living homes will be smaller than family homes, so be sure to only pack what you need.
The following is our checklist for effective and efficient downsizing when moving to an assisted living facility.
Ask for a copy of the floor plan: This will help you with an idea of the space available to be decorated.
Plan the design of the new space: By knowing what furnishings and other items go where before the move, will help you have an idea of how to arrange items in your loved one's new environment.
Use the four-boxes approach: For belongings that aren't heavy furniture, the four boxes approach will help you determine what to keep, trash, donate, and sell. Have your loved one involved in this process, so it's solely their choice what goes into any of the boxes.
Label furniture that needs to be moved: It's best to label furniture that you'll need to move into the assisted living community. You can put this in a separate room so it's easily separated from the rest. Also, label furniture that needs to be donated, sold, or trashed.
Find new storage: Not all things that will be kept will go into the assisted living community. Consider if some items can go to their rightful owners like siblings and other family members.
Get help if needed: Downsizing a large family home can be a big job. You may want to enlist the help of friends and family or hire a senior moving specialist to make the job easier.
Hire The Right Moving Company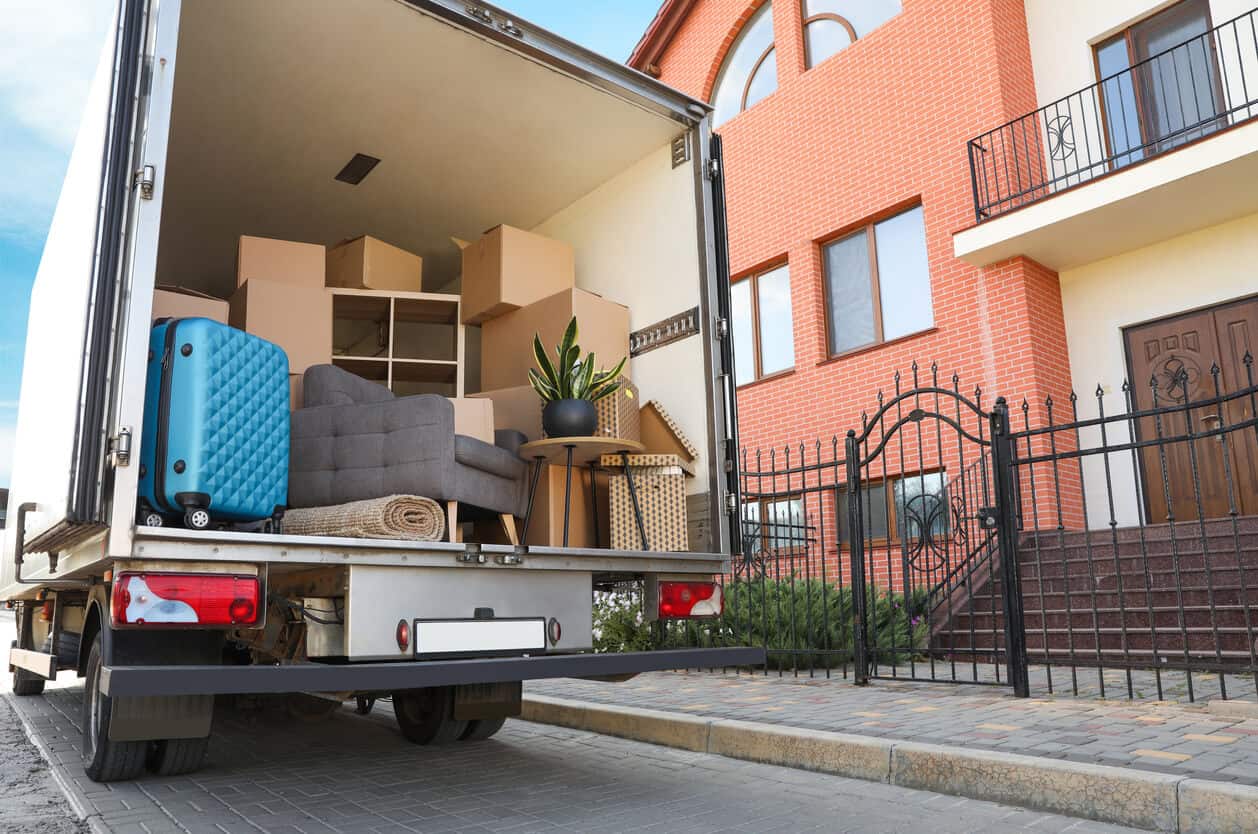 [Moving company van full of packed boxes and furniture, moving into assisted living checklist]
It's essential to find the right moving company as they can make the job easier. Remember, these guys have a lot of experience and might even be able to help with knowing what to take or leave.
If you have no clue where to find the right one, you can ask the community. They might be able to help with a few recommendations to get you started.
Get cost estimates: You want the best company but at the same time one that falls within your budget. So, give a couple of companies a call, and get an estimate of how much the move will cost.
Read reviews: Go online and read reviews about the company. Are people saying they are helpful and reliable? What do people not like about them? Are there more positive reviews or more negative ones?
Ensure the company is licensed and insured: Make sure you're dealing with a company that is licensed to move within or to the new state your loved one is transitioning to. Also, make sure they are insured should the property get damaged during the move.
Make sure they are available on your move-in date: Confirm their availability for your move-in date. It's wise to book your move weeks before to enable you to lock in your date.
Confirm they can move heavy items: Heavy items such as furniture and hospital beds are not moved in a regular manner. So, ensure the company has the expertise to move such items.
Plan For Healthcare Needs
Whether your loved one is moving into a community that's close to their healthcare services, or moving to a new state, it's critical to plan for their healthcare needs to ensure continuity.
Make an appointment with your loved one's primary doctor: This could be to perform check-ups, obtain medical records, drugs, or prescriptions, or sign paperwork required by the community.
Find a new primary doctor if moving to a new state or geographical area: This will ensure continuity in care. Be sure to book an appointment with the doctor before the move. You can ask your loved one's current doctor for recommendations or use online resources such as this find doctors tool from the USA.gov.
Plan for medication: If the community accepts bottled medication, send these before the move, so your loved one's meds can be managed properly. If they don't, be sure to get the right prescription and send it over to the community. The community will be able to obtain the drugs from their pharmacy and provide them to your loved one when required.
Plan for other health needs: find new dentists, therapists, and eye doctors if necessary before the move.
Take Care Of The Logistics
The following logistical items need to be taken care of before the move:
Notify necessary parties about the address change: This includes the USPS, social security administration, creditors, insurance providers, health care providers, etc. Also, inform friends and family of the new address change.
Plan to discontinue utilities and other subscription services: You can send a notice to related parties and give a date when you want utilities and services to be discontinued.
Set up mail forwarding with the USPS: This ensures any mail already enroute before a specific time is redirected to the new address.
Mental Preparation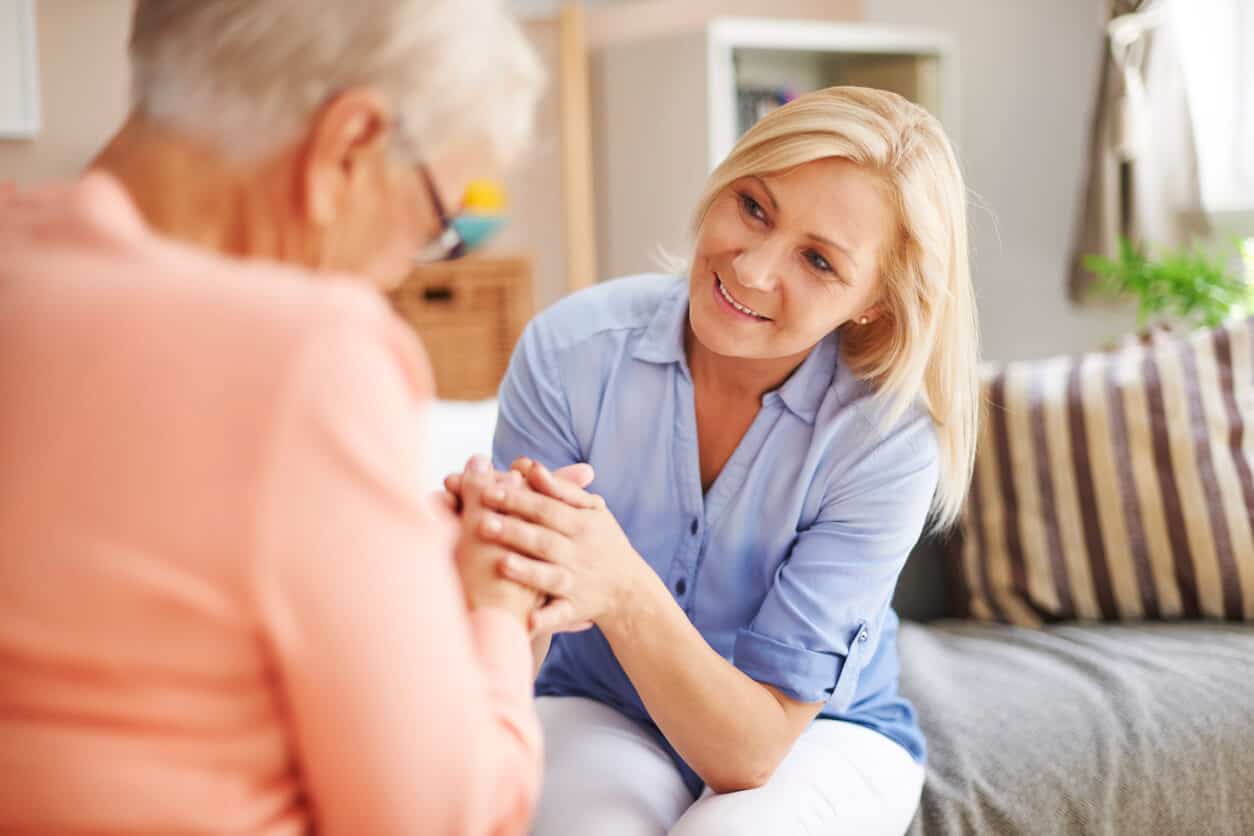 [Mature woman and older woman talking on the couch, moving into assisted living checklist]
Think of it this way, your loved one is leaving a life they have always known, to begin one that is new and completely different. They may be scared, upset, or anxious. You can help alleviate their concerns with some of the following tips.
Involve them in everything: From downsizing to hiring the moving company, and planning for their healthcare. Involving them gives them control, and makes everything seem like their decision.
Make pre-moves: The "move" shouldn't be the only move. Before the move-in date, take your loved one to the community a couple of times for them to get a feel of the environment. Show them their living space, you can even ask your loved one how they would want their room to look.
Be sensitive: The whole move and transition can be tough for your loved one, so you want to be sensitive about their feelings. Listen to their fears, and find ways to address them. Spread positive vibes, and offer words of encouragement.
What To Pack When Moving To An Assisted Living Facility
While what to pack will depend on your loved one's preference and the community's guidelines, the following checklist will help.
Furniture
Bed
Table or desk
Side table and lamp
Small sofa
Dresser
Recliner or chairs
Decor
Pictures
Arts and crafts
Artifacts
Books
Plants
Clock or alarm clock
Storage boxes
Mirror
Personal Belongings
[Senior man standing next to a pile of packed boxes to move into assisted living, moving into assisted living checklist]
Clothing (don't forget socks and pajamas)
Robes and non-skid slippers
Comfortable shoes
Toiletries
Keepsakes and photos
Everyday jewelry such as watches and earrings
Hearing aids
Eyeglasses
Wheelchair, cane, or walker
Paperwork (financial and legal and make sure to keep copies)
It's advised you carry an essential bag that has everything your loved one will need for their first night, just in case some things can't be unpacked the first day. Also, pack personal items according to the frequency of use. Items that are used frequently, almost to the day of the move should be packed last.
Entertainment and fun items
Television (If not provided by the community)
Audio system
Radio
Computer
Chargers
iPad
Hobby supplies
Puzzles
Books
Playing cards
Kitchenwares
Microwave (if not provided)
Mini fridge (if not provided)
Wooden spoons, spatulas, etc.
Silverware
Dishes and glasses to use daily
Pots and pans
Hot pot
Coffeemaker and kettle
High shelf grabber
Small bistro table or drop-leaf table
Trash can
Cleaning Supplies
Dish soap
Broom and dustpan
Paper towels and kitchen towels
Multipurpose spray
Surface wipes
Laundry basket
Laundry detergent
Pet Supplies (If Pets are allowed)
Blanket and bed
Litter box or dog crate
Food and water bowls
Treats
Leash and/or collar
Favorite toys
Pet medications if any
What You Shouldn't Pack
As much as every item might feel important, not all are necessary. The following is an example of items you shouldn't pack.
Huge furniture that isn't needed such as large bookshelves
Furnishings that are in need of repair
Decorative items that stay on the floor e.g., throw rugs (these are fall hazards and can cause accidents)
Duplicate items (e.g. many mugs of the same size or design)
Glass table tops
Fancy outfits and clothes
Expensive jewelry and other valuables
Too many kitchenware and appliances
Box of stored items
Outdoor furniture (except if your loved one's home has a patio)
Certain medications which the community doesn't allow
Common Mistakes To Avoid When Moving To An Assisted Living Community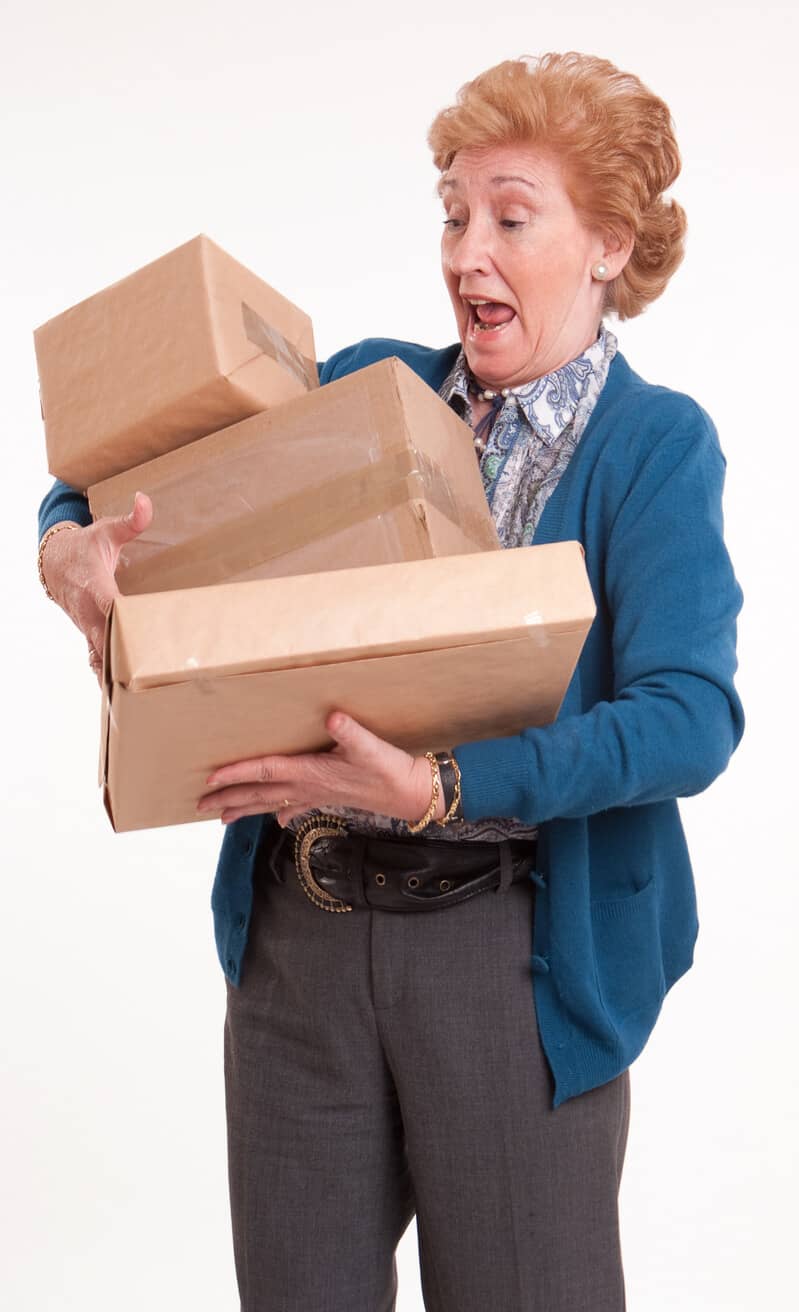 [Senior woman with packed boxes alarmed and in shock, moving into assisted living checklist]
Don't be caught making the following mistakes during the move!
Not asking for help: Whether it's professional help or help from family and friends, don't forget to ask for help when needed. It can get overwhelming really quickly if you're the only one handling all the logistics and planning.
Not planning properly: Just so you don't have loose ends or forget about critical stuff, it's important to plan all the nitty-gritty of the move. Having a "moving into an assisted living checklist" can help you plan better, and tick your boxes as you make progress.
Waiting too long to move: waiting too long to move can be detrimental to your loved one especially once they have agreed to move. Set up a move-in date that works for both parties and plans toward it.
Underestimating the stress of a move: Moving can be stressful and overwhelming, especially for seniors. Be sure to get plenty of rest during the planning and after the move. Help your loved one to unpack, however, unpacking must not be done on the same day.
Keeping to yourself: Your loved one is in a new environment and may feel like isolating or keeping to themselves. Watch out for this, and encourage them to make new friends, socialize, and participate in events. These will help them adapt quickly to their new home. Additionally, call them to check up on them, and coordinate visits with other family members.
Moving Into Assisted Living Doesn't Have to be Stressful
While we can't promise a stress-free move to assisted living, following our assisted living moving checklist can make it a lot easier. Just be sure to plan properly, involve your senior loved one, and enlist the help of others.
Download your FREE Copy of our Checklist For Moving Into Assisted Living to help you simplify and streamline the move every step of the way.
Meanwhile, if you're in Northern Nevada and thinking of moving your loved one into assisted living in 2022 or beyond, Amy's Eden Assisted homes might just be what you're looking for.
With just 2 residents per home, we pamper and spoil your loved one with the right care and support they need to live out their senior years in a safe and happy environment.
Give us a call today to find out more about our assisted homes and what they entail.
In-Home Caregiving Services Find an in-home caregiver in Reno & Carson City, NV! Amy's Eden caregiver in NV Free care assessment > Amy's Eden Senior
Read More »
Contact Amy's Eden Senior Care