Recovering from home: What kind of home health aide services do you need?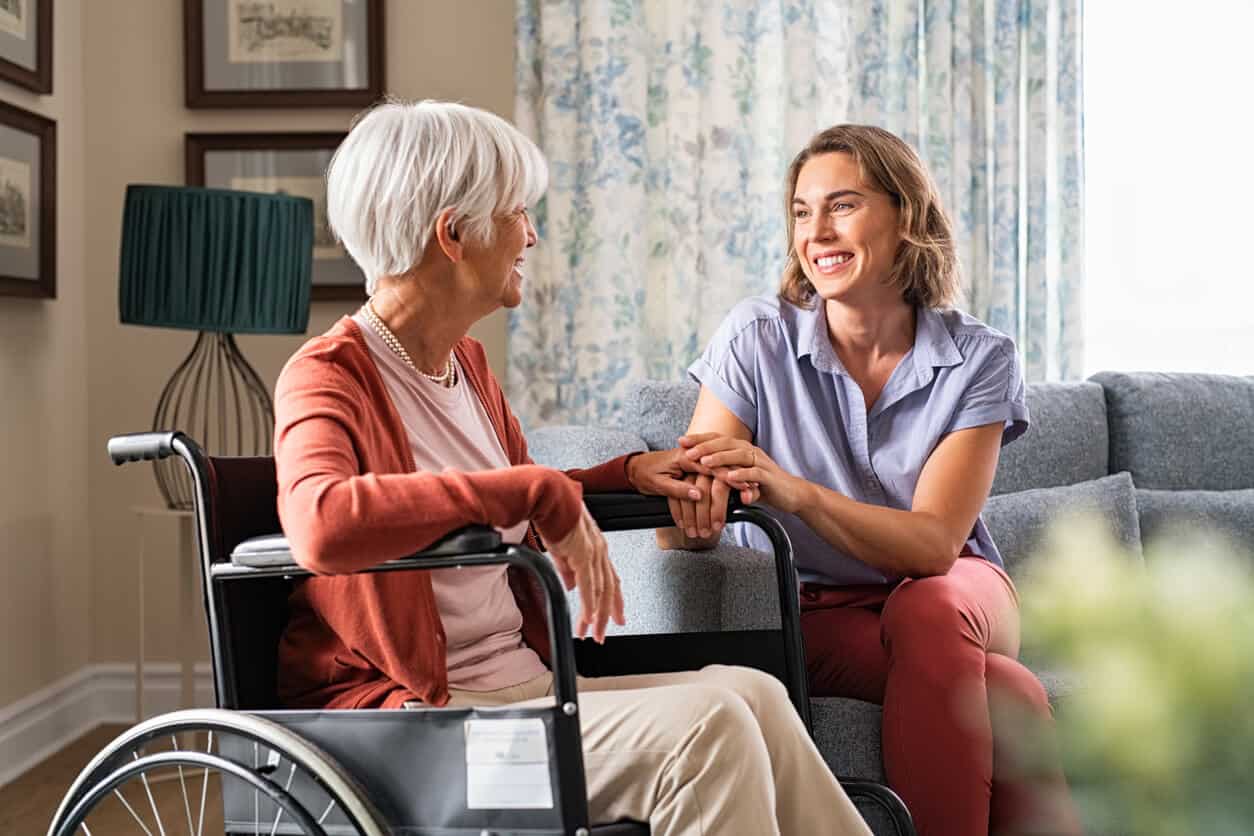 A smiling elderly woman on a wheelchair receiving home health assistance from a caregiver.
If a loved one has just recently gotten out of a hospital and was advised to recuperate at home, do you get help from an in-home caregiver, home health aide, or a private nurse? This can be a tricky question as most people don't know the structure of the direct care workforce.
A personal nurse has care duties different from a home health aide and in-home caregiver. But they all can provide care at home and take care of an elderly loved one who's fallen ill, an injured relative that's been allowed to recover at home, or people living with disabilities.
In the case above, when a loved one needs home healthcare assistance, hiring a nurse is the best option, but a more practical one would be hiring a home health aide.
Why? Getting a personal nurse to deliver care at home every day is expensive. Meanwhile, a home health aide can perform non-medical services, plus a few skilled nursing services, under the nurse's or doctor's supervision if regulated by the state. It's cost-effective and more sustainable.
Who can provide home health assistance?
Professionals who provide home health services are therapists, licensed practical nurses, and home health aides. Home health professionals usually work at assisted homes, hospices, daycare facilities, and private residences.
Today, we'll focus on home health aides and the key in-home aide services they provide to help people continue to recover at home and regain their independence.
Personal Care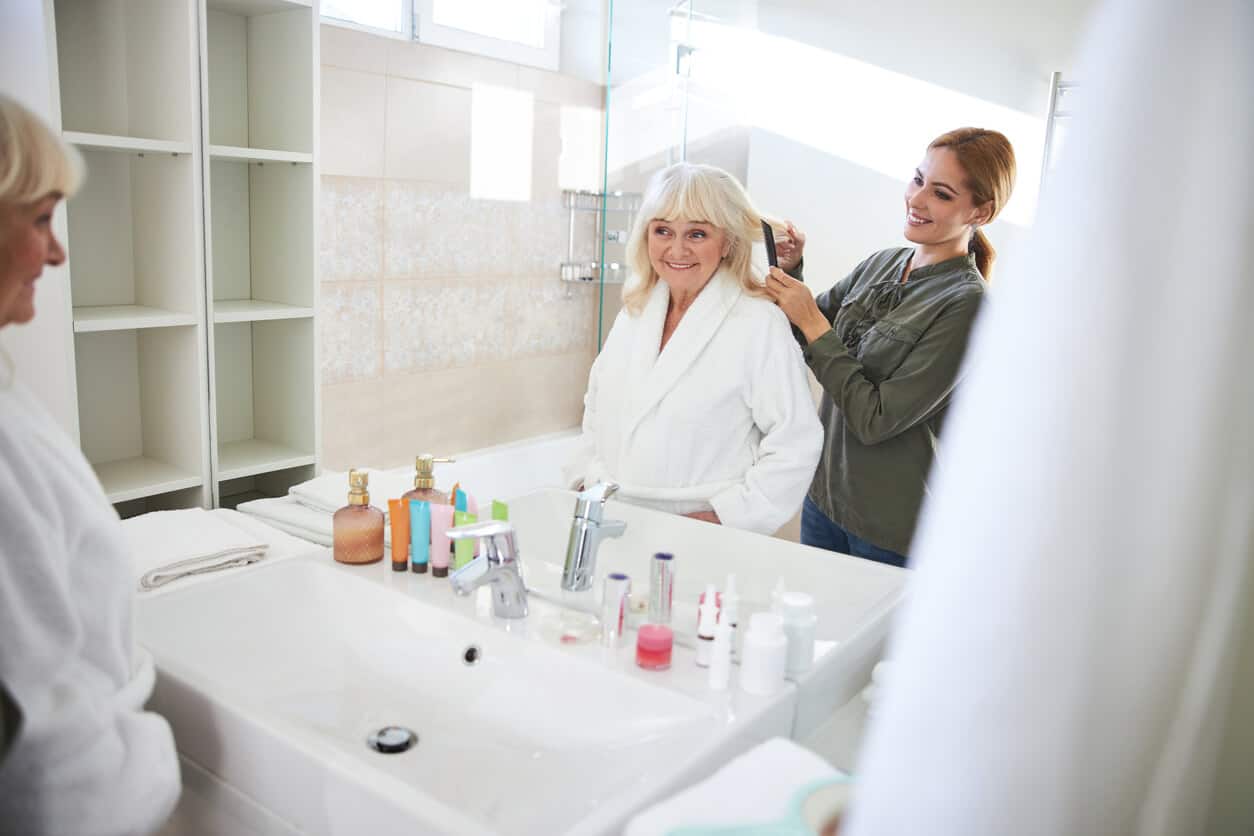 A caregiver providing at home health aide service to an elder woman by helping her comb her hair.
Good hygiene is vital for recovery and overall health, especially for those who need wound care and have limited mobility.
A home health aide can help your loved one do bathroom tasks, such as:
● Bathing and dressing
● Shaving
● Toileting
● Brushing of teeth,
● Skincare (e.g., applying lotion and moisturizer)
Getting home health aide service ensures your loved one is safe while in the bathroom, the most accident-prone area within the home.
Administering and Managing Medications
Some states allow home health aides to do nursing tasks, like giving the patient injection shots, tube feeds, or pills.
For example, in New York, nurses can delegate the task of giving medications to home health aides, allowing them to provide expanded care services to New Yorkers in the comforts of their homes.
Meanwhile, home health aides in Virginia, Florida, and New Mexico aren't allowed by the state to do medication administration tasks. This is a changing regulation, as some states, like New Jersey, Kentucky, and West Virginia, have seen success in delegating some nursing functions to home aides.
If you don't know the policy, you must clarify with the attending physician, nurse, and the agency the limitations or scope of a home aide regarding medication management or skilled service.
Light In-home Medical Services
If trained and permitted by the state and the agency, such as in New York, home health aides can provide expanded at-home health care services. This includes inserting and removing insulin, feeding tubes, and intravenous and operating medical tools, such as colostomy and tracheostomy equipment and oxygen.
A few states allow home health aides to provide some skilled services if they have completed advanced training and are certified.
Companionship Care
A caregiver providing companionship and home aid care service to an elder woman.
Attending regular checkups is crucial in health monitoring and patient recovery. If you need to go to work during the day, it's challenging to find time within a busy day to accompany a family relative or senior parent to their doctor's appointments.
Getting home aid assistance means you don't have to worry about who will book the transportation and go with your loved one to their doctor's appointments. Moreover, a home aide can also provide social support and tag along with them whenever and wherever they want to go, such as if they want to visit a nearby park or restaurant and shop for groceries.
Health and Data Monitoring
A caregiver providing home health aide service of health monitoring to a senior male patient.]
Home health aide care includes monitoring your loved one's overall health aspect. This includes the symptoms they experience, mental health state, daily activities, and nutrition, and ensuring they follow through with their doctor's or therapist's suggestions. The entire care team then uses the collected data to track the progress or decline of your loved one's health condition.
A home health aide can monitor the following:
1. Level of movement and exercise
2. Vital signs
3. Blood pressure
4. Pulse
5. Respiration
6. Food intake
7. Mood
8. Mental and physical health
They can also assist with collecting laboratory samples from urine, spit, or stool.
Scheduling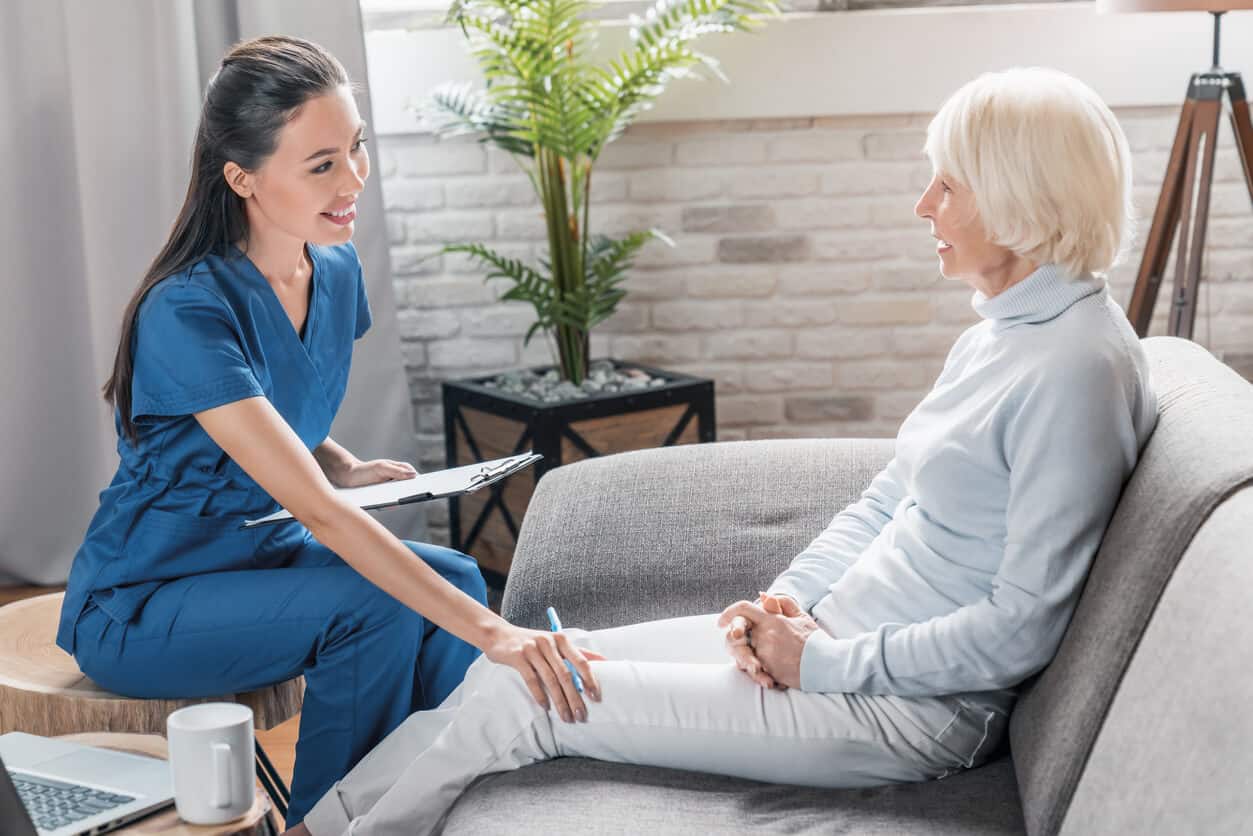 Home aid assistance includes the caregiver helping a senior woman plan their daily schedule.
Even when recovering at home, your loved one will have to carry out pending obligations, such as attending remote meetings related to work, and other engagements.
Your hired home health aide can help plan out your loved one's daily schedule and guarantee they're on time for important appointments, such as doctor checkups. They can also help personalize a daily timetable to include meaningful activities, like exercise, hobbies, and learning a new skill.
Light Housekeeping and Basic Errands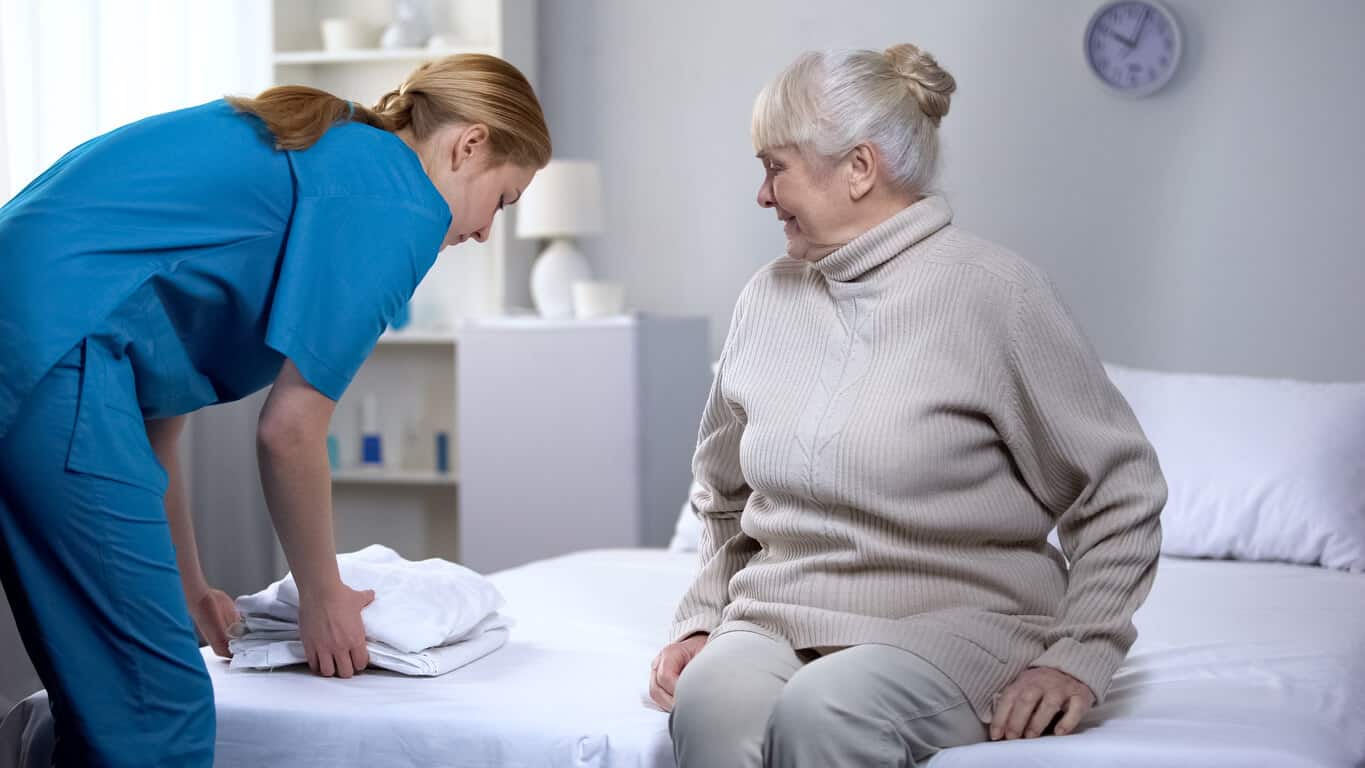 A caregiver providing home aid assistance by helping an elderly woman change her bed linens.
Providing light housekeeping support is one of the roles of a home health aide. They can accomplish tasks that an in-home caregiver can do, such as:
● Washing dishes
● Meal preparation
● Changing bed linens
● Cleaning the bathroom after each use
● Taking out the trash
● Wiping the kitchen counters
● Sweeping the floor
● Putting used towels and washcloths in the laundry
● Refilling medications (if regulated by the state)
Home health aides are not a replacement for house helpers, so they can't do tasks like mowing the lawn and moving heavy furniture. They can only help with light housekeeping chores and other activities of daily living (ADLs).
Mobility Support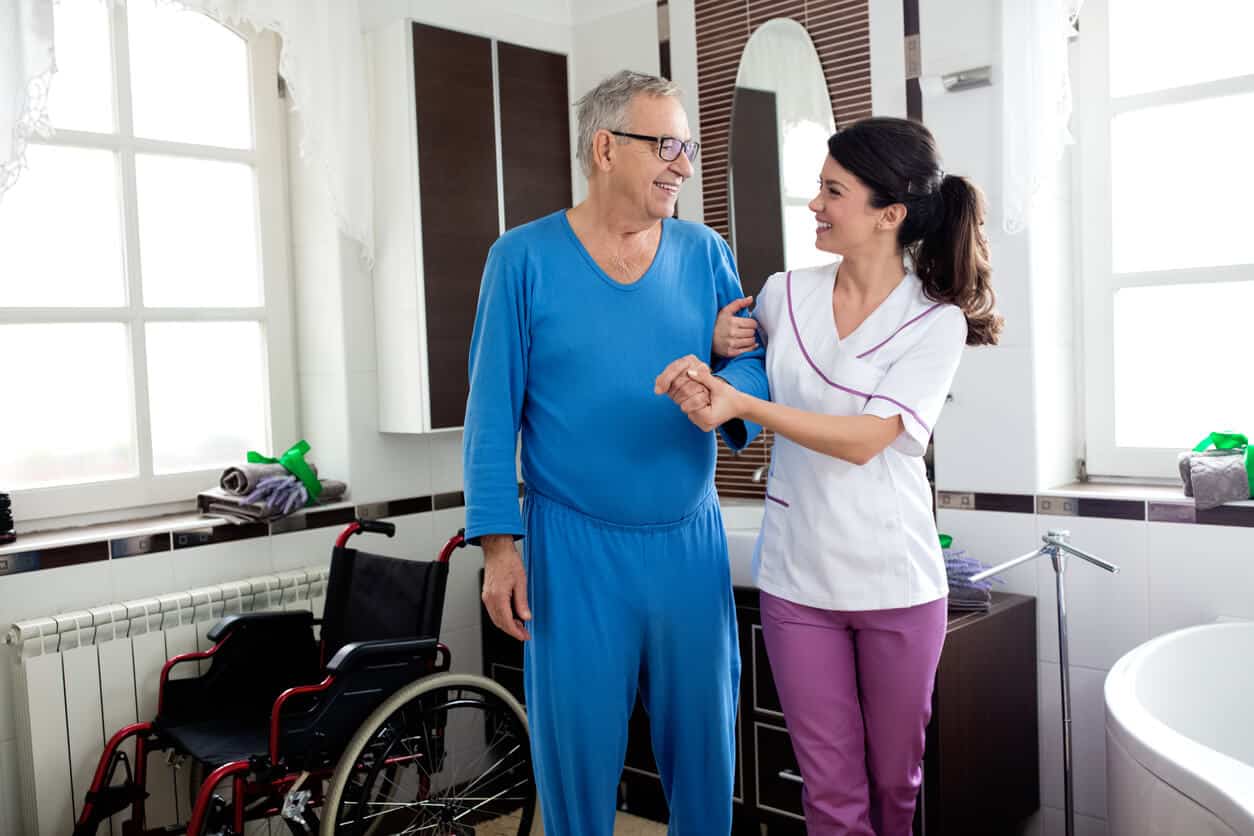 Home health aide services include the caregiver providing mobility support to a senior male patient who wants to go to the bathroom..
Being cooped up in the bedroom while recuperating can be depressing and boring. If your loved one wants to catch some sunlight early in the morning or take a short walk in the garden, an at-home health aide can assist with mobility. They can move your loved one safely from the bedroom to the bathroom or the dining area during mealtimes.
One of the agency requirements for home health aides is stamina, endurance, and physical strength, as they're always on their feet and moving throughout the day.
Dos and Don'ts for Home Health Aides
Home health aides can do all of the non-skilled services an in-home caregiver can do. For skilled nursing tasks, it's dependent on whether the state allows the provision of medical care under the guidance of a nurse or a doctor.
Here's a run-through of the dos and don'ts for home health aides.
Tasks
Dos
Don'ts
Personal care
✅
 
Monitor and record the patient's health progress
✅
 

Light housekeeping

(meal preparation, washing dishes, etc.)

✅

(no scrubbing of the floor or washing of carpets)

 
Provide selected medical services

✅

(if regulated by the state)

 
Prescribe and administer medication
 
🆇
Give medical advice
 
🆇

Handle medical equipment

(Ventilator, tubes, IV, etc.)

✅

(only if trained and certified, and instructed by a physician or an RN)

 
Handle emergencies
✅
 
Frequently Asked Questions about HHA
1. I need a home health aide, where do I find one?
You can ask friends, coworkers, and local senior centers for recommendations. Home health aide agencies are common, so finding reliable help isn't difficult.
Another option is reaching out to your local Area Agency on Aging or searching through Eldercare Locator.
2. Does Medicare pay for home health services?
Medicare may cover home health aide services, provided your loved one requires skilled care — not just personal care.
Skilled nursing and skilled therapy services are also covered for those eligible.
3. What are the duties of a home health aide?
A home health aide provides care services to patients at home to either recover from an injury or illness or maintain their existing state of health. These services include light housekeeping, companionship, mobility support, and, if regulated by the state, some medical services with the help of a nurse or a doctor.
Quality and Patient-centered Elderly Care Services at Amy's Eden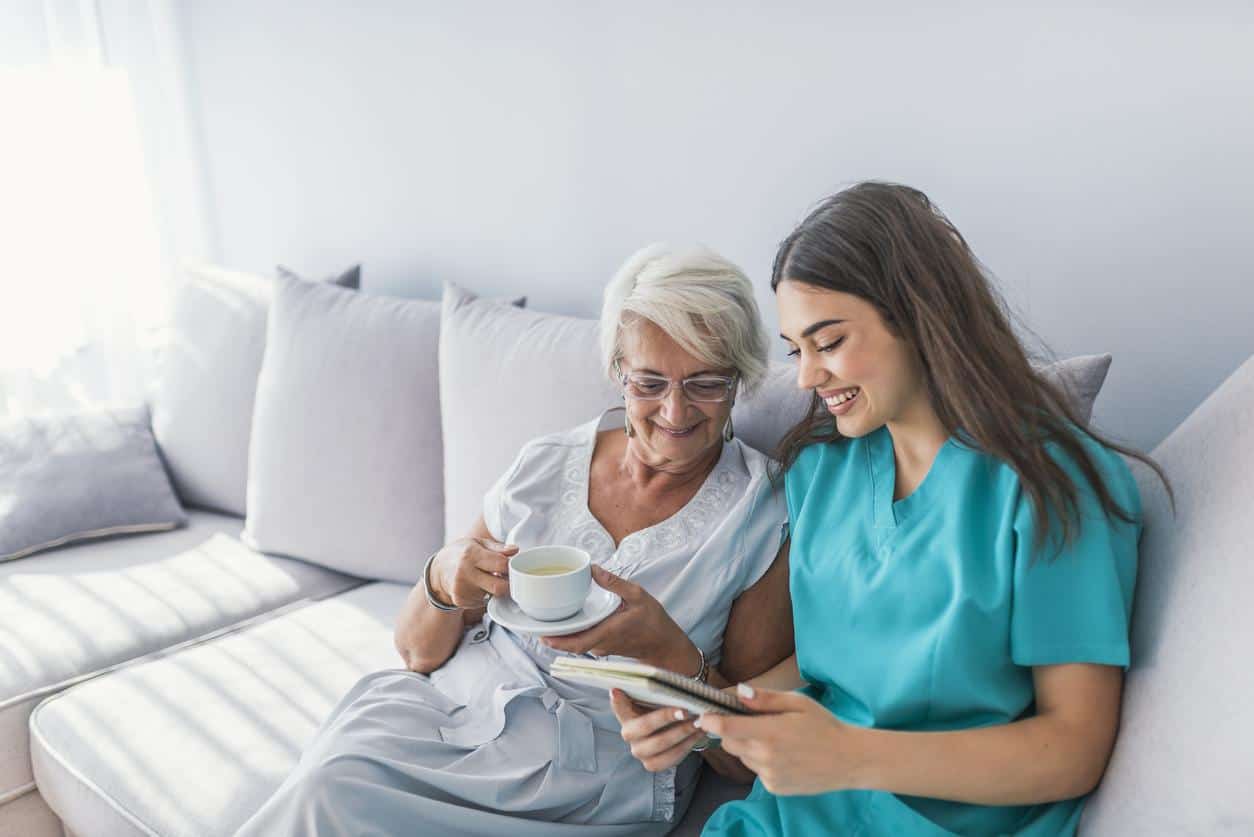 A caregiver providing home aid care by helping a senior woman plan their daily routine and activities.
Home health aides are an integral part of the professional care team. Without them, it will be a struggle to provide adequate and quality care to people in need, especially nowadays when there aren't enough care workers to address the rising care demands.
A home health aide isn't a replacement for a registered nurse or a house helper. They are the heroes of the people they care for. Like family caregivers, they deserve respect because they work passionately and help other family members go on with their usual day with peace of mind.
In need of quality and personalized elderly care services but don't know where to find one? If you live around Reno and Carson City, NV, contact us so we can connect you to a professional caregiver.
Sources:
National Association for Home Care & Hospice
In-Home Caregiver Services in Sacramento: Making Quality Care Accessible When it comes to providing quality care for loved ones who require extra support, many families
Read More »
Contact Amy's Eden Senior Care