Shower Assistance For The Elderly is a Fantastic Way to Boost Well Being
A shower will help you feel fresh and clean and improve your well being regardless of age, disability, or illness. Being able to shower at home or in an assisted living home safely will help your seniors maintain a sense of independence, thus boosting their sense of well-being and self-esteem. Illness or advanced age can pose a challenge when taking a shower. You do not have to worry if this is your situation, as there are several bath aids you can use to make bathing seniors easier for your loved one. You can also seek our assistance. Our caregivers will help your loved ones take their showers in the comfort of their own homes. At
Amy's Eden
, we offer necessary support to your loved one at home, ensuring they retain their independence and freedom.
The majority of falls for people over the age of 65 happen in the bathroom.
The first step to reducing the risk of falling is to be aware of potential bathroom hazards. This will make regular showering safer and more pleasant. Here are a few ideas to help:
Make sure you have proper lighting both in the bathroom and on the way to the bathroom, especially at night. You might need to install night lights or strip lighting along the baseboards to illuminate the way leading to the bathroom.

Consider the best locations to mount grab bars. There should be ample places for your senior to hold onto, both inside and outside the shower.

Because bathroom floors inside the shower can be very slippery when wet, use non-slip bath mats to reduce the risk of falls.
Shower chairs are an essential part of bathroom safety. The perfect shower chair will be sturdy enough to safely hold your loved one, even when they twist and turn. Check the weight limit on the shower chair. It should also be comfortable. Shower chairs come in many widths and designs. Get one that suits and supports your senior's shape.
If you are not available to assist your loved one, then our caregivers can help. At
Amy's Eden
, we offer bathing assistance for the elderly services. You can have a caregiver visit your home once or twice weekly to help your loved one bathe. Depending on the needs of your loved one, our caregivers can assist with showering only or other light duties too.
Enjoy Bathroom Assistance From The Comfort Of Your Home
If your loved one wants privacy while they shower, you or a caregiver should be nearby to offer assistance when needed. You do not have to hover; we want the situation to be comfortable for everyone.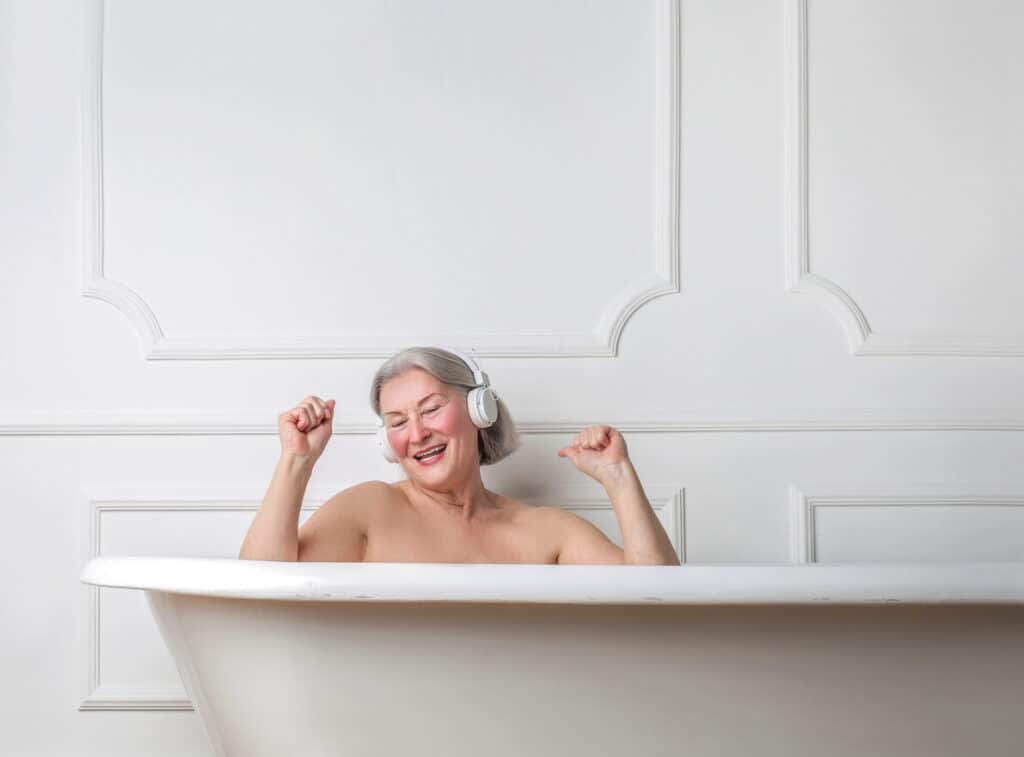 While you are assisting your loved one in showering, let them step over the edge of the bathtub. However, if they have mobility issues, ensure you support them after their shower. When you do this, you will help avoid bathroom falls and injuries. It is crucial to do this respectfully, not to hurt the older adult's feelings.
Offering Shower Assistance To Your Aging Loved Ones
When you decide to offer shower assistance to an older adult, it is essential to relax, be calm, and be comfortable when you help them change and bathe. You realize that sometimes helping your loved one shower can be an embarrassing and uncomfortable experience, especially if they are of the opposite gender. Being calm, comfortable, and relaxed helps the person you care for by letting them feel comfortable and relaxed while under your care. If the person you are helping can take their shower with minimal assistance, give them enough privacy. You can achieve this by closing the bathroom curtain or door but remaining nearby if they call out requiring your help. When caring for a person with dementia, it is essential to note that they may have forgotten how to shower and, in some circumstances, be afraid to shower. If this is the case, it will help bring them fully dressed into the bathroom. This is one way of reminding them how to undress and shower. If you realize the person you are helping is afraid of showering, assist them in taking a bath at the sink instead.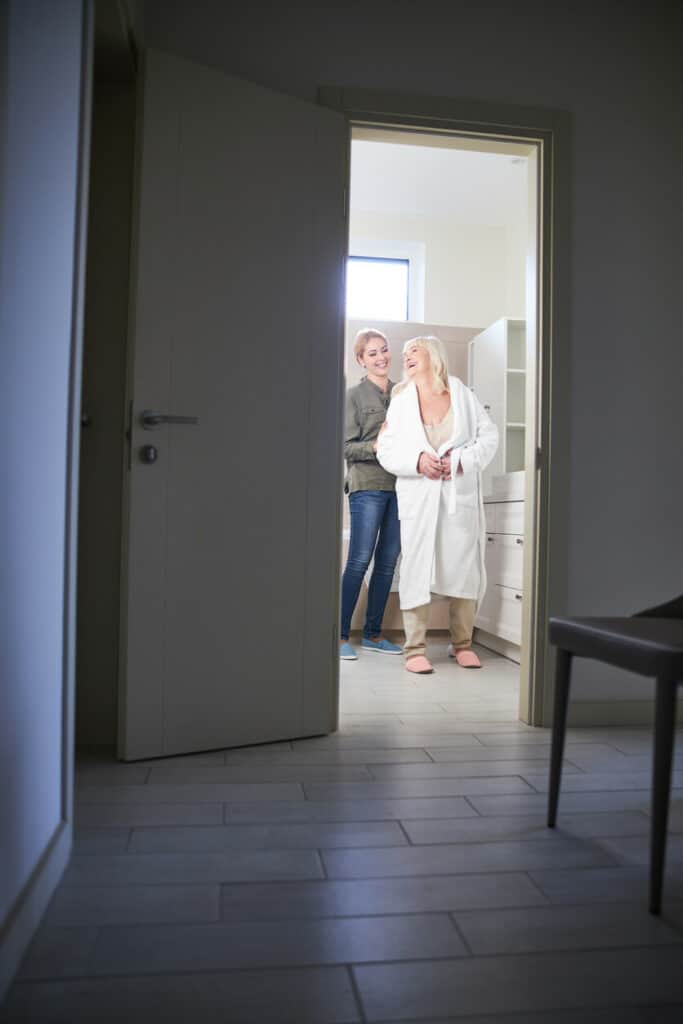 How To Properly Prepare For An Older Person's Bath
When you are assisting a senior in taking a shower, the first step is to gather all the essential materials. These materials include
Liquid or bar soap
Towels
Face cloths
Tear-free shampoo
Body cream or lotion
Bathrobe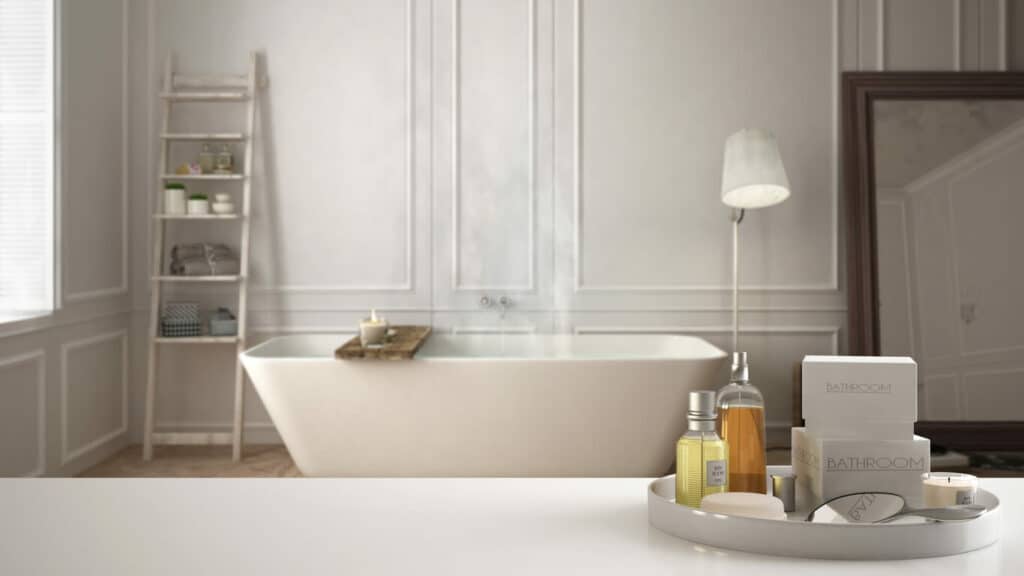 Helping The Elderly With Their Shower
After gathering bathroom materials, offer the senior a bathrobe as you prepare their bath. The next step is to set up a shower bench and help the elderly. Let your loved one take off their bathrobe if possible, but offer assistance as required. Remember to check the water temperature to ensure it is correct. Wear a mask when caring for a person suffering from a contagious disease like the flu. Additionally, you can wear gloves while assisting an older adult who has diarrhea and vomiting. Once the older adult is safely in the bathroom, wet and apply soap on the face cloth, give them the face cloth to clean themselves if they are in a position to, and then help them wash the areas they cannot reach, like their back. Talk to the person you are helping and let them know what you are about to do before you do it. While assisting the elderly person shower, you can start with washing the clean areas and then proceed to the less clean ones. You could start with the face, arms, back, torso, and legs and finish by washing their groin areas. When washing their hair, use no-rinse or tear-free shampoo. Use a removable shower head to rinse the shampoo, and then help them dry off with a towel. Afterward, help your loved one dry areas they can not easily reach, like between their toes and backs. Once the older person is clean and has dried off, help them apply lotions if they cannot. Remember to avoid using the cream on moist areas like the folds on the groin or under the breasts. When assisting an older person in showering, always check if they have skin rashes and sores. Be keen when cleaning sensitive areas, like the groin or under the breasts. When you realize they have sore spots, avoid rubbing them to prevent damaging their tissues.
There Are Several Ways You Can Adapt When Helping Your Loved One Shower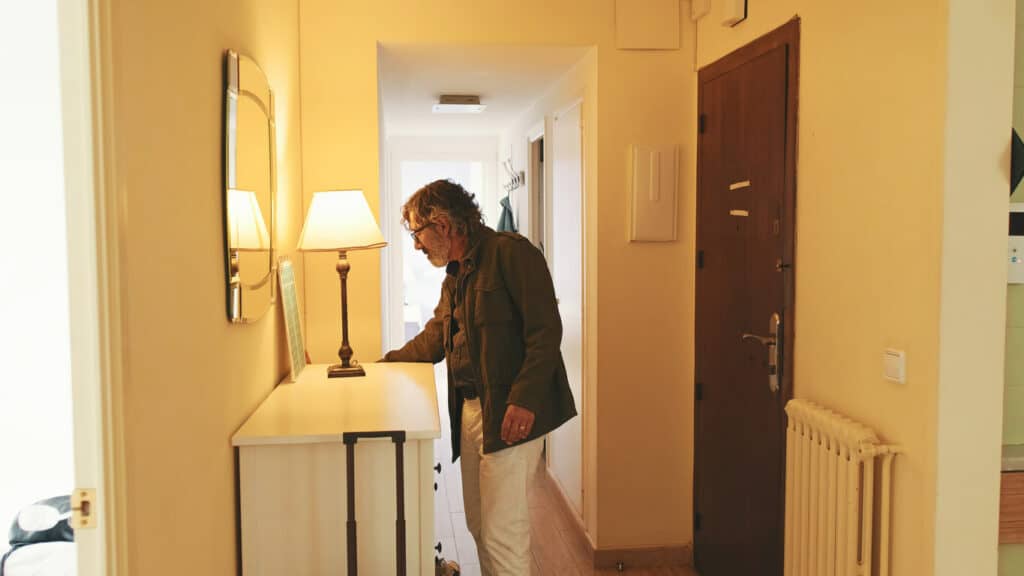 Most of these changes will make the older adult's bathroom functional, ensuring safety and maintaining a stylish look. A bathroom can be one of the most hazardous places at home, where you or your loved one can experience slips and falls. Most senior falls could result in severe injuries. Making your bathroom safe and secure will guarantee a relaxing shower.
At Amy's Eden
,
we recommend the following changes in your bathroom to ensure safety.
Use of walk-in shower
Increase your toilet height
Installation of multiple grab bars
Installation of lower worktops
Widening of the bathroom door
Installation of a bath lift
Before assisting an older person with their shower, check if the bathroom is fitted with any bathing aid. If it's your first time helping seniors with their showers, ensure that any installed bathing aids are up to date and operational before letting the older person use them. Then check for the room and water temperature, ensure the floor is dry, and all the materials you require are within your reach.
Top Tips To providing Excellent Shower Assistance
Remember that the person you care for has feelings, and you should always ensure they retain their dignity. Install bathroom aids to help your loved ones keep their sense of independence. While offering bathroom assistance to the elderly, follow these tips:
Be Compassionate
When helping your loved one shower, putting yourself in their shoes is crucial. Consider their privacy and dignity as you assist them in taking a shower. If you escort the older adult to the bathroom, kindly remember to maintain their pace -do not rush them. Apart from letting them know what you are about to do before doing it, chat with them and ask for their permission before helping them. By doing this, you ensure they retain their dignity and, at the same time, let them know they are still in control of their lives.
Utilize a Walk-in Shower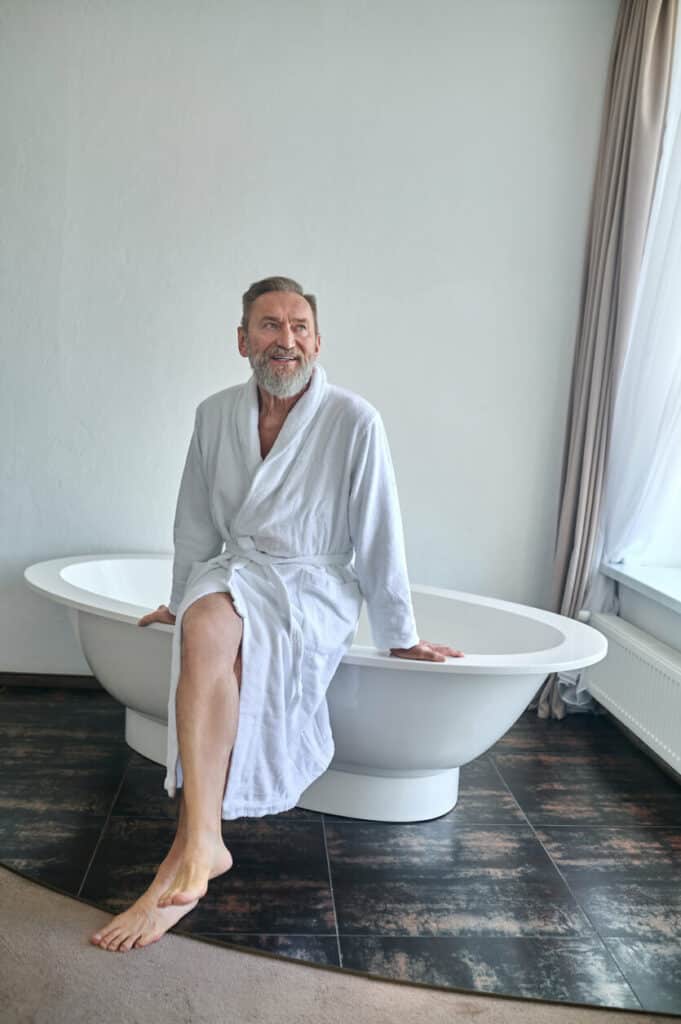 A walk-in shower or bath is essential, especially when caring for a loved one with mobility issues. This bathroom aid will make your shower experience safer and more accessible. A walk-in shower will have some built-in features like:
Temperature control
Grab rails
Low threshold shower trays
More space
Non-slip floor
Raise the Height of Your Toilet Seat
Raising the toilet seat's height will reduce the risk of falls for most seniors. You realize that a normal-sized toilet seat will have your loved one lowering themselves further, increasing their chances of falling. When you raise the height of the toilet seat, you reduce the difference between sitting and standing immensely. A high toilet seat will improve mobility and give your loved one much-needed independence. Ensure the height difference is not very noticeable to affect the bathroom's overall appearance.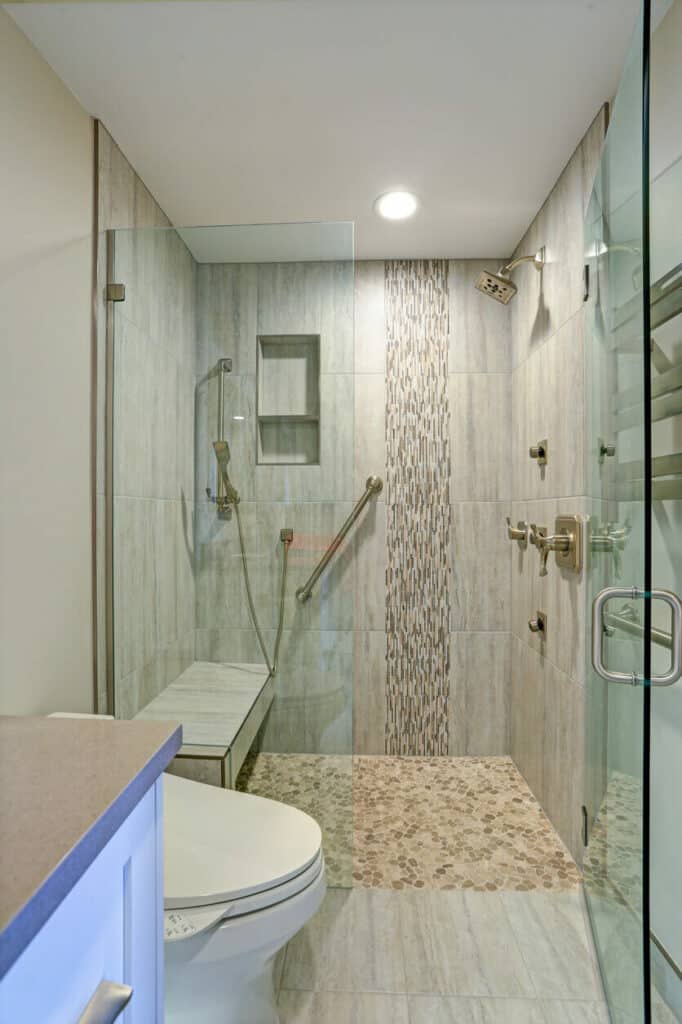 Ensure Your Bathroom Has an Emergency Pull Cord
When caring for an older person, installing an emergency pull cord in the bathroom is a must-have. This pull cord is essential as the senior can pull it in case of an emergency or once they are done and need assistance leaving the bathroom. It also allows them to have privacy while using the bathroom and, simultaneously, gives you peace of mind knowing you are just a call away from them. You can strategically place these emergency pull cords where your loved ones can easily reach them. When your loved one pulls a cord, it will send a signal to you, ensuring you offer timely assistance.
Shower Assistance for the Elderly
Shower assistance for the elderly
is a personal care service provided for seniors to help them with their daily hygiene and bathing tasks. With age, it becomes harder to stand and maintain balance in the shower or bathtub, leading to a higher risk of falls. In-home shower assistance can provide elderly individuals with the support they need to complete these tasks safely and comfortably. Many personal care providers offer shower assistance, including professional medical care facilities, community resources, and online options. With the ongoing COVID-19 pandemic, many elderly individuals are opting for in-home shower assistance for their personal health and safety. Online resources are available to search and find the best options for shower assistance in a particular state, and some sites provide free resources and links to learn more about different products and services provided. While searching for shower assistance, it's important to take note of a company's privacy policy, as well as their policy regarding the transfer of medical information. Some common shower assistance options include sit-in bath showers, transfer benches, and shower chairs. It is always best to choose a professional service provider to ensure that all personal care needs are met with quality and care.
Contact A Shower Assistant For The Elderly Near Me
At Amy's Eden, we specialize in creating experiences that leave your loved one feeling loved and retain their dignity. Our wide range of caregiving services is ideal for you and your loved one. If you have any questions regarding shower assistance for your elderly loved one, please do not hesitate to
contact us
for more information.
In-Home Caregiver Services in Sacramento: Making Quality Care Accessible When it comes to providing quality care for loved ones who require extra support, many families
Read More »
Contact Amy's Eden Senior Care