How Technology For Seniors Is Beneficial: Clever Apps And Gizmos
My mom was an electrical engineer. She could repair the oven, the toaster, and the washing machine when one of these devices would fail us. For most of her life, she had worked at a kitchen appliances manufacturer. And yet, when she was in her late 60's she was unable to write a meaningful text message on her cell. You see, her mobile phone had tiny buttons and a poorly lit display, and at the same time, her vision was quickly deteriorating. Many seniors find it hard to keep up with the new technologies because they have a physical impairment or a health condition that makes it difficult for them to deal with screens, buttons, and tabs. Today, the ability to use technology effectively is imperative to those who want to be active members of society. Just like mom though, it's not that seniors don't want to be tech-savvy, on the contrary, often they are interested in new technologies. Unfortunately, they don't have a history of using devices and background information like the rest of us and the young children so it takes seniors longer to become confident users. We do however know that our elderly loved ones do benefit from some knowledge of technology and as we move into 2023, the top tech tools available for seniors continue to improve their lives in many ways. This article will explain how seniors can use tech gadgets, apps, and services to connect with communities, share content, and learn new things. For instance, video calling, email, and social media platforms like Facebook, Twitter, and LinkedIn offer free options to connect with loved ones, stay in touch with communities, and understand the latest news and events.
Why technology is good for seniors
Mastering new gadgets and mobile applications can be beneficial for the elderly in several ways.
Stay connected – mobiles, tablets, and the internet would help our older loved ones keep in touch with their family and friends from a distance. Online groups on social media platforms are a great virtual place for contact with like-minded people as well.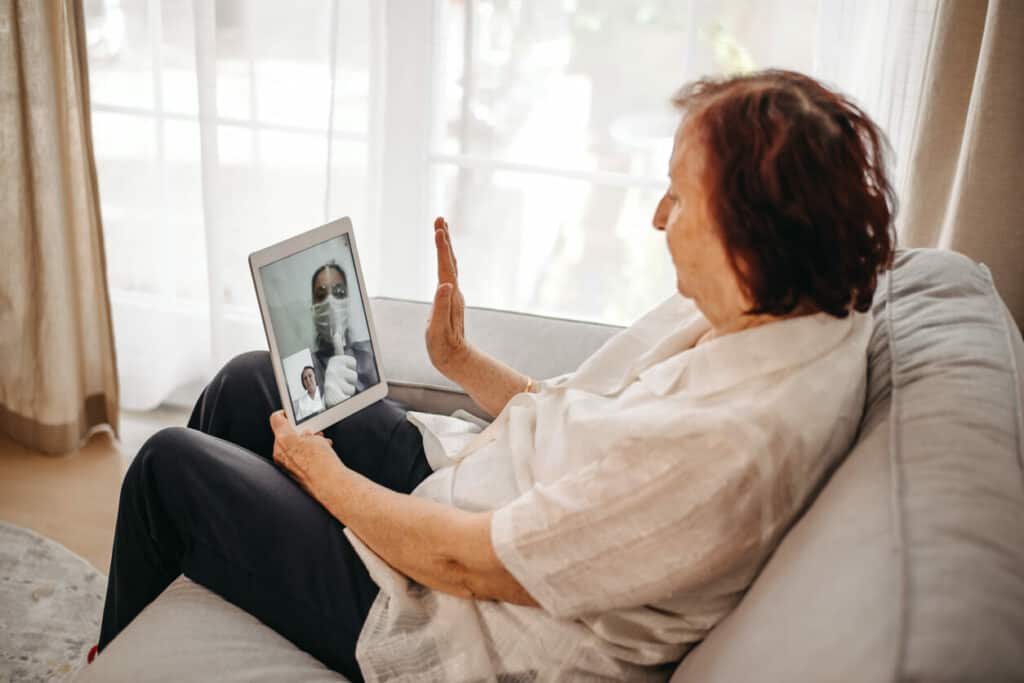 Mental exercises – a lot of digital brain stimulation games like sudoku, crossword puzzles, trivia games, and more are extremely useful for older people. These games support brain function and are a great preventive measure against cognitive deterioration.
Life made easy – a big advantage to using online services is the possibility to order an Uber, a food delivery, groceries, or do your online banking. All of these could be very convenient for seniors who have difficulties moving or driving.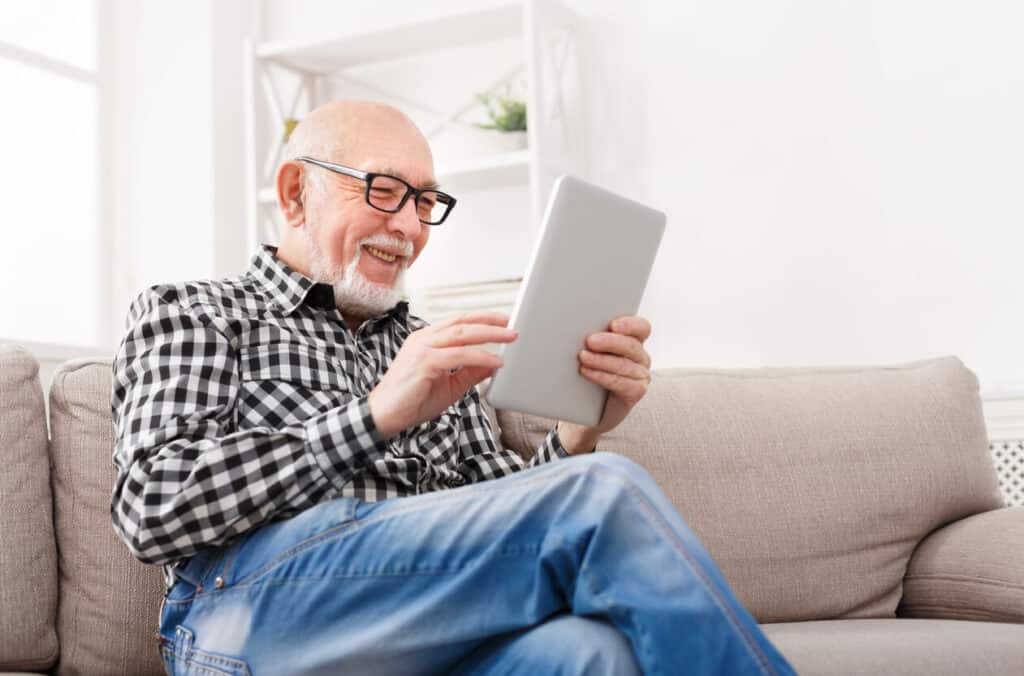 More news and entertainment – the world of streaming platforms can provide great entertainment to older adults who live alone or don't go out as much. Online newspapers, magazines, and news channels offer easy access to the latest news.
Stay safe and independent – seniors are vulnerable to abuse and theft. Technology, such as an alarm or emergency response system, can help them stay safe. Additionally, some applications send reminders for medication intake, and others monitor health and can inform healthcare providers in case of an emergency.
Challenges seniors have with technology
Amongst the most common problems, seniors face with technology are
Physical impairments and health conditions.
For example, a condition called 'leathery fingers' can cause difficulty when using devices with touch screens like smartphones or tablets.
Another problem can be caused by deteriorated manual dexterity, i.e. older adults have trouble using their hands in a coordinated manner. Operating delicate objects with precise movements can become more challenging.
Vision worsens with age and can create difficulties in discerning colors, distance, and speed of moving objects.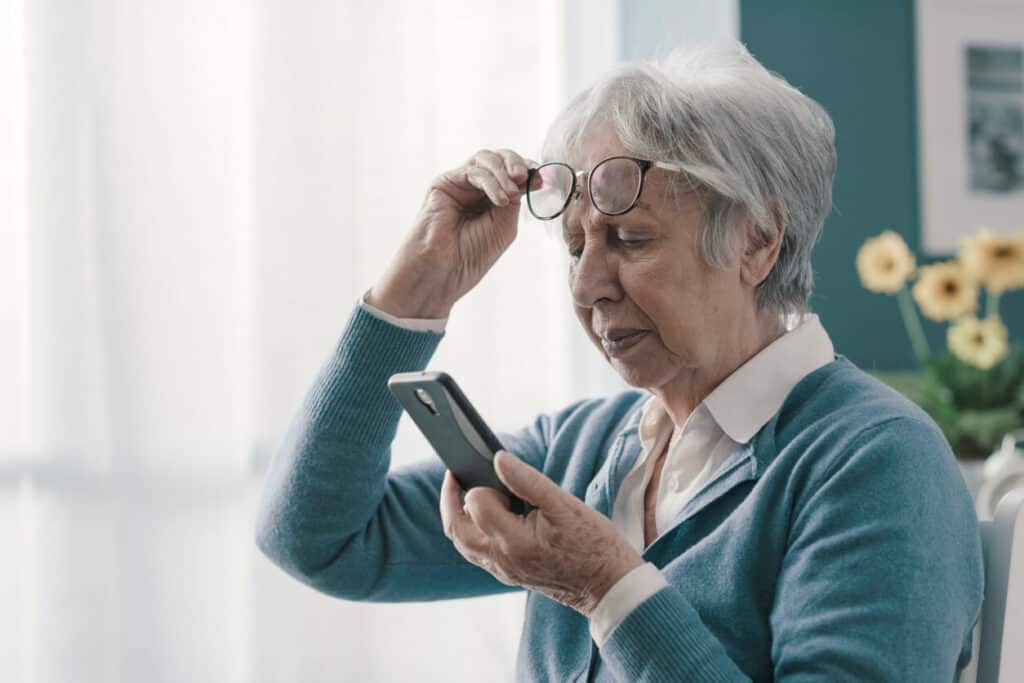 Lack of vocabulary and know-how. Many older adults retired from active work before technology had become so commonly used everywhere. Due to this, they simply may not have the vocabulary and experience with technology the rest of society has acquired. This may make them extremely insecure and anxious when dealing with new devices and gadgets.
Information overload. Having to learn how to operate multiple new technologies or how to use the various functionalities of a smartphone can be daunting and it may take time. To avoid this, help them learn step by step and one component at a time while providing all the moral support and advice they need.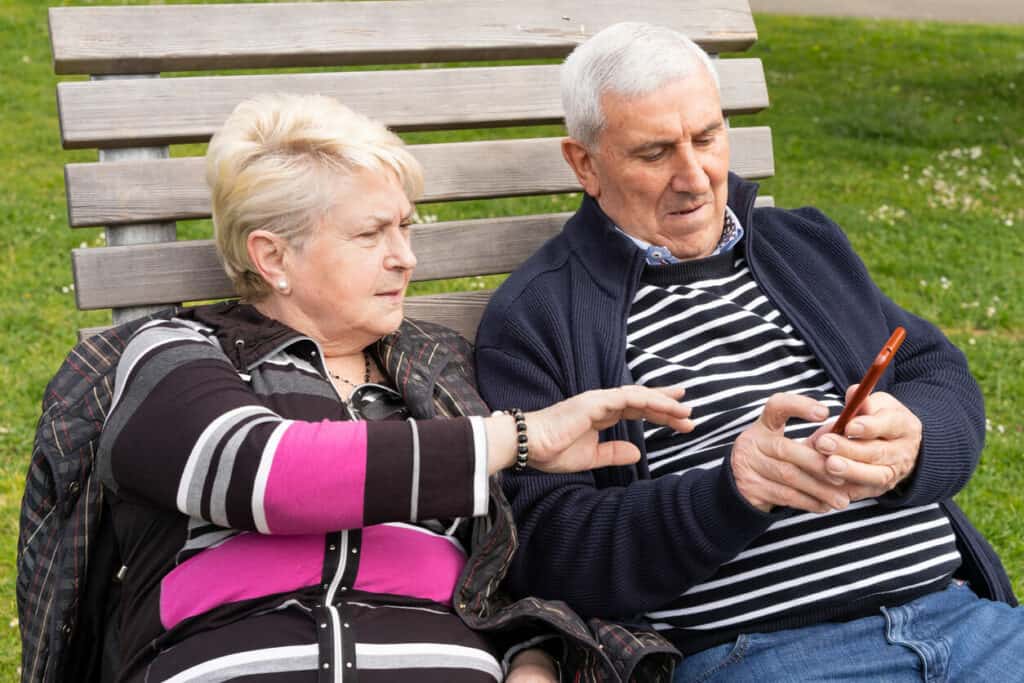 Memory and concentration problems. With age, our memory weakens and it is common to become more forgetful. This can be one of the hardest challenges seniors face when using technology since they have to learn new skills and remember steps, sequences, and passwords used while operating applications or navigating the Internet.
A force of habit. The older one is the harder it is for them to adapt to something new. Especially if they have used an analog version of it for half a century. As the Covid-19 pandemic hit though, many seniors changed their attitude towards new technologies and became more interested in them.
Gadgets seniors can benefit from
Medical alert systems
can be a very helpful solution for seniors who prefer to keep their independence but are living alone. These gadgets offer functions such as automatic fall detection, getting help at the push of a button, GPS location, and a mobile help button that can be worn as a pendant, separately from the device. In case of an emergency, your beloved senior can get in touch with the professionals at
Amy's Eden
immediately.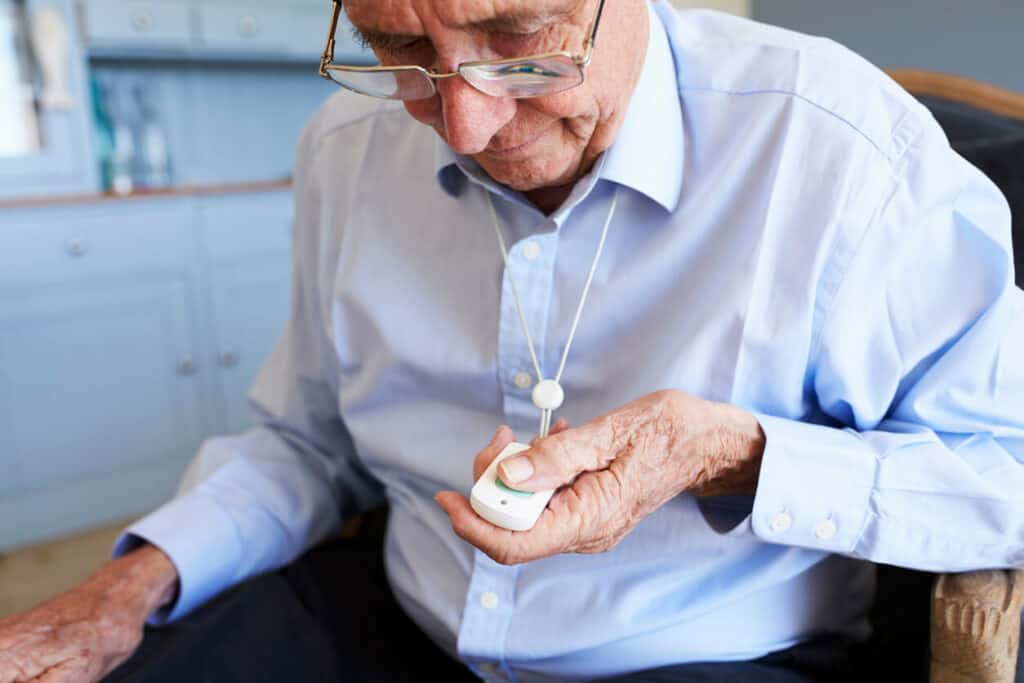 Tablets
are perhaps one of the best technologies to introduce to your elderly loved one.
Tablets are convenient, portable, light, with relatively large screens, and easier to use than a computer.
Equipped with a tablet a senior can browse the Internet; contact you via one of the communication apps like Whatsapp or Viber; get on Social media; watch movies; do their online banking; and read a book.
Tablets' screens have adjustable resolutions and are easy to zoom in and out. This can allow seniors to set up the largest setting to aid in viewing text and images.
Tablets operate through touch screens but there is an option for an external keyboard to be added. This can make some of the functionalities easier for seniors.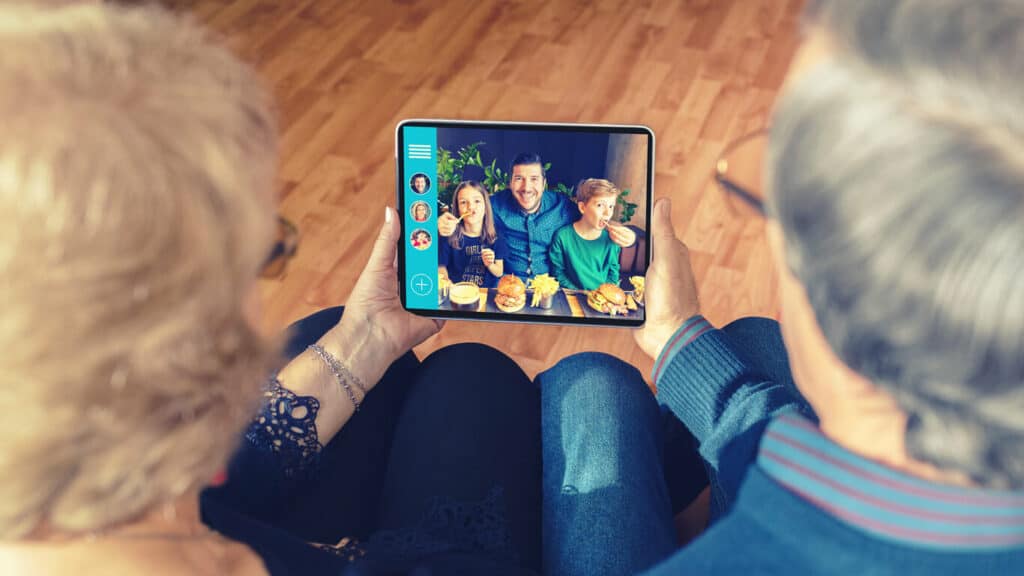 Smartphones
are another gadget that seniors should be using in their daily life. When choosing a smartphone for an older adult keep it simple and be patient to demonstrate how the available apps work. Keep in mind that your beloved senior has used a wired phone with numbers all their life. In the beginning, they should learn how to make calls, take photos, send and read text messages and perhaps play a game or two.
E-Readers
are a terrific innovation that will bring back the joy of reading to your loved one whose vision may have started to fail them. They may need some assistance with adding books to the device and adjusting the settings, but features such as the backlit screen, adjustable font size and the ability to store many books in the memory are all worth it.
Fitness trackers
double as wristwatches and can be useful to more active seniors. They offer functionality such as sleep, activity, and heart rate monitoring; alarm, timer, and reminder to drink water settings. Fitness trackers are relatively easy to operate and only need to be charged from time to time.
Smart home devices
such as Alexa speakers can be voice-activated and are good for seniors who have mobility problems. Others, like Nest and Arlo home sensors and video doorbells, can be programmed to send alerts when unusual activity at home is detected.
Mobile applications geared toward the elderly
Mobile apps are created to be used on smartphones or tablets. Some are already uploaded on a brand-new device. Others need to be downloaded from Google Play or Apple Store depending on the manufacturer of the gadget. Some very useful apps can assist seniors in their daily life.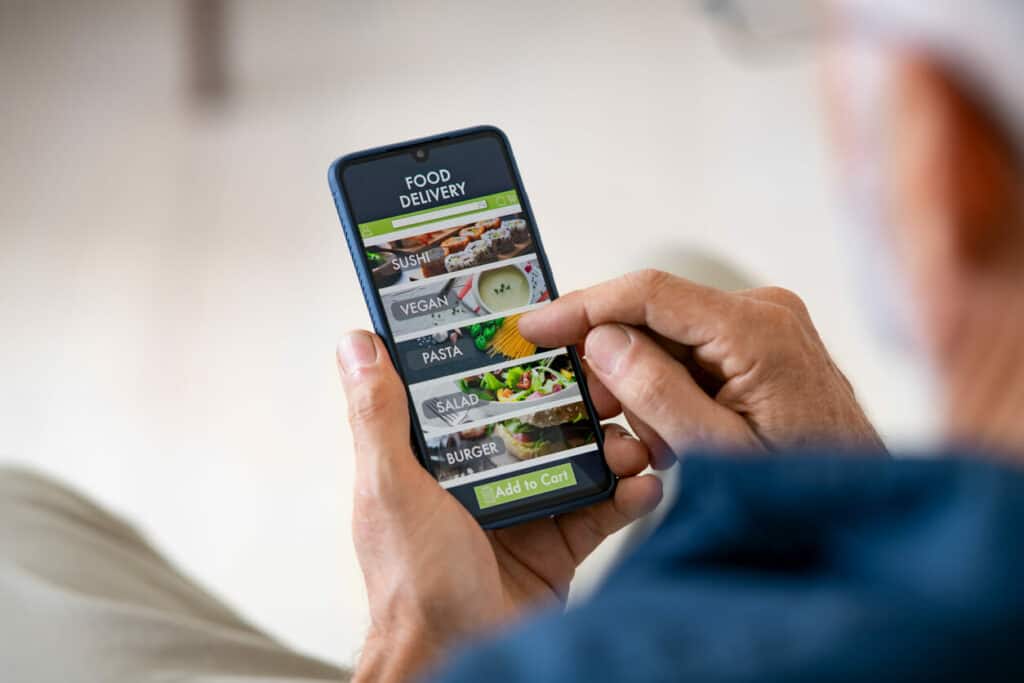 Food delivery – applications of supermarkets or companies that deliver groceries or cooked food to your beloved senior's doorstep.
Transportation – they make arranging transport much easier by ordering a cab in advance or checking the schedule of the public transportation system.
Connecting people – FaceTime, Messenger, Zoom, and Skype all of these will help the older adults stay in touch with their family and friends.
Games – the field is vast here, but fun games like Wordle, Scrabble, Chess, and Backgammon are a good place to start.
Personal finances – usually banks' apps that allow for online banking and transactions to be made.
Safety- Seniors can foster something similar to an assisted living home by taking control of their safety with high-tech security tools like smart locks, sensors, and cameras. (Please note that it is also essential to understand how to stay safe online and ensure data security.)
Other helpful apps could be:
AARP
and SeniorNet deliver news and stories geared toward the elderly. This app can be set up with location services and can alert your loved one of news from their local area. Many online resources and learning programs designed for individuals over 65 are available for them and can be helpful.
Magnifying glass + light
is an app that helps seniors to read small text on menus, brochures, or documents. It switches on the camera of the phone as well as the light and allows users to easily zoom in on text.
Life360
is a tracking location app that could be very helpful to keep up with the whereabouts of your elderly family member. Location sharing can be set up for the caregiver too so the senior will know where you are as well.
Skype
and
WhatsApp
Clever apps offer free calling and messaging options to keep seniors connected with family and friends.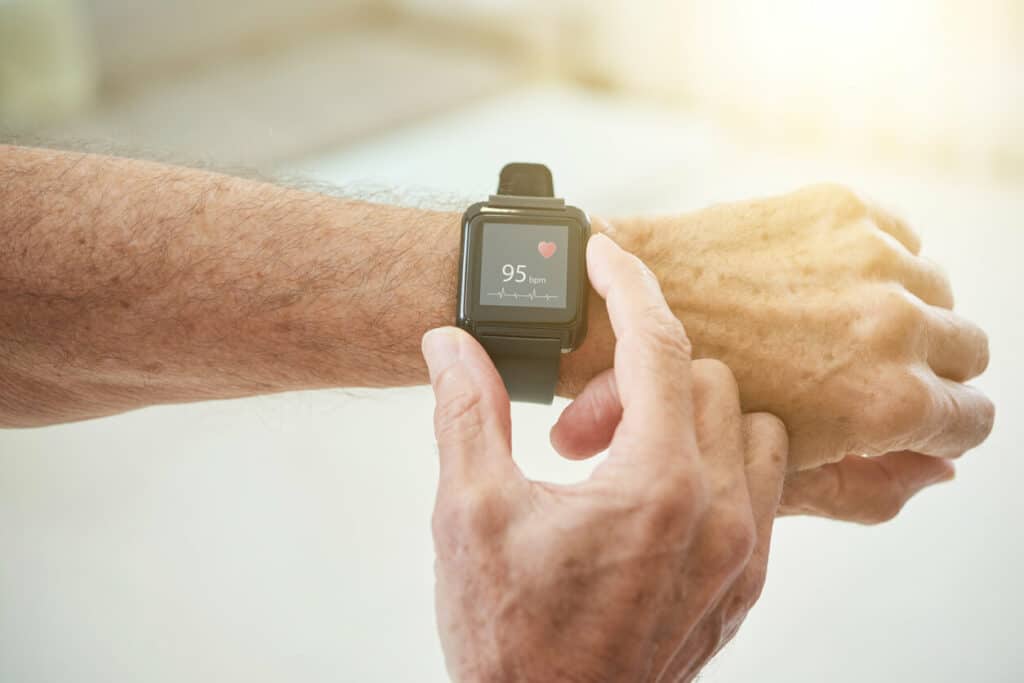 Older adults who use technology have reported being more socially active, having higher self-esteem, feeling better about life, and being less depressed. Technology can decrease loneliness and bring more joy in the golden years of your aging loved one. Technological devices can also make living on their own at home safer. In addition, technology has made it easier to access important information about planning and assisted living communities. Group and company sites like
Amy's Eden Senior Care
,
AgingCare
and
My Elder Advocate
offer helpful resources and program options to improve the lives of seniors. Seniors can use tech tools to search for and learn about these important topics. In summary, tech gadgets, apps, and useful programs are making a significant impact on the lives of seniors in 2023, and we can expect more advancements in the coming year. At
Amy's Eden
, our caregivers are competent with technology and happy to assist your loved one with any desire they have to explore the digital world.
Amy's Eden Senior Care
our mission is to love and to be involved in your loved one's life and help them in every way to feel supported and loved.
In-Home Caregiving Services Find an in-home caregiver in Reno & Carson City, NV! Amy's Eden caregiver in NV Free care assessment > Amy's Eden Senior
Read More »
Contact Amy's Eden Senior Care