Top 40 Questions to Ask a Nutritionist During Nutrition Counseling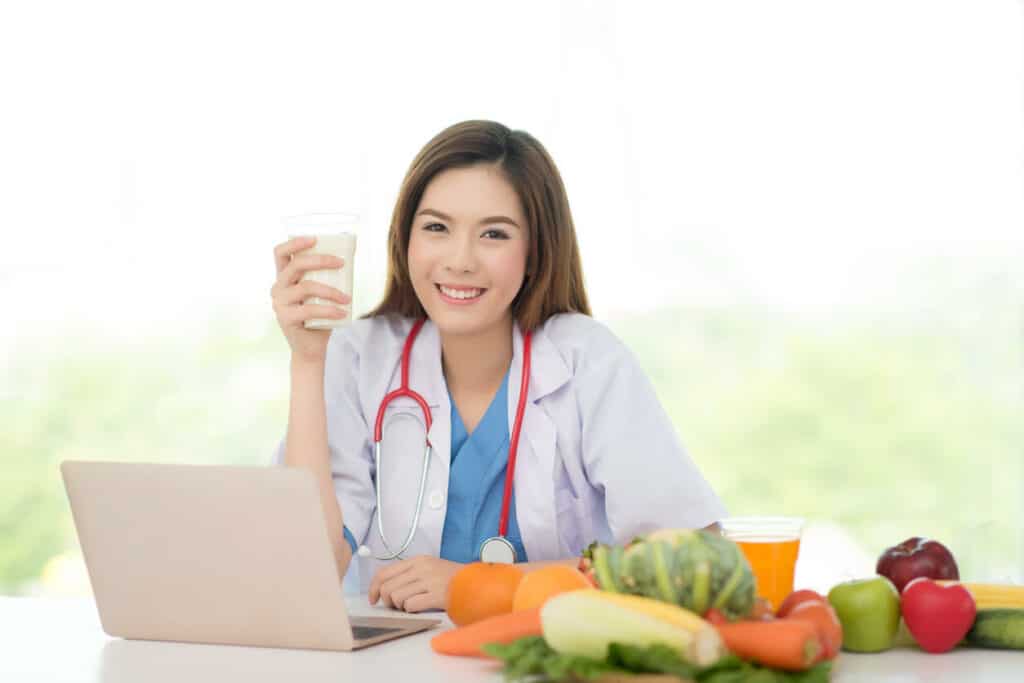 Nutrition is one of the key components of health. Seniors, in particular, need to be more conscious of their food choices as aging slows down the body's ability to absorb nutrients from food. This, and the changes in eating appetite and the loss of taste naturally occurring with aging, results in most seniors needing to take supplements to ensure their body is nutritionally sustained. Seniors with nutritional deficiencies often consult a nutritionist to create a meal plan personalized to their needs using healthy food options. If you or a senior loved one has eating or weight concerns, asking a nutritionist for help may help address problems related to aging. In this article, you'll learn what questions to ask a nutritionist or dietician and get some nutrition tips. These tips could improve your dietary habits or assist you if you have questions about nutrition.
Nutritionist vs. Dietician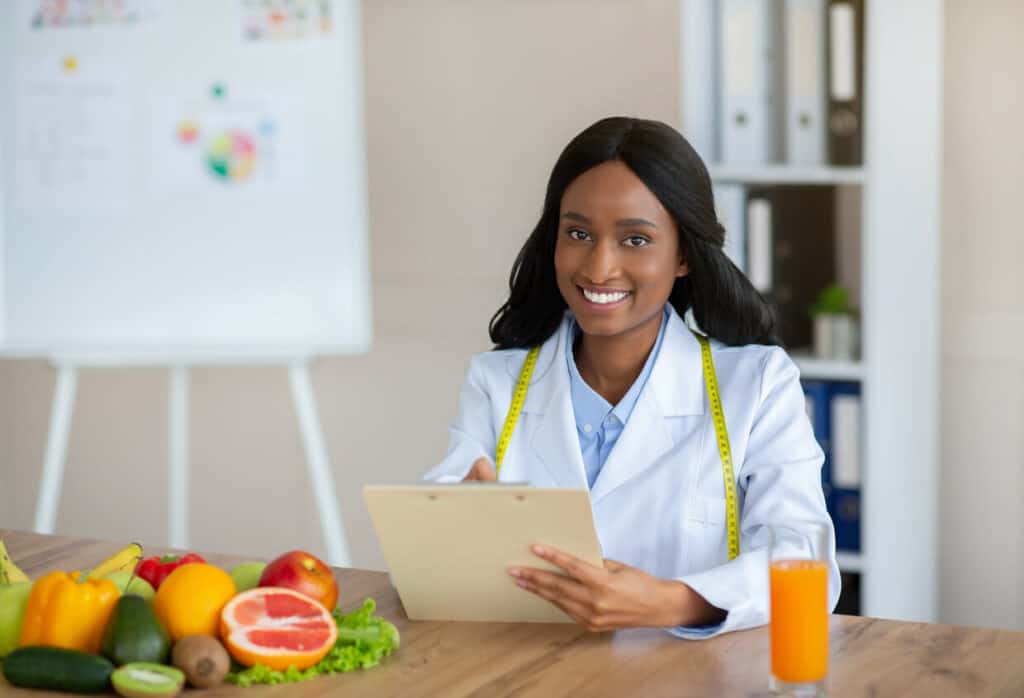 Before diving into the main topic, let's first identify the difference between a nutritionist and a dietician. Most people use the terms interchangeably. Although both have many similar tasks, there are some distinctions.
Generally, all dieticians are nutritionists, but not all nutritionists are dieticians.
Here's a brief explanation of the differences:
| Differences | Nutritionists | Dieticians |
| --- | --- | --- |
| Education requirements | Vary greatly by state. Some states have rigid requirements, while others don't. For example, residents in Iowa can become nutritionists with an associate's degree. Meanwhile, nutritionists in Texas aren't required to have post-secondary education, although most employers hire nutritionists with at least a bachelor's degree. Nutrition knowledge of non-licensed nutritionists is gained chiefly from work experiences, not from formal education | A bachelor's degree in Dietetics, Nutrition, or related field is a prerequisite |
| Certification requirement to practice legally | Depend on state regulations. There are 25 states that don't require nutritionists to obtain a certification or license to work | Pass the national exam and be licensed by the Academy of Nutrition and Dietetics to become a registered dietitian (RD) or registered dietician nutritionist (RDN) |
| Internship and continuing education | Not required | Complete a 1,200-hour of supervised practice under Accreditation Council for Education in Nutrition and Dietetics (ACEND) programs and obtain 75 hours of continuing education to maintain the RD registration |
| Approach on nutrition | Provides general advice and approach in nutrition to promote health and wellness | RDs are part of the healthcare team who provide medical nutrition therapy (MNT) and nutrition counseling, and create nutrition plans for people with specific conditions, such as diabetes and chronic kidney disease |
| Where they work | Non-licensed nutritionists often work in holistic health centers, nonprofit organizations, and fitness and beauty centers | RDs often work in hospitals, healthcare facilities, government agencies, outpatient care centers |
In a nutshell, it's important to work only with a licensed nutritionist or dietician. If your loved one has nutritional problems, your doctor will likely recommend you to licensed nutrition professionals, such as a registered dietitian (RD), registered dietician nutritionist (RDN), or Certified Nutrition Specialist (CNS). You can also seek out and find personal recommendations by asking friends or checking online resources such as blogs and social media pages.
What Are the 5 Things That Nutritionists Do?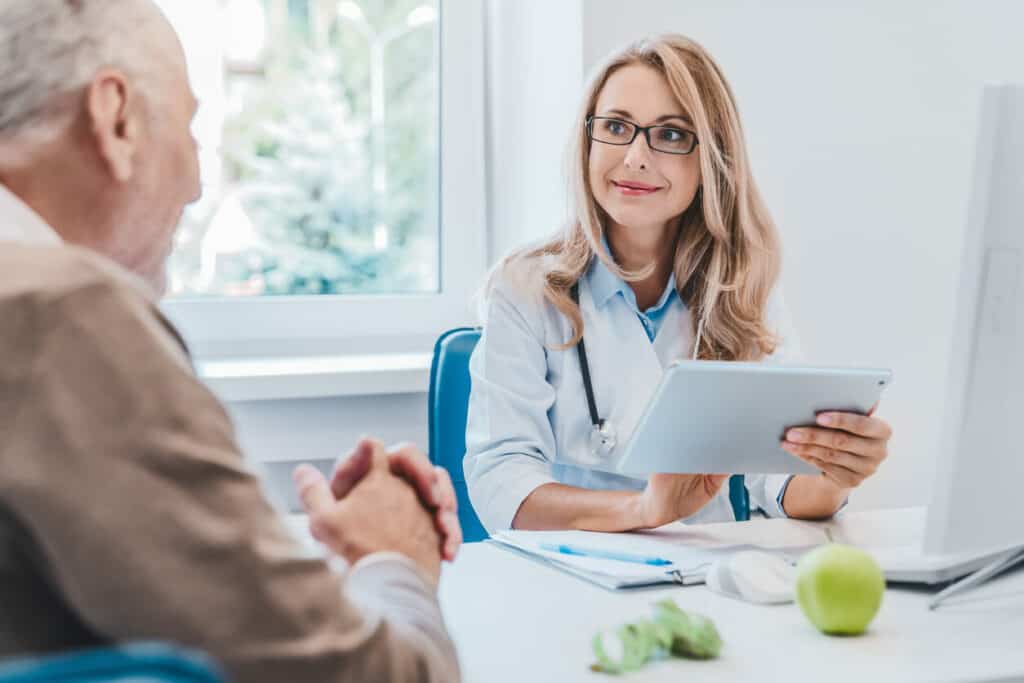 It's a great idea to reach out to a nutritionist or registered dietitian for support.
The training of a registered dietitian nutritionist (RDN) and licensed nutritionists revolved around the impact of nutrition on overall health.
Here are the five main tasks of RDNs: 1. Evaluate the patient's nutritional and health needs 2. Develop meal plans suitable to the patient's needs and preferences 3. Provide nutrition counseling and educate the patient on healthy eating habits 4. Assess, document, and keep track of the changes and effects of nutrition plans on the patient. 5. Create learning materials to educate patients on healthy food and lifestyle choices.
How Do I Prepare for a Nutritionist Meeting?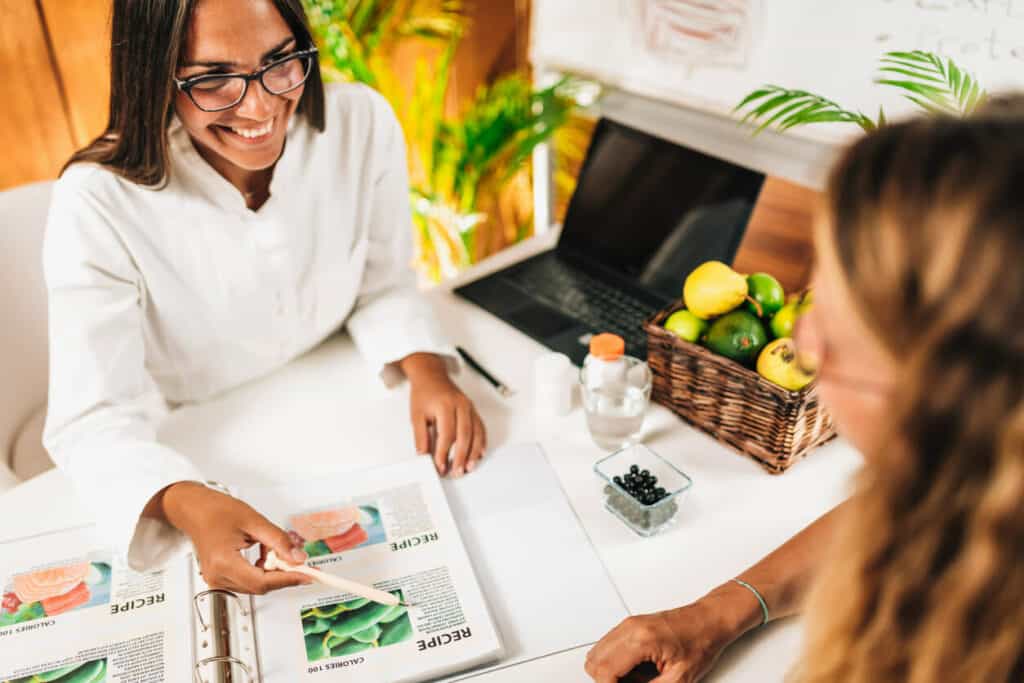 If your loved one's concerns regarding eating create a need for them to get nutrition counseling, ask your doctor for a referral.
Nutrition counseling is similar to therapy. The first meeting is going to be a discussion of your loved one's current lifestyle, including the types of food they eat regularly, their eating patterns, medications they take for health conditions, nutrition goals, etc. To prepare for initial nutrition counseling, talk with your senior mom or dad to review their eating lifestyle, including:
Their existing diet
Types of food they eat
When and how much they eat
Eating habits
General medical history
Medications or supplements they take
Allergic reactions to foods
What Are the Questions to Ask a Nutrition Coach?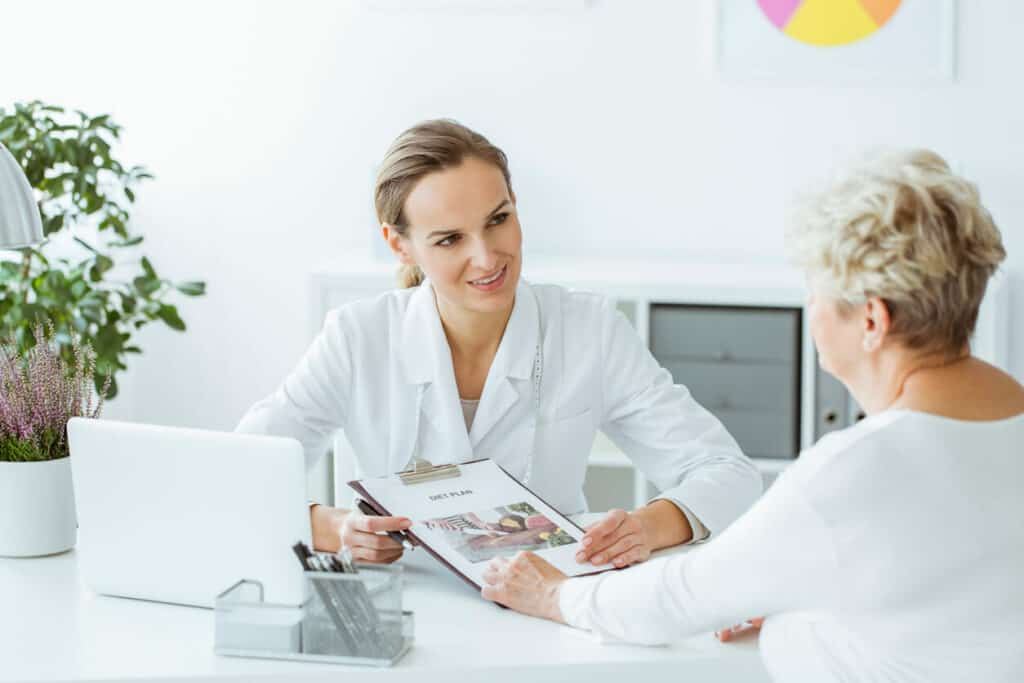 During a session with a nutrition coach,
asking open-ended and closed questions will give you and your loved one insight into how consumed foods and lifestyles can improve or harm health.
Here are some important nutrition questions to ask your nutrition coach:
What's the best diet for me to follow?
What types of food should I avoid?
Do I need to count my calorie intake?
When is the best time for me to eat my meal?
Why does my current meal plan not work?
What's wrong with my current meal plan and food habits?
What do you suggest I change in my meal plan?
How do stress and lack of sleep affect my body?
Can I achieve my nutrition goals and stay well if I change my meal plan and eating habits to what you recommend?
If you've prepared more questions, don't hesitate to ask your nutritionist about them.
What Are Some Questions to Ask a Nutritionist About Healthy Eating?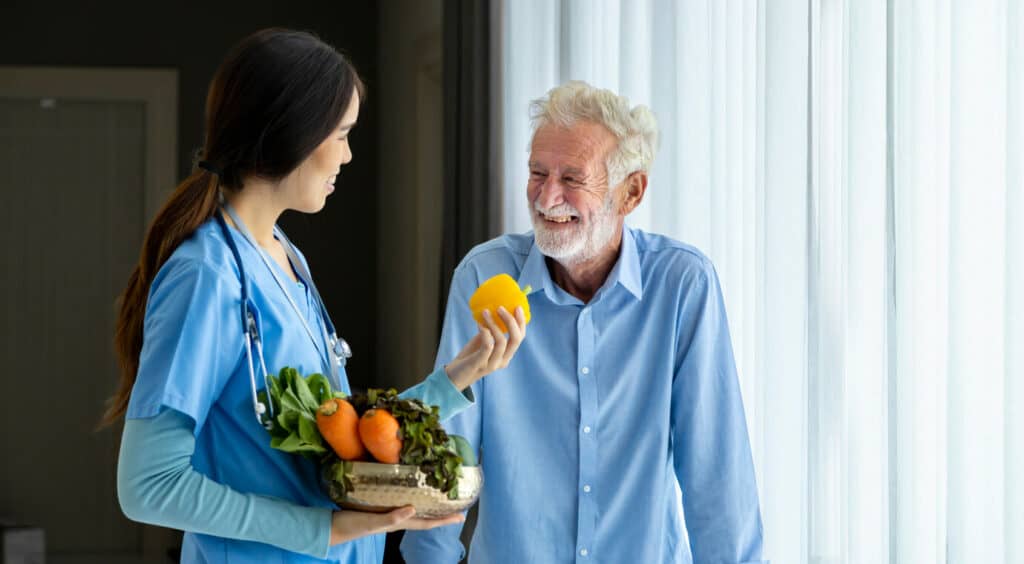 Aging changes many aspects of the body, including the ability to function physically and mentally.
That's why many seniors move into
assisted homes
to receive care services. Some enlist a nutritionist for counseling and get advice on how to age gracefully. Before your next appointment, consider making a list of questions you may have about your diet or specific products you consume. Here are some suggested questions to ask a dietitian or nutritionist about healthy aging:
What kind of vegetables and fruits are best for me?
Are there particular foods I should eat to maintain my health?
Are there affordable alternatives in case I don't have the budget?
How much food should I eat per meal?
Do I need to restrict my diet?
Do I need to lose or gain weight?
Should I take supplements? If so, what are they?
What are these supplements good for?
Licensed dieticians can order lab tests to know if your loved one has a vitamin deficiency. If supplementation is needed, a registered dietician can recommend over-the-counter vitamins and supplements. Most older people have vitamin deficiencies but aren't aware of them. Common vitamins and supplements for healthy aging include: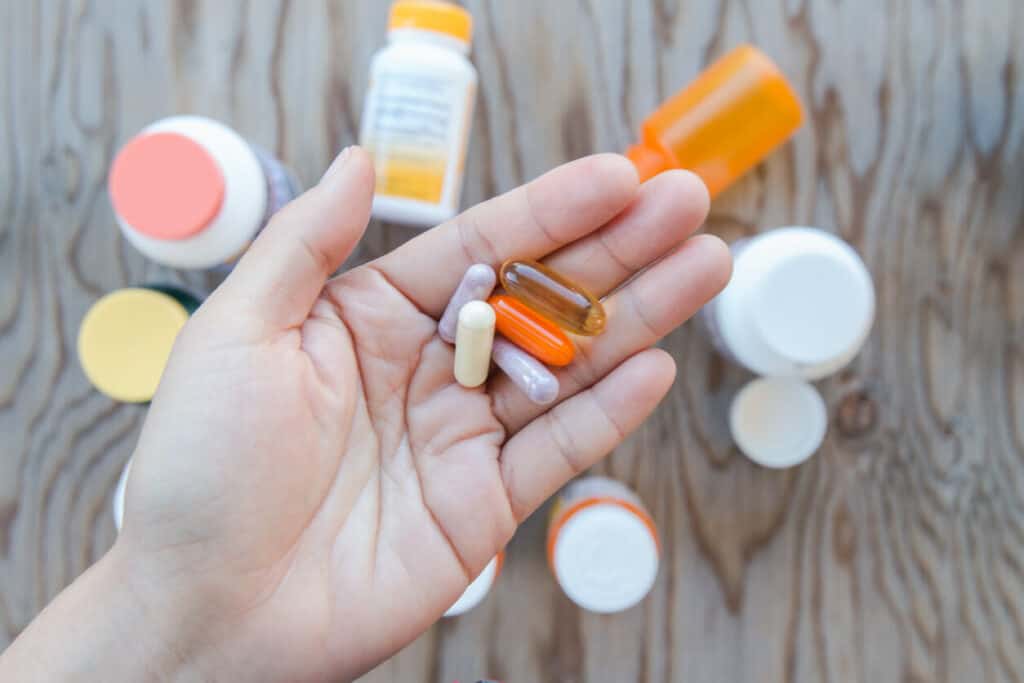 Calcium:
Aging makes the bones more brittle. Calcium supplements help maintain the strength of the bones.
Vitamin D:
This nutrient helps the body to absorb calcium and phosphorus for bone strength.
Vitamin B6:
Also known as pyridoxine, it has a lot of functions in the body. It's a significant vitamin for maintaining strong immunity and brain health.
Vitamin B12:
This is essential for producing red blood cells and enhancing cognitive function.
Vitamin C:
Ascorbic acid promotes healing and prevents inflammation. People who smoke and eat limited fruits and vegetables are likely to have inadequate Vitamin C in their bodies. If your senior loved one has a particular condition, like diabetes, dementia, or heart disease, bring up relevant questions to your nutritionist to learn how to manage health conditions successfully by taking a nutrition-based approach.
What Are Questions to Ask a Nutritionist About Obesity?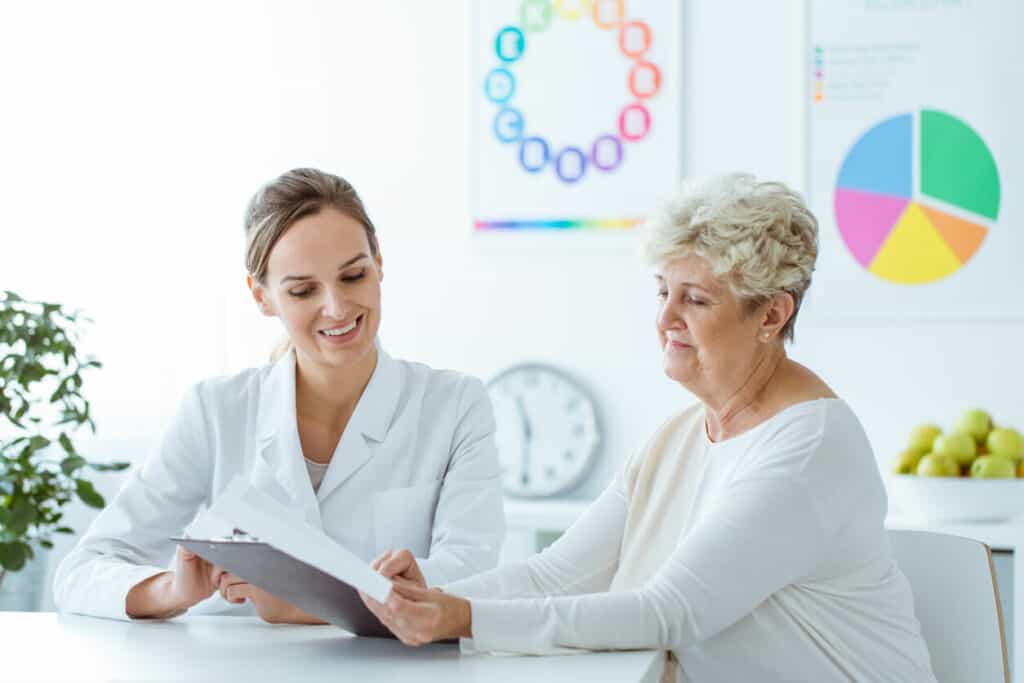 A national
survey
revealed that nearly 42% of Americans are obese.
High body mass index (BMI) and obesity contribute to cardiovascular diseases, one of the leading causes of death in the US. If an older member of the family has weight concerns, ask your nutritionist these questions:
How much weight should I lose?
How can I lose weight in a healthy and sustainable way?
How much should I eat to achieve a healthy weight?
What foods should I avoid?
Are there foods that I should eliminate from my meal plan?
Should I take weight loss supplements?
How can I boost my metabolism?
Can you create a meal plan for me?
Obesity is caused by many factors, such as eating patterns, genetics, lack of physical activity, and as a side effect of taking specific medications. Your loved one needs to work with their nutritionist to identify the underlying trigger of obesity.
What Are Questions to Ask a Nutritionist About Eating Disorders?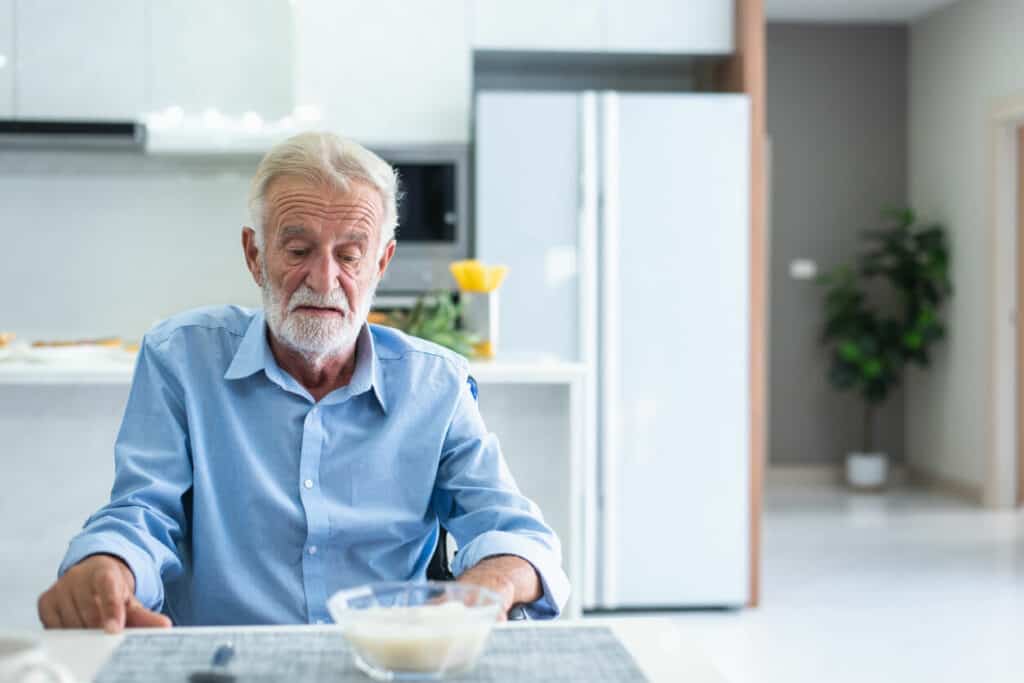 Divorce, losing a loved one, and pregnancy are common causes of eating disorders. B
ut did you know that aging can also prompt eating disorders in midlife?
According to the National
Eating Disorders Association
(NEDA), eating disorders don't only affect teens. They're also prevalent among older people, starting in midlife and persisting until later in life. If a senior relative has an eating disorder, here are some guide questions to ask a nutritionist or nutritional therapist:
Have you worked with someone with an eating disorder?
How is an eating disorder treated?
What is your approach to treating eating disorders?
Do I need to be treated in a hospital? And for how long?
Are there medications that can help me relieve the symptoms?
Eating disorders are quite complex because psychological factors affect eating behaviors. Often, people with eating disorders also suffer from depression and stress, so there may be a need to work with a mental health specialist.
What Are Questions to Ask a Nutritionist About Diabetes?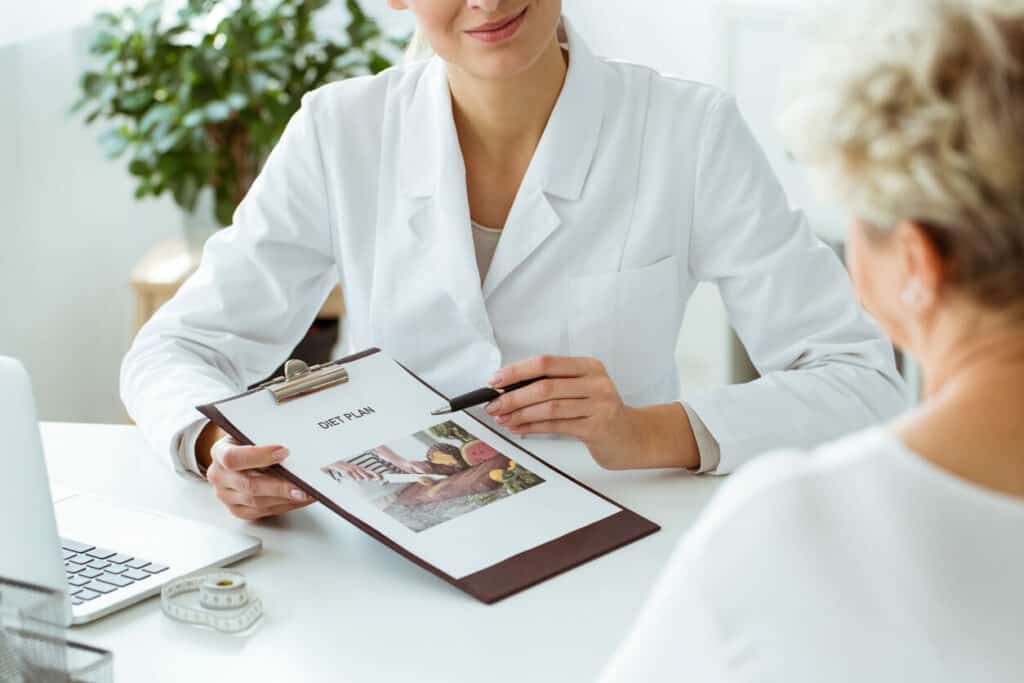 In the 2022 National Diabetes Statistics Report by the Centers for Disease Control and Prevention (CDC), over 130 million Americans are living with
diabetes
or prediabetes.
Registered dietician nutritionists can treat diabetes with medical nutrition therapy, a nutrition-based treatment aimed at controlling the patient's blood sugar level. RDNs can order anti-diabetic medications and adjust insulin dose if it aligns with the patient's treatment plan prescribed by their primary doctor. Ask for advice on how to better balance your meals, including incorporating a variety of fruits, proteins, low-sugar sources of food, and sources of healthy fats. Here is a suggested list of what to ask a nutritionist or dietician about diabetes:
How can I manage my blood sugar level?
How many times should I eat in a day?
Do I need to count my carb intake?
How much carbs can fit into my diet?
Do I need to lose weight?
What foods should I avoid eating?
Can I still eat sweets?
What does my ideal meal plan look like?
Can you share some recipes?
Close attention should be paid to sources of protein, with a focus on easy-to-find and affordable options that don't compromise nutritional value. If your loved one isn't diagnosed with diabetes, but blood tests show they have a high risk due to family history or being overweight, you can ask your dietician or nutritionist what is the best way to prevent diabetes. Often, a plant-based diet, exercise, and weight loss can help prevent or delay diabetes.
How to Get the Most Out of Your Nutritionist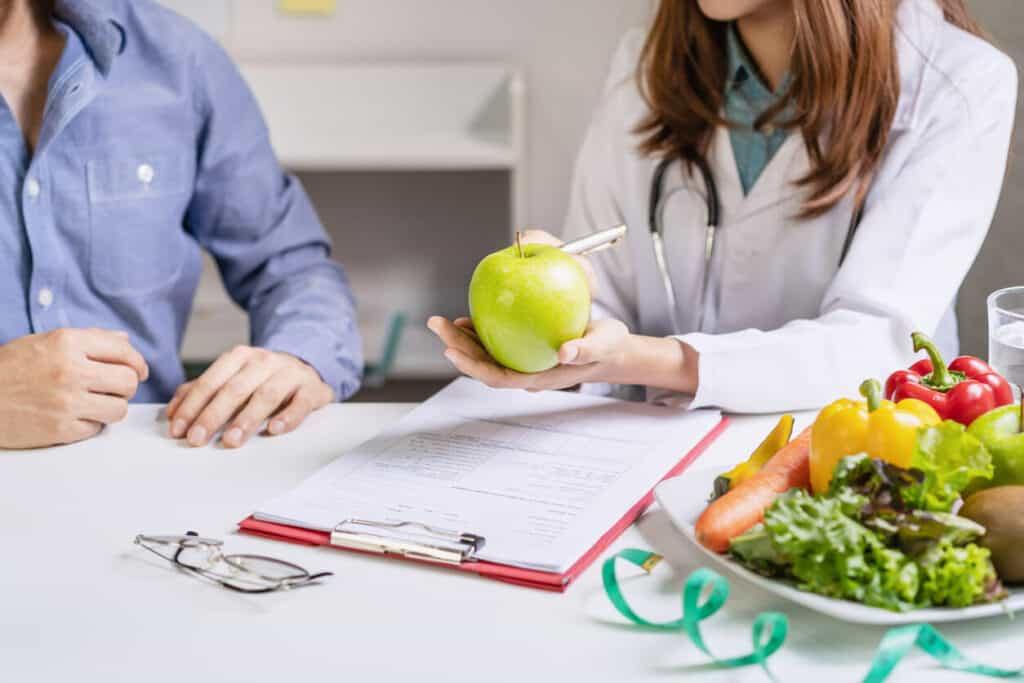 The key role of nutritionists and dieticians is to encourage your loved one to pursue a healthy lifestyle by making positive changes in their diet.
To get the most out of your nutritionist, thoroughly think about questions to ask a nutritionist. Many dietitians and nutritionists offer free resources and content on their websites, so be sure to check out their blog or sign up for their email list to benefit from their expertise. Support reserved for you and your dietary needs doesn't end with an appointment, so leave with a menu plan for the upcoming week, search their Facebook page for helpful content, and check out their other available resources. Be honest and open about your or your senior loved one's lifestyle and medical conditions, as it can help the nutritionist devise a personalized and effective nutritional care plan. At Amy's Eden, nutrition is one of the pillars of our care service. If your loved one finds the need for care,
Amy's Eden
has reliable caregivers who can help create a meal plan that includes healthy recipes and prepare wholesome dishes based on their needs, as advised by their dietician.
In-Home Caregiving Services Find an in-home caregiver in Reno & Carson City, NV! Amy's Eden caregiver in NV Free care assessment > Amy's Eden Senior
Read More »
Contact Amy's Eden Senior Care