Social Workers For The Elderly: When Does Your Loved One Need Them?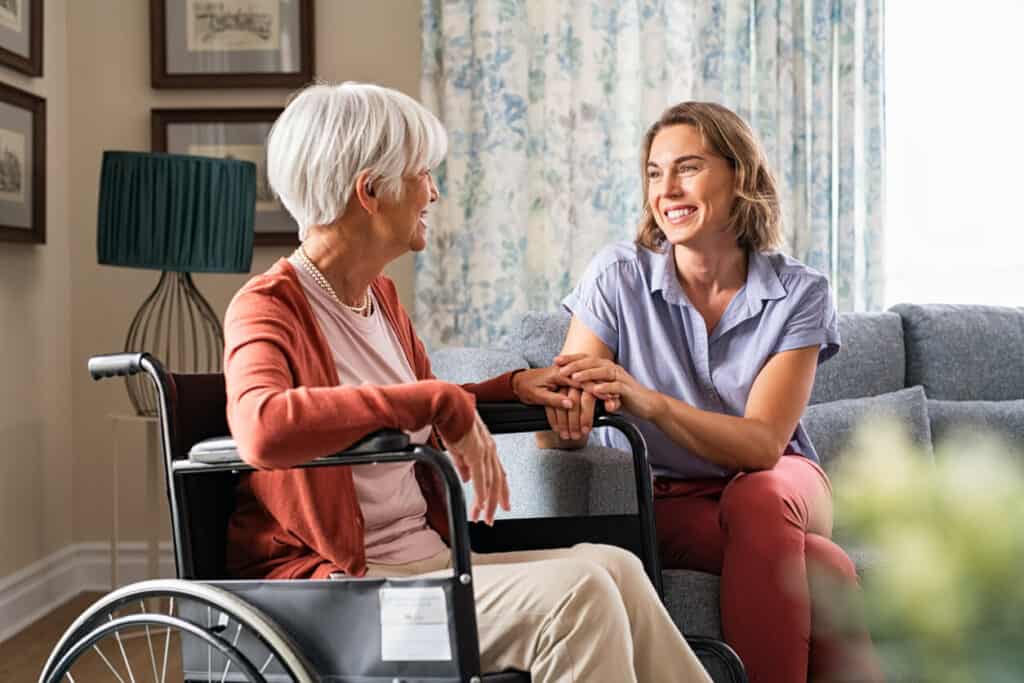 As our population ages, there is an increased demand for social workers who specialize in working with the elderly. These professionals play a crucial role to ensure that our elderly loved ones are empowered to continue to live with dignity and independence, and to receive the care and support needed to live fulfilling lives. Social workers for the elderly work in various places, including community centers, private practices, nursing homes, and hospitals. They guide senior citizens through the challenges of aging and connect them to services that can enhance their quality of life. In this article, we explore the importance of social workers for the elderly, what they do, and how to know if you need one for your elderly loved one.
What Is A Social Worker For The Elderly?
A social worker for the elderly, also known as a Geriatric social worker or a Gerontologist social worker coordinates the care of older adults in a variety of settings including nursing homes, hospitals, residential care homes, and even with family members. They assess an older adult, develop a care and support plan, and coordinate the resources to meet the needs of the clients. Social workers help older adults and their family members navigate the complexities and challenges of aging. Remember, these complexities or challenges aren't one-size-fits-all. Each older adult may have specific challenges or issues that come with aging. It could be transitioning to an assisted home if family members are no longer able to provide care, dealing with
dementia
or
Alzheimer's
, or battling a chronic illness. A social worker can provide support to help family members and their elderly loved ones deal with these specific issues as they arise and now, in 2023, the need for professional social workers for the elderly is more critical than ever before. With the number of seniors living longer and new facilities opening to support them, there is a growing demand for trained staff to provide mental health support, personal care, and content living environments.
What Do Social Workers For The Elderly Do?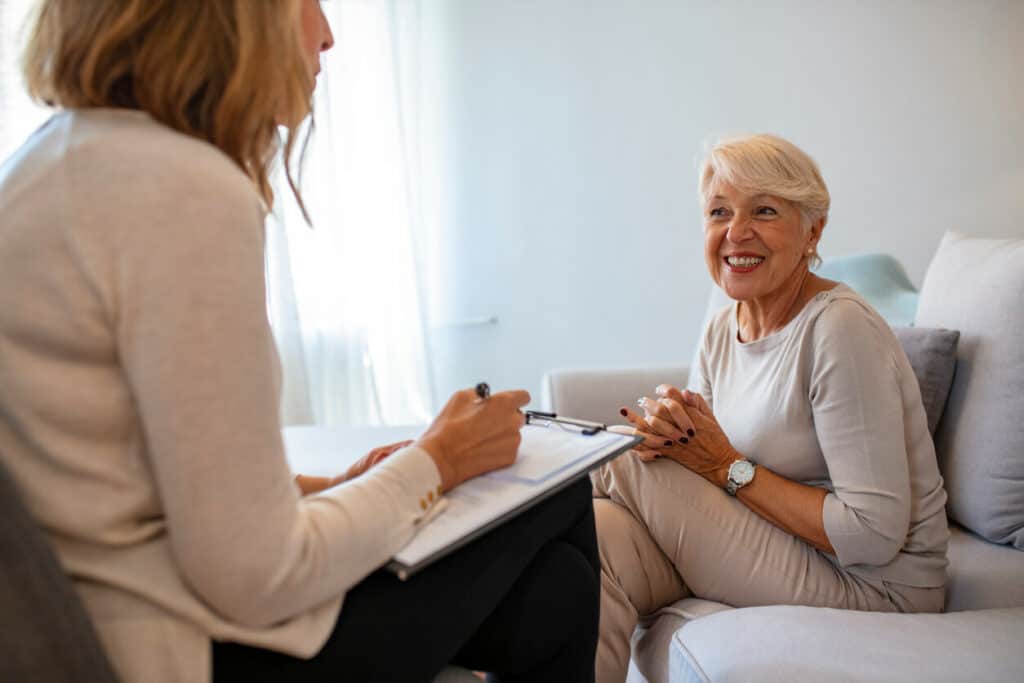 Social workers help seniors navigate the complex Medicaid system and search for long-term care options that meet their individual needs. They also assess and address the holistic needs of older adults in the following ways:
Psychological assessments
Developing care plans
Providing emotional support and counseling
Advocacy
Education
Resource Navigation and Benefits Application Guidance
Discharge Services
Psychological Assessments
The first role or duty of a social worker in a setting is to assess an older adult to determine the need of the elderly, and the level of care needed, as well as the availability of the resources to provide that care. These needs could be social, emotional, or practical needs including health, finance, housing, or caregiving.
Developing Care Plans
Geriatric social workers help to develop care plans for older adults based on their initial assessment. They may consult with doctors, physical therapists, occupational therapists, nutritionists, and other professionals to draw up the appropriate care plan that meets the needs of the older adult. They also assist in coordinating services to help older adults access resources and support to meet their needs.
Providing Emotional Support And Counseling
Elderly social workers provide emotional support and counseling to older adults and their families in various ways to address the challenges they might be experiencing at a specific time. For instance, a family member experiencing burnout may be counseled by a social worker, and given resources to help them feel less stressed or pressured as they provide care. An older adult experiencing loneliness, depression, or social isolation may receive emotional support and counseling from a social worker for the elderly to enable them to find happiness again.
Advocacy
Eldercare social workers advocate for older adults to ensure that their needs are met (care and services they needed and deserve), and that their rights are protected. If an older adult is a victim of
elder abuse
by a caregiver or a phishing scam, a social worker can be an advocate to ensure that legal action is brought against the perpetrators.
Education
Social workers in this field work with individuals and communities to ensure that seniors have access to the resources and opportunities they need to live fulfilling lives. One crucial duty of social workers is educating the elderly as well as their family members about the complexities of aging, how to provide care without feeling overwhelmed, the resources available to them, as well as their rights and responsibilities. The Association for Gerontology Education in Social Work (AGESW) offers training and job opportunities for those interested in entering the field.
Resource Navigation and Benefits Application Guidance
Social workers help older adults navigate the resources and benefits available to them. This could be health care benefits or other financial assistance at the federal, state, or local community levels. For instance, if an older adult is experiencing financial difficulties and not eating a proper diet, an elderly social worker can match them to a free meal program like the Meals On Wheels service.
Discharge Services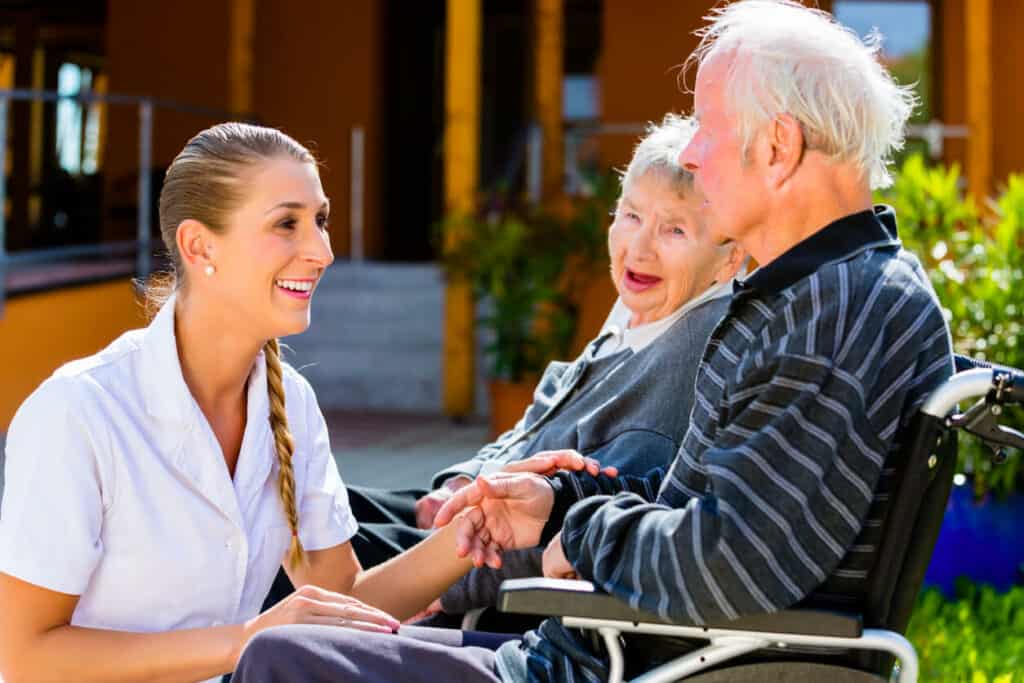 Social workers help to coordinate a discharge plan when an older adult is transitioning from one setting to another. Say an older adult was admitted to a hospital for an illness, and they are stable enough to go home, a social worker helps to coordinate their discharge by creating an in-home care plan, communicating with family members, arranging the logistics, and other details to make the transition seamless.
What Are The Types of Social Services Available For The Older Adults?
The type of social services for the elderly available to your loved one may vary by state and local services available. The common ones are:
Food and Nutrition
Employment assistance
Financial assistance
Health insurance
Utility and housing assistance
Low-cost medications
Reduce or free transportation services
Legal services
Support for family caregivers
Long-term care support
Elderly social workers will help match older adults to these services depending on their needs. It's important to keep in mind that some of these social services may be available to your loved one depending on factors such as:
Military service
Health
Education
Assets
Income level and so on.
Here are 3 resources that can help you find out a list of social services available to your loved one within their state and federal government.
Benefitscheckup.org: This website is run by the National Council on Aging. It helps you assess whether your loved one is eligible for programs before you apply, and which programs are available to them. All you have to do is answer some questions anonymously, and find out programs and services available.
Benefits.Gov: The benefit finder questionnaire helps you find benefits your loved one may be eligible for ranging from disaster relief, healthcare assistance, financial assistance, loans, and more.
Area Agency on Aging: Every county/city is mandated to have an Area Agency on Aging. This agency is a good resource to determine the social services available to your elderly loved one. They also provide social workers who assist the elderly in lots of ways. To quickly look for one near you, just type in google "Area Agency on Aging + State/City/County (e.g Nevada).
When To Bring In A Social Worker For The Elderly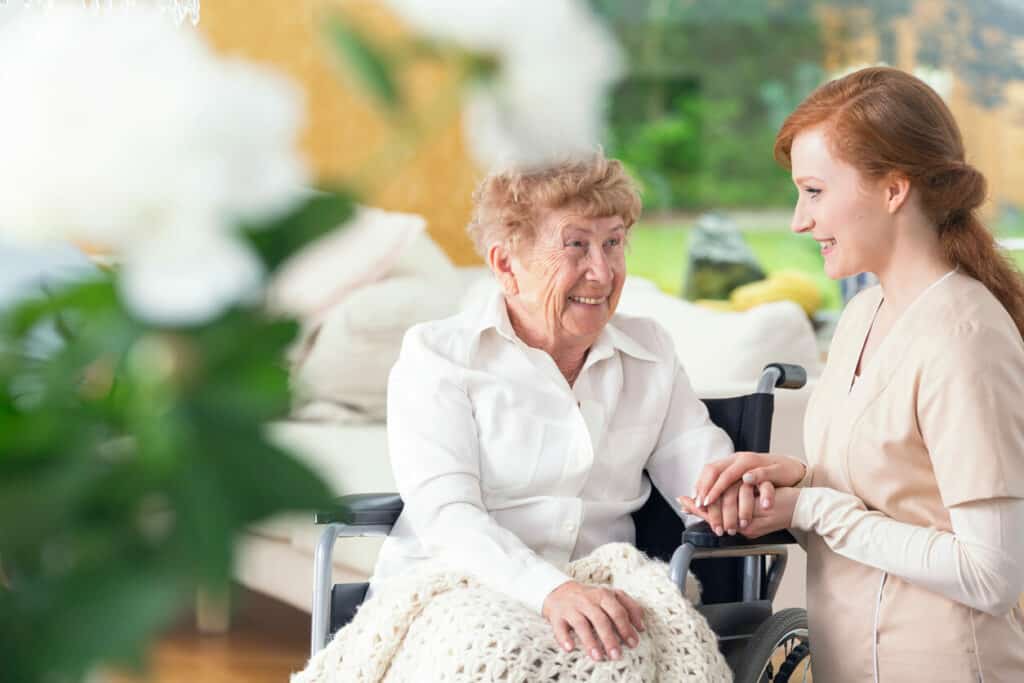 Most of the time, you'd elderly loved one may be paired with a social worker in a hospital, nursing home, or residential care home to assess and coordinate their care. However, there may be times you may need to take the lead and bring in a geriatric social worker to lend their support. The following questions will help you determine if and when you need a social worker.
Is caring for your elderly loved one becoming overwhelming or too much to handle?
Family caregivers are sometimes stressed or overwhelmed. In the process of taking care of their elderly loved one, they may begin to lose themselves, get into depression, or begin some form of elder neglect because of the stress. If this is you at the moment, a social worker may connect you to resources to provide relief and handle your emotions better.
Are you having a hard time understanding free programs or benefits your loved one is eligible for?
As we mentioned above, there are lots of benefits your elderly loved one can enjoy for free if they need it. If you're having a hard time navigating those resources, a social worker can help.
Is your elderly loved one feeling depressed and/or lonely? Have you tried ways to make them happy and all seem abortive?
Loneliness, social isolation, and depression are risks for older adults. If you have exhausted all the ways you know to make your loved one socialize more or enjoy their favorite activities like they used to, a social worker can provide emotional support and counseling.
Is your loved one's chronic illness progressing, and you're overwhelmed or unsure about the next step to take?
For older adults suffering from a chronic medical illness like Alzheimer's or chronic diabetes, there may come a time when taking care of them by yourself may become difficult. You may be cut with deciding to transition them to a memory care facility or a
nursing home
if they need constant medical attention. An elderly social worker can provide guidance and point you in the right direction.
Is your loved one preparing for discharge from a hospital or skilled nursing home?
If you need help coordinating your loved one's care following a discharge from a hospital or nursing facility, a social worker can help you coordinate the logistics of the discharge.
Do you or your family members need emotional support and counseling?
Sometimes the news of a recent illness or diagnosis for your elderly loved one can leave family members distraught. Or the sudden death of a loved one can leave family members open to grief and struggling to handle it. A social worker can provide emotional support and help you navigate these difficult times.
Where Can I Find A Geriatric Social Worker?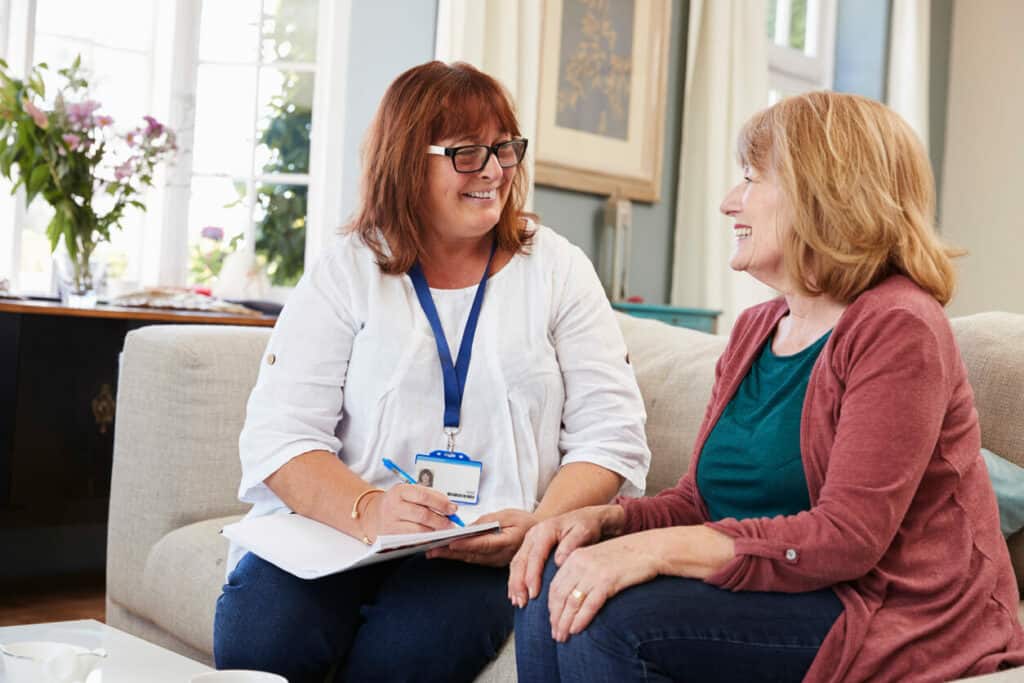 You can find a social worker for the elderly via a doctor's referral, your city or county's Area Agency on Aging, community agencies, and local religious organizations. If your loved one had to transition to a hospital or nursing home, you can also request a social worker in those settings. Although most of the time, you're paired with one. Online events and meetings are also available to share clinical and management skills among professionals.
Who Pays For Geriatric Social Worker Services?
In most cases, social workers for the elderly work in various hospital and government settings, and are paid by those employers or through Medicare. However, there are some types of social workers also called
Geriatric Care Managers
(GCM). These professionals provide services for elderly loved ones and their families, especially when family members live far away from their loved ones. Medicare and most health insurance programs do not cover the cost of GCMs, and you'll have to pay them out of pocket.
Amy's Eden Partners With Social Workers To Provide Your Elderly Loved One Quality Care
At
Amy's Eden
, we get recommendations from time to time from local social workers in Northern Nevada who deem us fit to handle the care of their patients when they are discharged from hospitals or Rehab. Depending on the care plan already designed by the social worker, we provide your elderly loved one
in-home care
, or care in one of our
assisted homes
. Our caregivers diligently follow the care plan created by the social workers, and we stay in constant communication with them in case the care needs change, and the care plan has to change. We can also make recommendations of social workers to family members should they need one for any reason. If your elderly loved one resides in Northern Nevada and needs exceptional care to ensure the best quality of life as they age, we are just a call away. Contact us today to see how we can help you worry less about your loved one's care. Social workers play a vital role in supporting elderly persons and communities, and their work has become more important in the last few years.
In-Home Caregiving Services Find an in-home caregiver in Reno & Carson City, NV! Amy's Eden caregiver in NV Free care assessment > Amy's Eden Senior
Read More »
Contact Amy's Eden Senior Care